Are you looking to enhance your client's outdoor space with a fence? Fences are smart options for adding privacy, security and a touch of style to a landscape.
In this article, we will explore a variety of fence ideas that can transform your client's outdoor area into a private oasis while adding aesthetic appeal. Whether you prefer a modern and sleek design or a more natural and rustic look, we have options to suit every taste and preference.
Plus, we'll give you a professional tip for streamlining your landscape design process and landing more clients.
Let's start with how to help your client decide on a fence style.
Help Your Client Choose Their Fence Style
When choosing the right fence style, it's essential to understand your client's preferences and needs. You can do this by asking the right questions and leveraging technology — such as 3D visualizations.
Here are some key questions to ask your clients to help define their ideal fence style:
What is the primary purpose of the fence? Understanding whether they seek privacy, security, style or a combination of all three will help narrow down the options.
What architectural style is their home? Harmonizing the fence with the existing aesthetics creates a cohesive and attractive look.
What is their desired level of maintenance? Some materials require more upkeep, while others offer low-maintenance alternatives.
Once you understand their needs and preferences, it's time to leverage 3D technology to help them visualize your ideas. Use a program like Cedreo to create a 3D visualization of their backyard with their new fence. Quickly switch out and customize fence styles to really zero in on the one that matches your client's needs.
No 3D design experience? No worries. Cedreo's intelligent software does the heavy lifting for you. Even with no 3D experience, in no time you can be creating professional 3D landscape images.
Keep going in the next section to get some fence ideas that'll spark your creativity.
9 Modern and Stylish Fence Ideas
Whether you're aiming for a contemporary look or a trendy design, here are some modern and stylish fence ideas to inspire your next outdoor project.
1. Wooden Wonders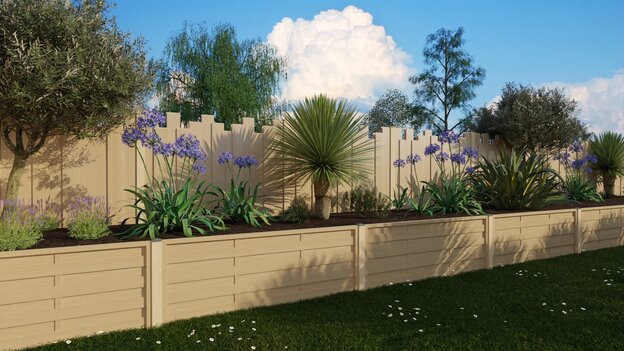 Wooden fences are timeless and versatile. You can customize them to match any architectural style and offer a warm and inviting feel to your client's landscape.
Opt for horizontal or vertical slats, or even a combination of both for a unique look. Consider staining the wood in a natural finish or painting it in a bold color to make a statement. Just keep in mind that wood fences will require some yearly maintenance.
2. Extend Siding, Stucco or Concrete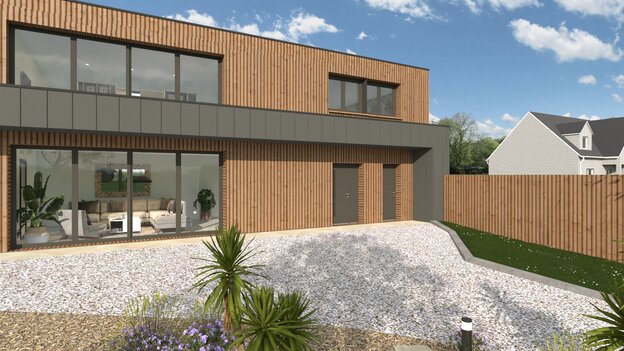 For a seamless appearance that perfectly matches the existing house, consider using the same material on the fence as the home's facade. That could mean creating a fence that has the same style siding, stucco, stone or concrete as the home the fence connects to. This creates a unified look that makes the outdoor space feel like an extension of the home.
3. Tier the Hedges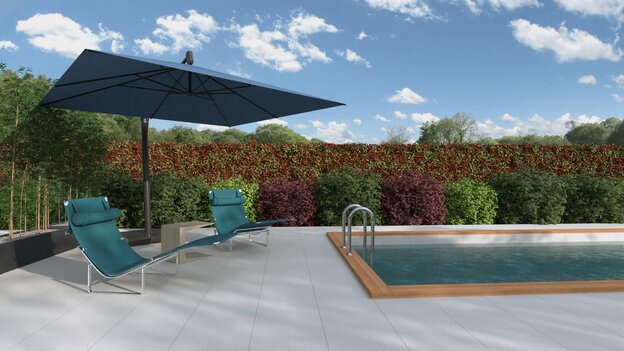 If you prefer a more natural and elegant look, consider using tiered hedges. Try combining different types of plants and shrubs to create layers of greenery that soften the fence line. These can add privacy while also contributing to the natural beauty of the landscape.
4. Build with Bricks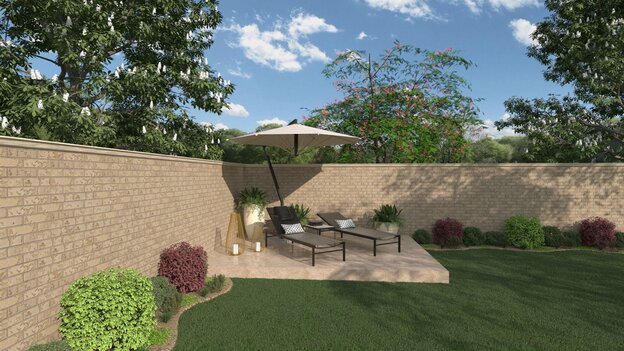 A brick fence is a classic choice that adds a touch of refinement to any landscape. Go with a solid brick wall for complete privacy or incorporate decorative patterns and openings for a more visually appealing design. And fortunately, brick fences require minimal maintenance which makes them a practical and timeless choice.
5. Make It Natural with Stone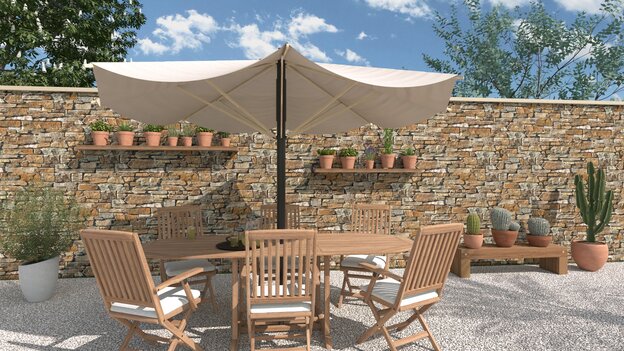 For a rustic and organic feel, stone fences are an excellent choice. Natural stone materials like granite or limestone create a visually striking and durable barrier. The uneven texture and earthy tones of the stones also add depth and character to your landscape while providing the desired privacy.
6. Industrialize with Iron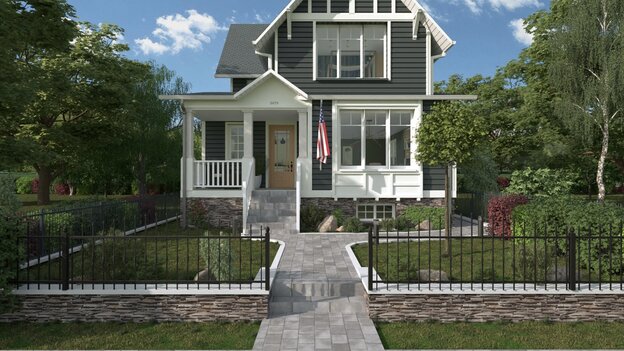 Iron fences are a popular choice for clients who want a modern and industrial look. The sleek and minimalistic design of iron rods or panels can create an open and airy feel while still providing security. Try pairing it with natural elements like wood or greenery for a balanced and appealing contrast.
7. Get Aesthetic with Bamboo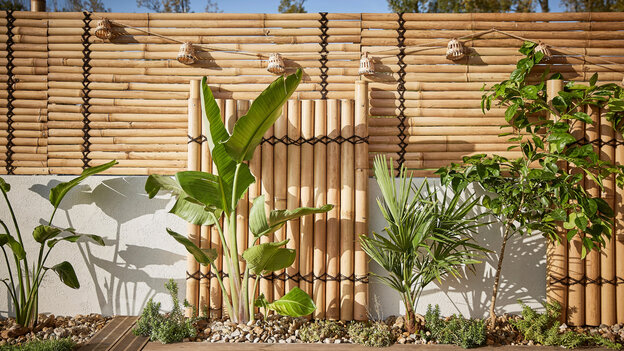 Bamboo fences are not only eco-friendly but also aesthetically pleasing. The natural texture and rich color of bamboo can bring a touch of the exotic to an outdoor space and work well with coastal-themed landscaping designs. Go with a solid bamboo fence or a combination of bamboo and other materials. Either way, this option adds uniqueness and a tropical ambiance to your client's landscape.
8. Modernize with Metal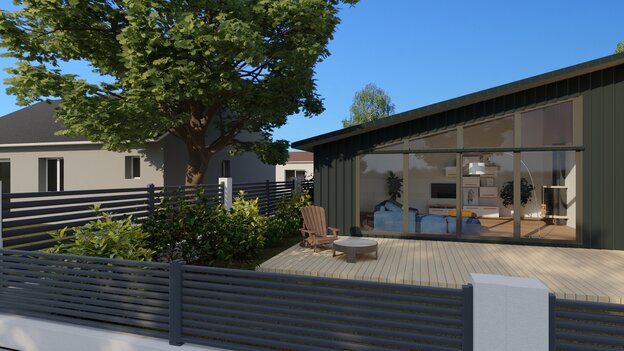 Sleek and contemporary, metal fences offer a modern and stylish look. You can customize aluminum, steel and wrought iron fences to fit any design. So whether your client prefers minimalistic designs or intricate patterns, metal fences can create a bold and eye-catching statement while providing security and privacy.
9. Save with Vinyl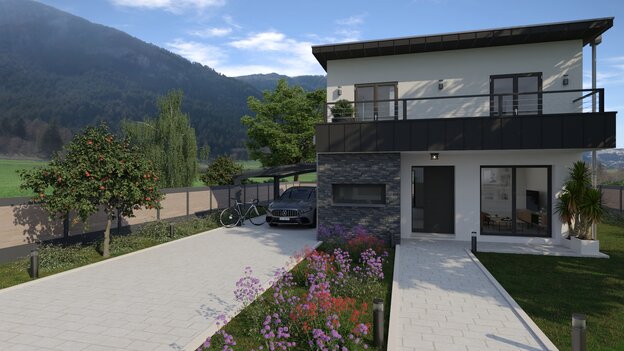 Vinyl fences are a budget-friendly option that doesn't compromise on style. They're available in a variety of colors and designs. Plus, vinyl fences are low-maintenance, durable and resistant to rot, fading and warping. Some can even mimic the appearance of wood or other materials.
How Home Design Software with Dynamic Fences Can Help
Helping your clients choose the perfect fence style can be a challenge. That's where modern home design software like Cedreo comes in. Use it to bring your fence ideas to life with stunning 3D visualizations. With its easy-to-use tools, you can quickly create realistic renderings of different fence styles, materials and colors. This helps your clients visualize the end result before any work takes place.
Sign up today to enjoy Cedreo's features like:
Photorealistic 3D renderings that help you land more clients
Huge design library with 1,000s of plants, materials, fences and other design elements
Intelligent tools that boost your productivity