Choosing the right software for your general contracting business is crucial for managing your business. When adopting new software, many companies use existing programs that will require integration for a smooth transition.

Not all companies will have the same needs or pain points. If you're a specialty contractor or subcontractor, your needs might be different from those of a general contractor. For some businesses, a customizable solution may be necessary, for others, an off-the-shelf program might work. Below we detail the best general contractor software solutions and how they can benefit your business.

What to Look for in a General Contractor Software
When looking for general contractor software, consider the following:

Use case — Consider how you'll use your software — for floor planning, home design, project management, bid estimates, proposals, or all of the above. Search for software that offers case studies to your industry so you can see how similar businesses have benefitted.
Ease of use — The best general contractor software should be easy to use, so be sure to look into a free trial that lets you see how the software functions and how it works alongside your other programs. Software that integrates easily with your existing tools will make for a smoother transition.
Customer support — Support is critical when learning a new task. You may benefit from a program that offers customer support, videos, tutorials, training calls, or live chat features.
Pricing — Many programs offer scalable pricing plans, allowing companies to start small and add to their plan as their business grows. Pricing can vary, so look into the costs of add-ons and extensions you might need to effectively use the software.
Customer reviews — Pay attention to customer reviews. Reading about the experiences of others could help in your decision.
11 Best General Contractor Software Platforms (Free and Paid) for 2022
What types of software does a general contractor need? Various features and capabilities can enable a construction company to harness its strengths. Here are the best general contracting software programs around.

1. Cedreo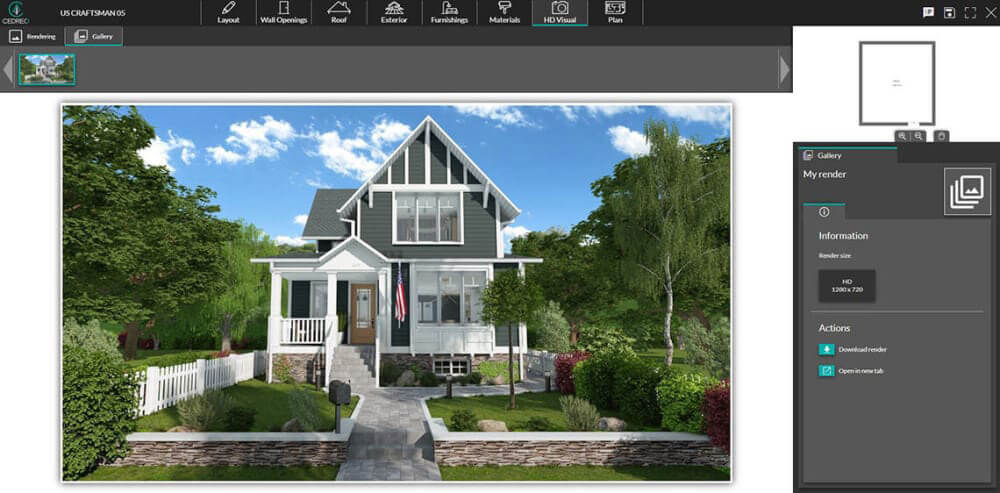 Best for: Home builders, designers, and remodelers looking for an industrial or residential general contractor software

Cedreo is an excellent solution for professionals of various levels and skill sets. Users with limited design experience can create a fully furnished home with 3D rendering. Upload existing 2D plans from a previous project, or design new plans using the intuitive interface.

Cedreo is unique in that the software shows your plans in 3D as you draw in 2D. Complete your design with Cedreo's extensive library of furniture, materials, and textures. Many architectural rendering software programs need advanced computer capabilities, but Cedreo's cloud-based software lets you design anywhere with a web browser and internet, making it one of the most accessible general contractor software programs available.

Key features for general contractors:
Minimal learning curve
Quick creation of 2D and 3D plans and renderings
Supports full home design in under 2 hours
Easily download plans and renderings
Show clients projected completed projects with realistic visuals
Pricing: There's a Cedreo plan to meet any budget. Check out our plans here.
But, why wait? Try our free version today!




2. Procore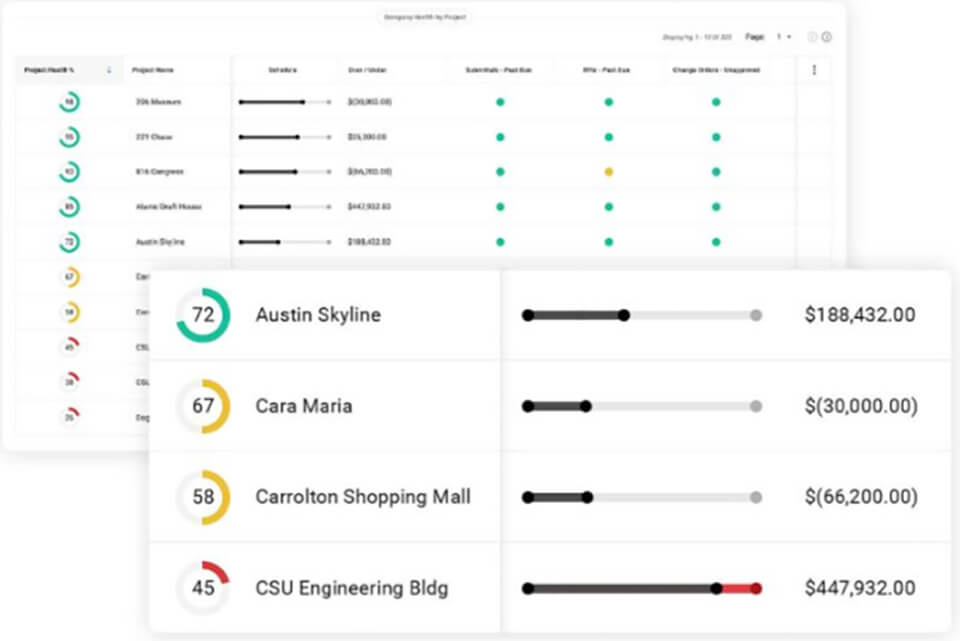 Best for: Project management, financial management, property developers, project managers, architects

According to Procore, 75% of construction project managers who use their software reduce project timelines by at least three days. The software manages your financials, resources, and projects from beginning to end while seamlessly connecting involved parties.

General contractors, owners, and subcontractors can discuss details through the centralized dashboard. Managers can monitor progress while coordinating project details and scheduling tasks through this general contractor software project management platform.

Through Procore's app marketplace, you can integrate over 150 applications to work with your Procore software. The ability to coordinate jobs cross-functionally helps eliminate silos, reduces confusion, and establishes a singular project vision.

Key features for general contractors:
Real-time platform communication
Financial management extensions
Unlimited users, data, documents, and photos
Pricing upon consultation

3. Sage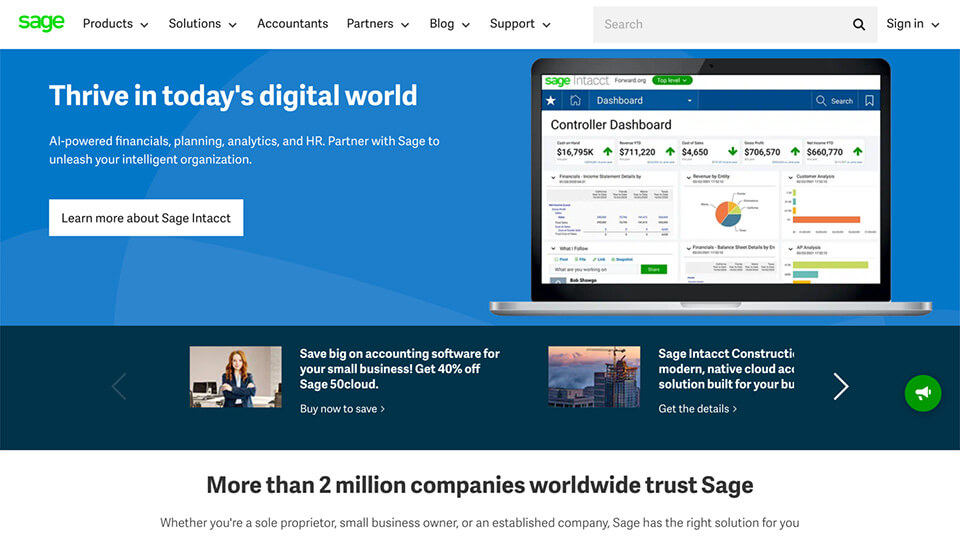 Best for: Small to midsize general contractors, all-in-one business management

Sage provides a comprehensive program that lets you create estimates, bids, and change orders, and manage projects from one platform. Sage tracks worker contract expiration dates and generates alerts before paying subcontractors who have not provided current documentation.

Sage includes general ledger, accounts receivable, accounts payable, payroll, scheduling, project management, and equipment management features. With this software, you can create purchase orders, subcontracts, job costings, change orders, and customizable reports for the ultimate organization.

Key features for general contractors:
General contractor estimating software tools
Subcontractor/supplier discussion tracking
Extensive expert and reseller network
Automated documentation alerts
Pricing upon consultation

4. STACK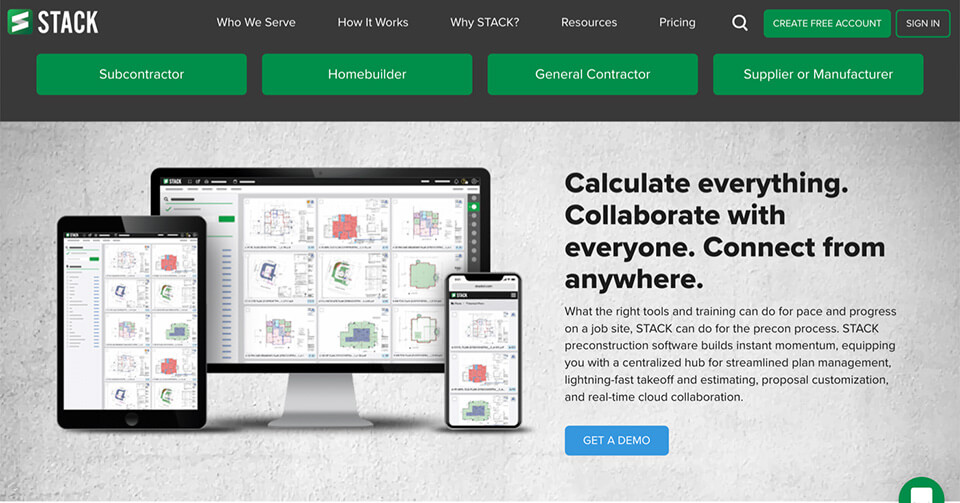 Best for: Estimating

STACK is one of the leading general contractor estimating software tools for projects in the pre-construction phase. The platform helps general contractors find profitable projects, win more bids, and liaise between subcontractors, suppliers, and customers.

STACK helps teams become more efficient with its extensive collaboration features. The software works well for small businesses and large organizations alike.

Key features for general contractors:
Unlimited takeoffs with paid subscription
Easy-to-use interface
Mac and PC compatible
Pricing:
7-day trial: Free
Single estimators: $1,999/year
Precon teams: $4,999/year
Customized option prices upon consultation
5. Buildertrend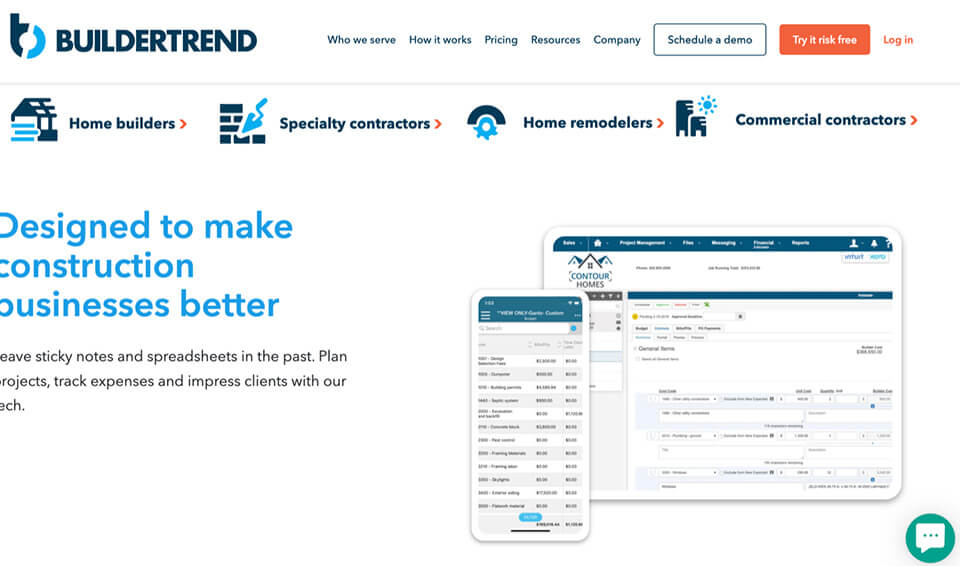 Best for: Best for CRM, bid requests, project management

Buildertrend offers a comprehensive range of tools to help contractors manage their projects from start to finish. The company recently acquired the construction management platform CoConstruct, further expanding its range of features.

Buildertrend assigns each customer their own account manager to provide customized support and training, and the platform integrates seamlessly with popular tools like Xero and QuickBooks for a smooth transition.

Key features for general contractors:
Tool integration
Scheduling and timesheets
Customer management
Bid request and change orders
Project management
Pricing:
Core Plan: $349/month ($99/month for first two months)
Pro Plan: $599/month ($349/month for first two months)
6. PENTA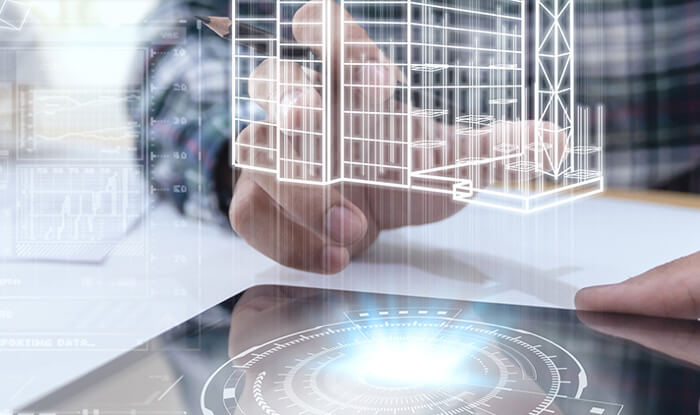 Best for: Accounting, job costing, financial management

PENTA's construction management tool is perfect for busy professionals who need to manage multiple projects at once. Quickly import or export financial information to simplify costing and integrate your payroll tools.

The time and billing module provides payroll reports detailing job-specific data and insight into project performance. PENTA helps ensure each project is using staff hours efficiently.

Key features for general contractors:
Tool integration
Comprehensive project management
Data integration between modules
Built-in project reports
User-friendly
Pricing upon consultation

7. SmartUse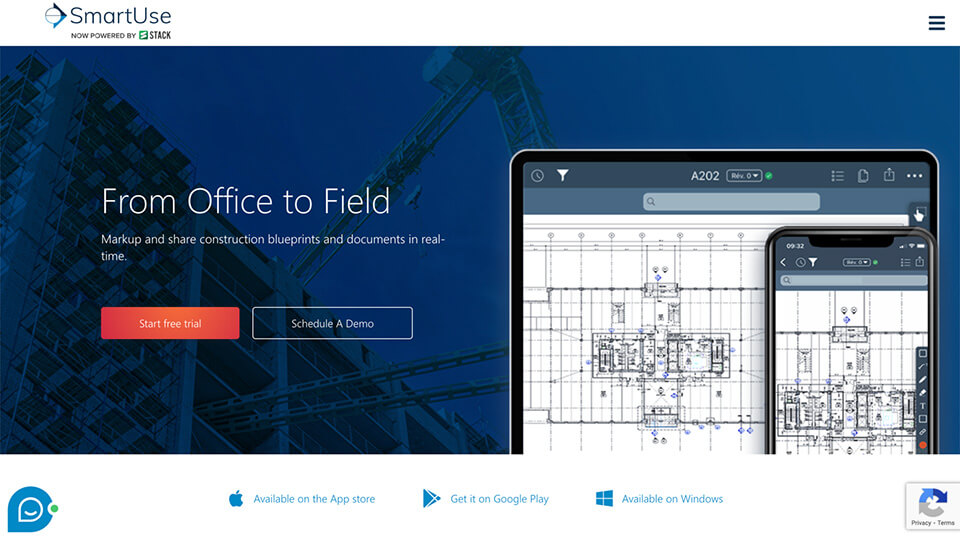 Best for: Document management, change orders

With SmartUse, you'll have everything you need to keep your construction project on track. Documents are easy to find so you can always stay up-to-date on recent changes. With their auto-naming and auto-numbering functionality, you can keep your documents clearly sorted.

With SmartUse, you can easily stay on top of project details with centralized hyperlinks, word searchability, and side-by-side viewing. Plus, SmartUse aims to provide a "single source of truth" for all project information, providing one centralized location for teams to track plans, specs, renderings, and other critical information.

Key features for general contractors:
Intelligent document management
As-built drawings
Word searchability
Collaboration tools
Pricing upon consultation

8. eSUB Subcontractor Software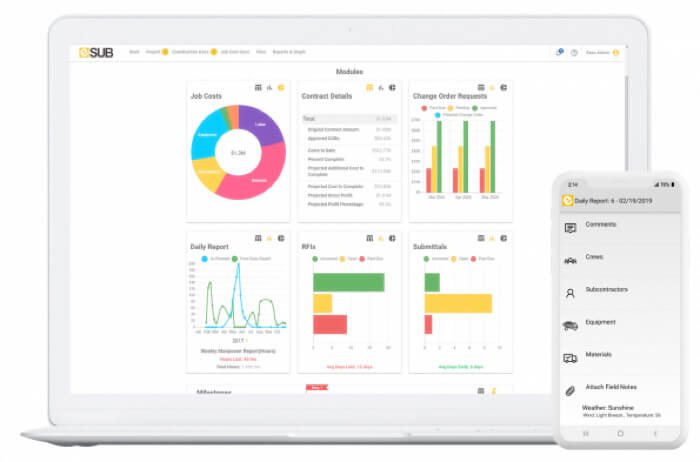 Best for: Managing subcontractors

eSUB provides an effective tool for standardizing project management procedures and managing day-to-day operations. This cloud-based software allows you to easily stay on top of multiple projects.

Built-in accountability features help general contractors navigate risks and track important information. See your workload in real-time and communicate with various subcontractors on one platform. Share project details for fast turnaround of RFIs.

Key features for general contractors:
Cloud-based software
Automatically tracks labor
Two-way subcontractor communication
Pricing upon consultation

9. Fieldwire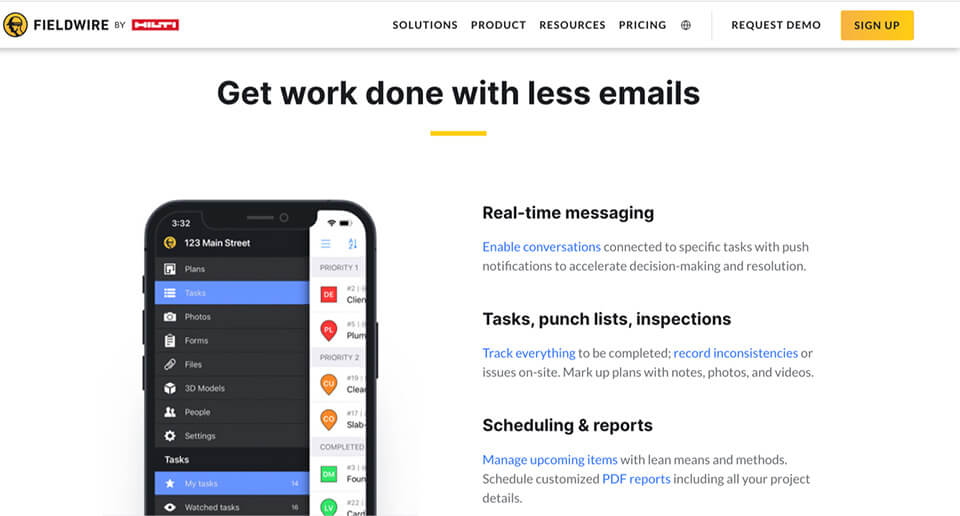 Best for: Jobsite coordination

Fieldwire is an excellent tool for construction professionals looking to optimize their jobsite management. Using Fieldwire, you can easily organize, assign, and schedule tasks via a Kanban priority, Gantt chart, or calendar view, while tracking progress from any device.

Fieldwire lets you easily create and share documents and photos, communicate in real time, and generate reports automatically. Fieldwire supports walk-throughs and inspections, ensuring that every step of your project goes as planned.

Key features for general contractors:
Real-time messaging
Instant insights and reports
Issue tracking for quick inspections and walk-throughs
Pricing:
Basic: Free
Pro: $29/user/month
Business: $49/user/month
Premier: $89/user/month
10. Autodesk Construction Cloud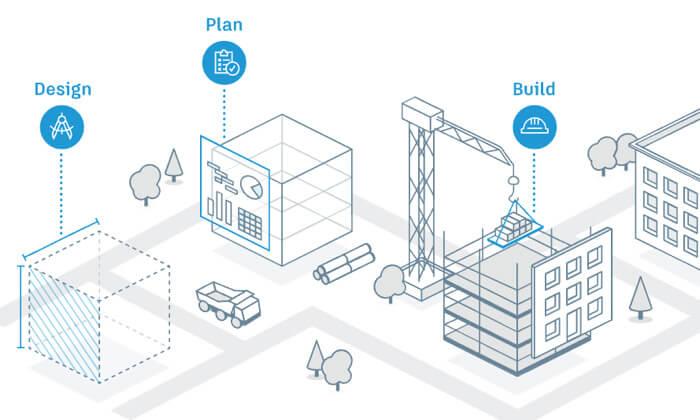 Best for: Large projects

Autodesk Construction Cloud accelerates your project's build phase with an easy-to-use platform that tightly controls information sharing and workflows. Preconstruction teams are better supported through integrated takeoffs to win more projects through quicker estimates and more exact bidding.

The standardized and centralized data collection from design through operations enables evidence-based decision-making. Insight into high-risk problems through predictive analytics helps mitigate costs and improve quality and safety for ultimate efficiency.

Key features for general contractors:
Centralized communication
Document management
Site progress monitoring
Pricing upon consultation

11. PlanGrid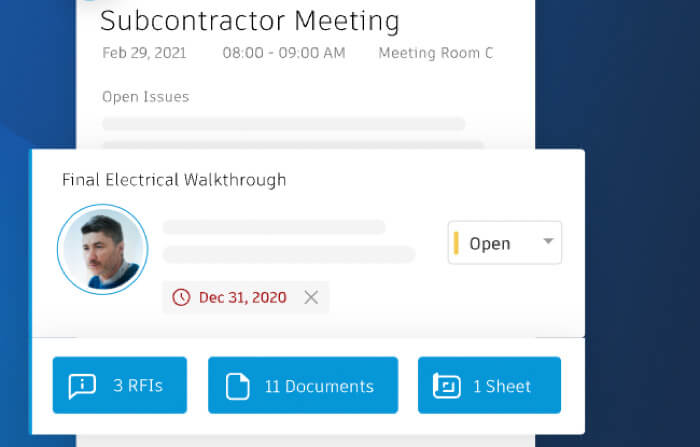 Best for: Document management and blueprints

PlanGrid is part of the Autodesk Construction Cloud platform. It's an easy-to-use mobile app, perfect for contractors and design teams on the go. PlanGrid enables teams to collaborate through centralized access to blueprints, shop drawings, and progress photos.

You can markup and make amendments to plans in the field, and attach notes and photos as needed. Whether you're a contractor, designer, or project manager, PlanGrid can help you meet your goals.

Key features for general contractors:
Hyperlink documents
Overlay blueprints to identify changes
Easy handover through comprehensive reports
Pin problems to locations
Pricing upon consultation
Which Software Is Right for Your Business?
Cedreo provides an excellent solution for home builders, architects, and designers, allowing you to create beautiful 3D renderings and furnished home plans with fewer steps. Save your designs from previous projects, or bring new ones to life quickly.

With Cedreo's cloud-based software, you can access your designs anywhere, helping you stay connected on the go. Learn more about how Cedreo can help you take your business to the next level.