When it comes to landscape design software, home builders and designers have a lot of choices. Each landscape design software offers different features, pricing, ease of use, and design elements. Some companies make design platforms that are compatible with PCs but don't offer landscape software for Macintosh.

As your design business grows, you need scalable, integrated solutions that enhance your process and professionalism. You need the best landscape design software for Mac. Anything less simply won't do.

We're here to help. In this post, we will discuss the functions and features of each professional landscape design software for Mac to help you find the perfect program for you. To learn more, keep reading.




4 Considerations When Choosing Landscaping Software for Mac
Before we dive too deep into the list of landscape design software options, let's take a look at some factors to considers before you make your choice. When choosing a landscape design software for Macintosh, you need to consider affordability, ease of setup and use, scalability, and the free and paid features.

Affordability

Almost any professional landscape design software for Mac is going to cost at least a little money. Whether the software offers a monthly subscription plan or a one-time download fee, you need to consider how the cost will affect the bottom line for your business and each project.

Ease of setup and use

Designers and home builders are busy people. A lot goes into creating beautiful, professional landscape designs, dealing with clients, and delivering results on scheduel.

You really don't have a lot of time to devote to setting up your landscape design software, and you certainly don't have time for a complicated and frustrating user interface. Consider how the software you choose will affect your timeline for landscape design projects.

Scalability

When you are considering which landscape design software for Mac will be best for your business, you're probably picturing how the software will work with your business right now. But what about in a year? What about five years? Can the software scale with you as your business grows?

You need to know whether your landscape design software can handle multiple projects at once, how many users it can support, and how quickly you can use it to get from one project to the next.

Features

Your final decision will probably come down to comparing features. Pretty much every landscape design software for Macintosh has an array of features, but how well do those features line up with your needs? And are they easy to use? Make sure the tool has the capacity to seamlessly support your business.




6 Best Professional Landscape Design Softwares for Mac Users
Now that we know which factors to consider when choosing a landscape software for Macintosh, let's take a look at the best of these options. The following programs made our list of best landscape design software for Mac:
Cedreo
SketchUp
Live Home 3D
VizTerra
SmartDraw
Chief Architect Home Designer
Below, we provide an overview of each of these options, including their key features and pricing.
1. Cedreo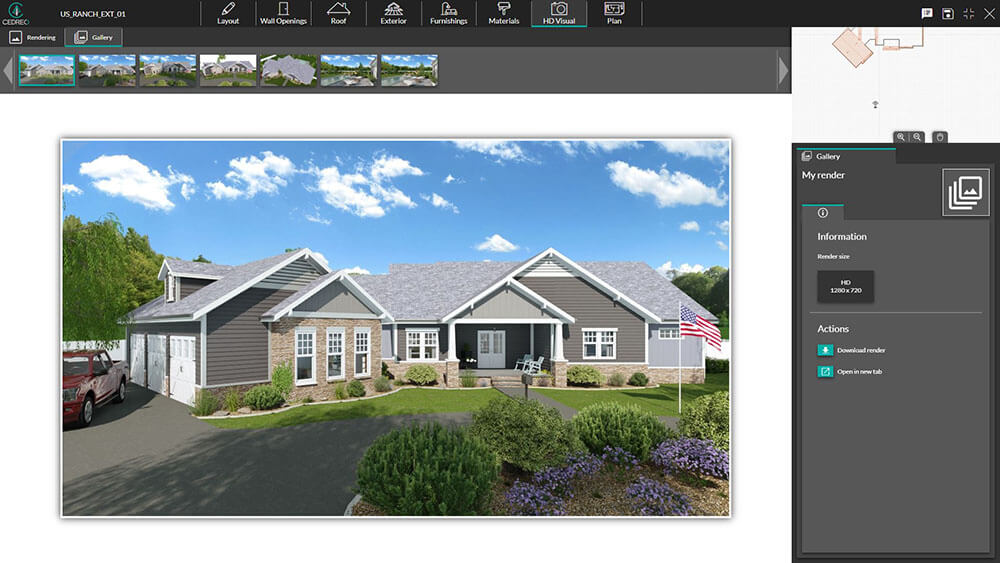 We have included Cedreo on this list because we built our professional landscape design software for Mac to solve the problems that other design programs cause for designers and builders. That means we have studied landscape design software of all kinds to help us build the best product.

Cedreo is a complete 3D home and landscape design software that allows designers, builders, and remodelers to draw a complete design in under two hours. Completely online, Cedreo helps users draw 2D, 3D, and photorealistic landscape designs complete with patios, porches, pools, fountains, trees, plants and more. Outdoor furniture comes from a massive library of customizable decorations, and grass, gravel, concrete and tile are just a few of the outdoor flooring options.

Draw exact property boundaries and on-property structure dimensions in a few simple clicks, and add major features like driveways, decks and pools with a draw or drag-and-drop feature. As you draw in 2D, the 3D version of your landscape design will update automatically and in real time.

Key features:
Ability to import existing landscape designs to use as a base layer
More than 3,500 outdoor surface coverings
Point, click and drag boundary drawing
More than 3,000 customizable outdoor and indoor furnishings and decorations
Easy-to-use product search bar
Grouped furnishing and decoration packs to maintain consistent style
Daylight and sunset renderings
Sun orientation toggler to provide realistic landscape views
Customizable exterior lighting options
Neighboring home or feature display to provide context
2D sketches, 3D visualizations and photorealistic, tourable renderings for clients
Landscape design export functionality for sharing with clients and colleagues
Print to scale with PDF functionality
Project gallery to store multiple renderings for each landscape design project
Pricing:

Pricing: There's a Cedreo plan to meet any budget. Check out our plans here.

Cedreo offers a free, no-obligation trial. Why wait? Sign up today.

Start using the best landscape software for Macintosh for free today. Build the perfect landscape design in less than half the time with Cedreo.
2. SketchUp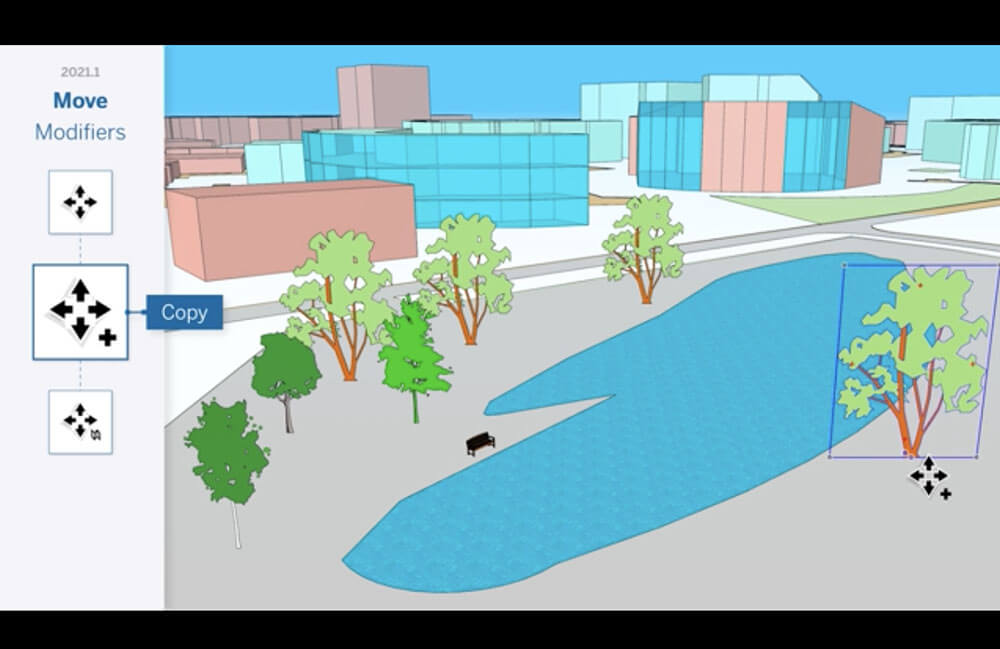 SketchUp is a 3D modeling software that has applications in landscape design. While the program offers a wide variety of features, many of them are more suited for engineering, film and video game design. Still, SketchUp manages to set itself apart from many other landscape design softwares for Mac by offering the ability to present landscape designs via virtual reality (VR) and augmented reality (AR) headsets.

Photorealistic renderings of SketchUp landscape designs, but they rely on third-party programs to generate them. While the program falls somewhat short in the photorealistic rendering department, it excels in its ability to model land contours and its large library of pre-modeled 3D objects.

Key features:
VR and AR viewing with some plans
Unlimited cloud storage
Web and desktop applications
3D modeling tools for individual objects
Pricing:

For professional use, SketchUp offers three price points. The web-only "Shop" plan — sold as the plan for "personal projects" — is $119 per year and gives you access to the 3D model library and AR viewing, as well as unlimited cloud storage.

For $299 per year, the "Pro" plan allows for web and desktop work, VR viewing, documentation notes inside 2D designs and a desktop 3D modeler. The most expensive plan — called "Studio" — is $699 per year. This is the only SketchUp plan that provides real-time visualizations as you work. It also allows for 3D animations within designs.
3. Live Home 3D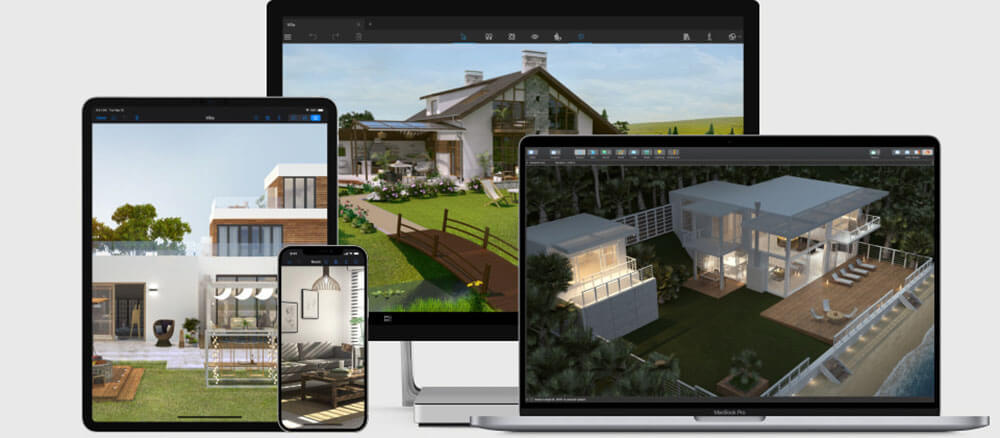 Live Home 3D is a landscape software for Macintosh that caters to homeowners or beginning designers. The desktop-based app offers a free download, but the free version lacks several features, including terrain editing, elevation view, material customization, and the ability to export projects.

The paid version of this software offers the usual features: 2D and 3D design, video walk-throughs, and a furniture and material library. But its 360-degree panoramic view feature distinguishes it from much of the other ​​professional landscape design software for Mac.

Key features:
360-degree panoramic views
Video walk-throughs
Furniture and material library
2D and 3D designs
Terrain editing
Elevation views
Floor plan importing
Pricing:

Pricing for Live Home 3D is somewhat complex. The app is a free download, but it includes many in-app purchases. A one-month subscription with standard features is $4.99, while a one-month pro subscription is $9.99. Users can also pay a one-time lifetime subscription fee of $49.99. Keep in mind that many other features, such as additional materials and furniture collections, cost a one-time fee to use.
4. VizTerra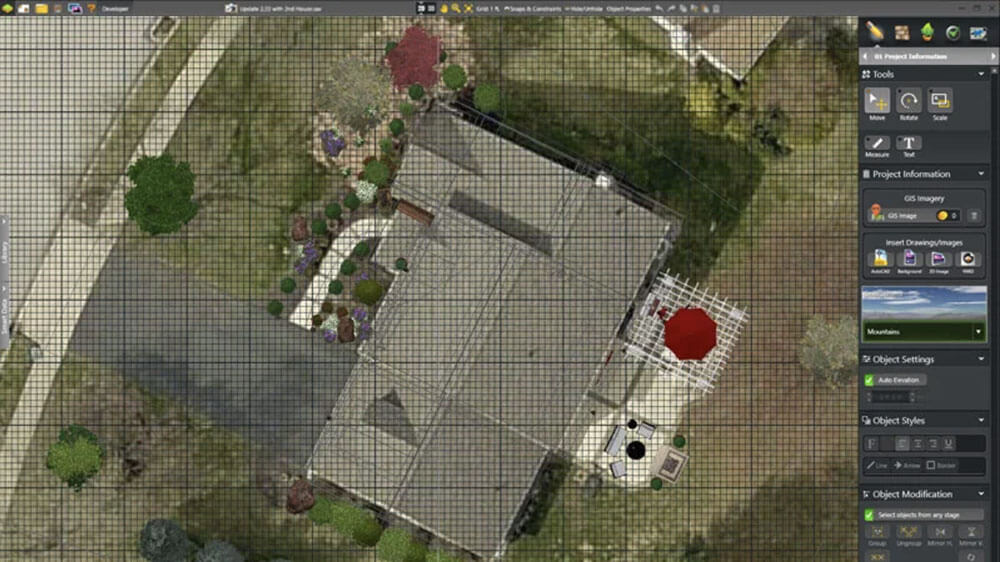 While it's not the best landscape design software for Mac, VizTerra does set itself apart from many other options by being a landscape-only design software. You won't be able to design floor plans in VizTerra, but the program offers some impressive landscape design abilities.

Like many of the other landscape design software options, VizTerra has a 3D object library, but this one focuses on furniture and features for outdoor living. Fire pits, decks, and fountains are just a small sample of what's available. Meanwhile, VizTerra also offers both 2D and 3D design, and you can click on a 2D design to generate a 3D version. Perhaps the most inventive feature of this software is the ability to add nature sounds and day-to-night transitions to client presentations.

Key features:
3D object library
Immersive presentation mode featuring sound and daylight transitions
Adjustable camera angles to capture landscape photos
Resolution up to 8K
Pricing:

There is a free trial of VizTerra, but after the trial, users must pay $97 per month to use the program. Structure Studios, which created VizTerra, offers two other landscape-focused design programs. For $147 per month, you can get all of VizTerra's features, plus Pool Studio, for water features and pools. And at $197 per month, Vip3D includes all of the features of VizTerra and Pool Studio, but adds VR and 360-degree views, spec sheets, and an advanced landscape shadow display.
5. SmartDraw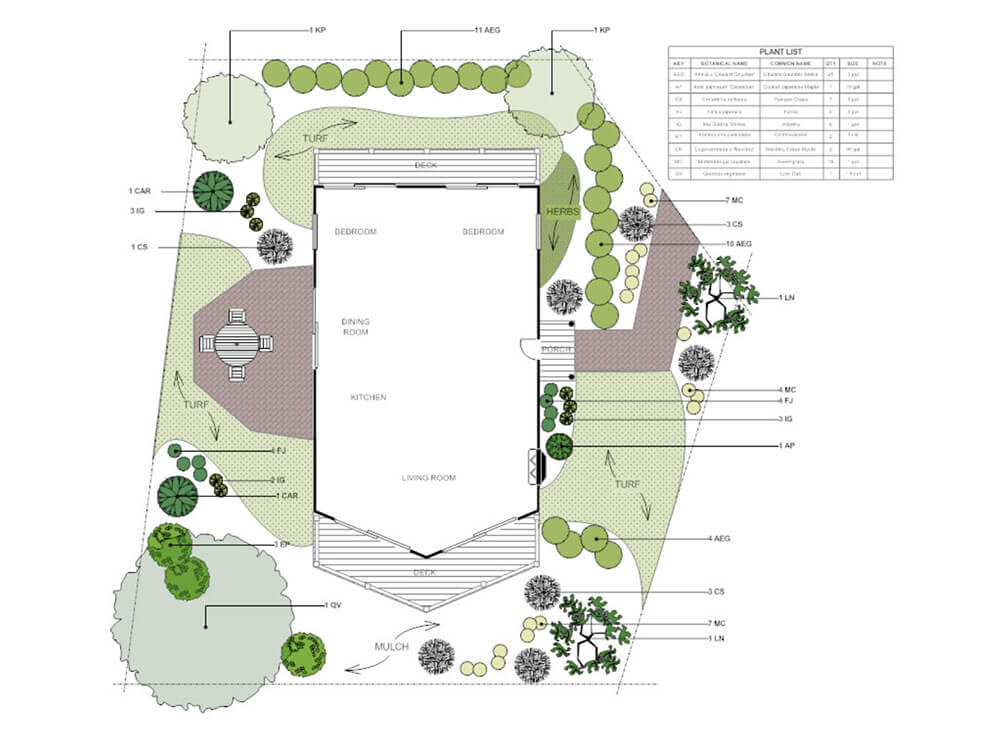 Among professional landscape design software for Mac, SmartDraw excels in 2D sketching but lacks an advanced 3D modeling or presentation mode. This is likely because the program is mostly used for non-landscape design applications, such as drawing diagrams and flowcharts.

Despite this limitation, SmartDraw does offer some landscape design templates that show a relatively advanced 2D drawing of a typical landscape.

Key features:
Integration with common workspace tools
Third-party import and export options
More than 4,500 templates for diagrams, charts, and designs
Cloud collaboration
SmartDraw offers a free trial, after which it charges users $5.95 per month for each feature they use.
6. Chief Architect Home Designer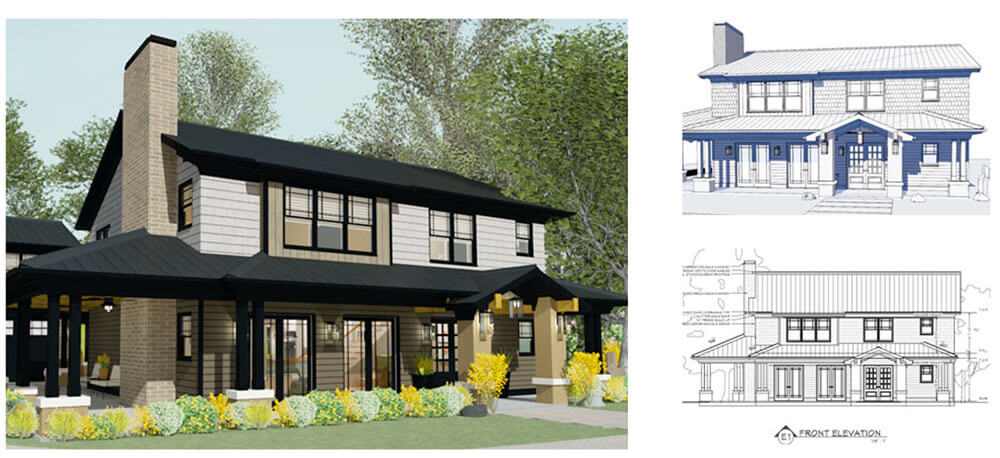 Chief Architect Home Designer is the DIY version of the Chief Architect line of home and landscape design programs. The higher-end version, simply called Chief Architect, is much more expensive but offers a large variety of CAD-style features.

The landscape design features of this program are rare within the realm of professional landscape design software for Mac. Examples include the ability to import real photos to use as backdrops for 3D renderings, and outdoor kitchen planning features.

Key features:
In-program tools designed specifically for patio and deck design
Terrain and lot tools to show setbacks, slopes, and irregular shapes
Outdoor kitchen products
A library of more than 3,600 plants
Photo import for 3D backdrop use
Pricing:

Chief Architect Home Designer comes with three software options, two of which are not designated for professional use. The professional package, Home Designer Pro, is available for a one-time purchase and download fee of $485, or a monthly rental fee of $59.
Which Software Is Right for Your Business?
The world of landscape design software for Mac is a big one with many options. The one that is right for you will depend on the features you need, your ability to navigate complex user interfaces, and the needs of your design or construction business.

While the software platforms described above have their strengths and weaknesses, we believe Cedreo offers the most intuitive and functional option for landscape designers, home builders, and remodelers. That's because we offer a wide variety of user-friendly features and a completely free version to allow professionals to try Cedreo before they buy.

You have nothing to lose if you try Cedreo for free, but there is a lot to gain. With Cedreo, you can create stunning 2D and 3D landscape designs, cut design time in half and scale your business. Ready to get started? Contact us online or start using Cedreo today.