Lighting design is an essential aspect of creating a visually appealing and functional space. And fortunately, it's easier than ever to design lighting visualizations online with 3D lighting design software.
These lighting visualization tools enable lighting designers, residential contractors, and interior designers to create realistic 3D lighting designs without breaking the bank and without previous 3D design experience.
In this 5-minute read, we'll explore the value of lighting visualization software and show you some real 3D lighting design examples. Plus, you'll learn how to simplify the lighting design process with Cedreo.
Let's get started.
The Value of a Lighting Visualization Software
Lighting visualization software is a crucial tool for designers, remodelers and other residential contractors.
Not using it yet? Check out these benefits of using lighting visualization software:
Saves Time and Money: Lighting visualization software allows you to create 3D lighting designs quickly and easily, reducing the time and money required to create physical prototypes. Most 3D modeling programs require expert users and hours (or even days) of work to get a realistic rendering. Cedreo takes care of the heavy lifting. Once your home design is complete, it only takes a few minutes to get a realistic 3D visualization.
Realistic Visualizations: With 3D lighting design software, you can create photorealistic renderings of your lighting designs. This lets you see how the lighting will look in real life, giving you a better understanding of the design's impact. Cedreo even lets you adjust the sun's position in relation to the building in order to see the realistic effects of natural lighting on the space.
Custom Designs Your Clients Love: Lighting visualization software helps you to make accurate designs that meet your client's needs. Based on client feedback, you can easily adjust lighting intensities, color, and placement to create the perfect design.
Enhanced Communication: Cedreo also helps you communicate your lighting designs to your clients more effectively. Your clients can see exactly what the lighting will look like before any work is done, enabling them to make better design decisions.
With such huge benefits, using lighting visualizer software is a no-brainer. So what types of visualizations can you create with a program like Cedreo? Keep going to see them in the next section.
3D Lighting Design Examples
Here are some examples of 3D lighting designs created using Cedreo.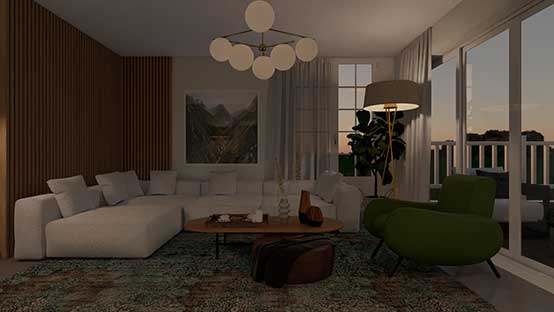 Ambient Lighting: This type of lighting creates a comfortable and relaxing atmosphere. It's perfect for bedrooms, living rooms, and dining rooms.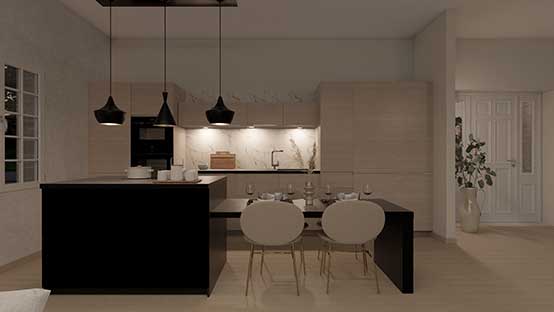 Task Lighting: Use task lighting to provide focused lighting for specific tasks, such as reading, cooking or working. It's ideal for home offices, kitchens and reading nooks.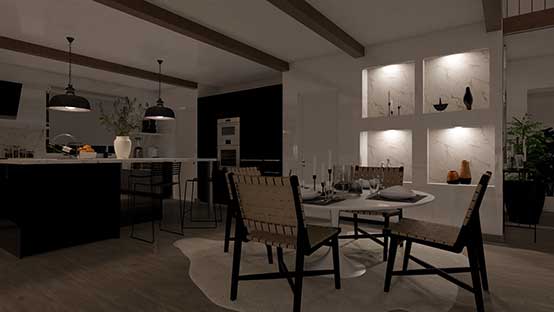 Accent Lighting: Use accent lighting to highlight specific features or objects in a room, such as artwork or architectural features. It's perfect for living rooms, hallways and outdoor lighting.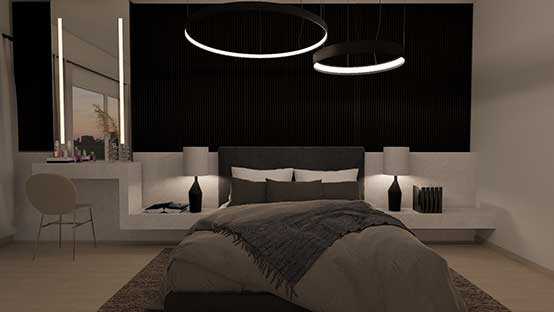 Mood Lighting: Use mood lighting to create a specific ambiance or mood in a room, such as romantic, cozy or dramatic lighting. It's ideal for bedrooms, living rooms and dining rooms.
With several different types of lighting all in one room, a lighting visualizer like Cedreo really comes in handy. See how in the next section.
Simplify Lighting Design With Cedreo
Cedreo is a 3D home design software that simplifies the lighting design process for housing professionals like you. Cedreo's lighting visualization tools enable you to create realistic 3D lighting designs that help you close more deals.
Here's how:
Cedreo's interface is easy to use, even without prior 3D design experience.
Customize the lighting in your designs, adjusting color, intensity and placement.
Create realistic visualizations to give you and your clients a better understanding of how your designs will look in real life.
Turn lights on and off to see the effects of specific types of lighting, like mood or accent lighting.
Enjoy easy-to-use collaboration tools that improve communication by helping you quickly share your lighting designs with clients, contractors and other stakeholders.
With a free version, you've got nothing to lose. Sign up for Cedreo today!