In these difficult times, many of us are wondering how we can contribute to improving the situation, apart from maximizing our physical distance to prevent the spread of Covid-19.

For the computation of 3D images made by our users with our online architecture software, Cedreo has powerful computing resources at its disposal which are not in use 100% 24 hours a day.

Thanks to the Folding@Home initiative, you can make your AMD Radeon or NVidia GPU resources available and contribute to the fight against diseases, including coronavirus.

After a first installation of the software, we have noticed that our machines are well positioned to help fight against coronavirus.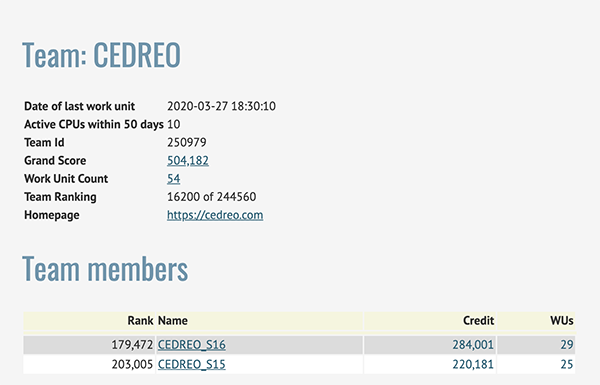 How does it work? ?
/wp-content/uploads/cloudinary
Folding@Home is a computing distribution project dedicated to research against diseases (Cancer, Parkinson's, Huntington's among others) and was set up in 2000 by Stanford University.

The solution uses the CPU (your motherboard's processor) and GPU (your graphics card's processor) resources from thousands of computers around the world to simulate protein folding and design new drugs (researchers need a good understanding of the chemical interactions within a protein in order to discover new treatments and therapies).

These simulations require massive computing power and the Folding@home teams now want to put their computing resources at the disposal of the fight against the coronavirus.
![Visual bloc2](/en/image_bloc_2.png "Visual bloc2")The results are compelling: the total power of Folding@Home up to 767 petaFLOPS. That's far more than Summit, the most powerful supercomputer currently available, which can only reach 200 petaFLOPS according to the Top 500 ranking. By comparison, it was only 47 petaFLOPS in December 2019.

How can I contribute?
/wp-content/uploads/cloudinary
If you have one or more workstations on Windows, Mac or Linux, just go to https://foldingathome.org/start-folding/ , download and install the application.

Once the software is installed and launched, it should send you to a web page for control and monitoring.

If this is not the case, enter https://client.foldingathome.org into your browser

You then choose where you wish resources to be allocated:

You may have to manually add your GPU to the "FAHControl" application, but it's quite simple. Just open "FAHControl", select the "Configure" button in the top left corner, navigate to the "Slots" tab and check the GPU box (picture below).

You can leave the other options aside, the software will take care of it for you.

If you don't have a dedicated graphics card, the Folding@Home team is working on adding COVID-19 simulations to CPU workloads as well, but no timeline has been given for that.