Mansion Floor Plans
Are you planning out a luxury home construction project? Check out these quick tips for making the most out of designing mansion floor plans.


Create an entire mansion home floor plan in under 2 hours


Draw in 2D and simultaneously see your designs in 3D


Transform plans into photorealistic renderings with one click
6 Key Mansion Layout Considerations
While building out a mansion house plan shares many similarities with a traditional construction project, you'll find the need to inject luxury and space into your designs throughout each area. With around 8,000 square feet to play with, you'll have a lot of room for creativity. Here are a few key considerations to help you create seamless and timeless mansion layouts.

Bathroom Size
Luxury homes like mansions create space in every room. Be sure to pay attention to bathroom size and luxurious features like high-end fixtures.

Bedroom Space
Everything from the master bedroom to the guest rooms must feel spacious, private and separate from the rest of the layout.

Outdoor Areas
A mansion has a lot of interior design elements to consider, but don't forget to add some glamor to your outdoor spaces with features like an outdoor kitchen.

Natural Features
Landscape architecture is a critical part of a mansion's design. Leveraging full 3D landscape rendering tools can give you a leg up on your next project.

Open Kitchen Designs
When it comes to mansion design, nothing beats a modern open kitchen layout. It's inviting and great for entertaining.
Explore Kitchen Floor Plans

Speciality Rooms
While bedrooms and bathrooms are a necessity, be sure to include more luxurious spaces like home offices, home theater rooms and dens in your designs.
Mansion Floor Plan Examples
Mansion house layouts are often unique and custom to each client's specifications. Even so, a few general floor plans and designs can help you start the project off on the right foot. Below you'll find some examples of modern mansion floor plans.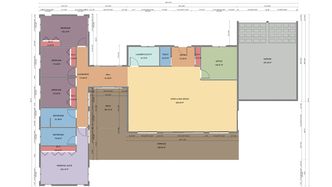 Open Design
With clear sightlines and intuitive flow, open concepts are a great approach to luxury home design.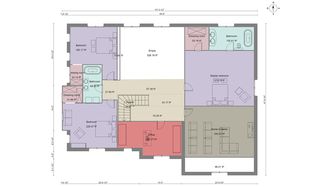 Cape Cod Home
Centered around a master suite located on the first floor, this timeless layout is a famous regional style.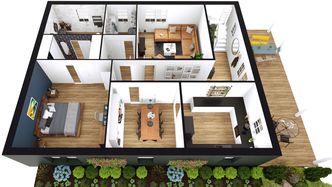 Traditional Closed Design
With clearly separated areas, a traditional closed floor plan will never go out of style.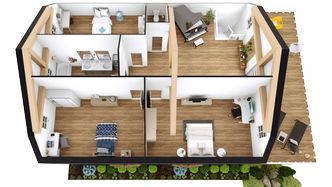 French Country
Simple and artistic, French Country-style floor plans feature large rooms for entertaining and spacious sleeping quarters.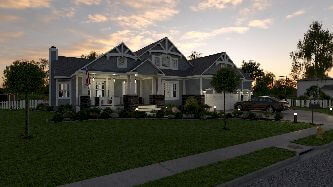 Craftsman Style
An American mainstay, Craftsman-style floor plans leverage low-profile designs with practical luxury features like built-in cabinetry.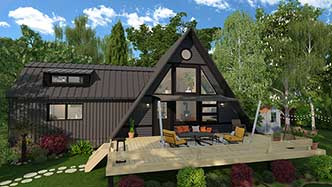 Cabin Floor Plans
Don't let the rustic nature fool you; cabin floor plans can easily become luxurious with the right design approach.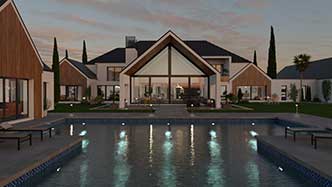 Split Level Designs
If you're looking for modern flair, split-level designs can make wonderful use of vertical space.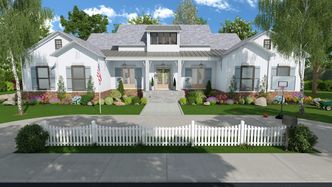 Modern Farmhouse
This floor plan for a mansion style marries an iconic farmhouse design with modern architectural layouts and interior design choices.
Mansion Floor Plan FAQs
Creating a mansion house plan design is not an easy undertaking. Not only are you dealing with more space, but luxury is the name of the game, so every detail matters. To help you make the best plan for your client, here are a few mansion floor plan FAQs.
What Other Room Design Elements Should You Consider?
Of course, bedrooms, bathrooms and kitchens are the first thing on your mind, but don't forget to fill your mansion with a variety of special-purpose rooms. You want to consider every element of your client's lifestyle to match them with the perfect design.
What's the Perfect Kitchen Size?
Many clients are searching for a luxurious kitchen with plenty of space. But what size should you consider for a mansion floor plan design? If it works with your overall plan, go for large, open kitchen layouts. Some mansion floor plans even feature two kitchens—one for entertaining, one for staff like private chefs.
Should You Consider Design-Build?
With a design-build construction project, everyone, from contractors to designers, works for the same company. This can be a great way to streamline the mansion design process and put more control in the hands of the client.
Which Design Software Should You Choose?
You'll find plenty of options for design software on the market. The best platforms will combine powerful 2D planning tools with the latest in CAD and 3D technology. Cedreo is one such software helping designers, contractors and other professionals create streamlined floor plans for mansion design.