Office Design Software
Design Professional Office Layouts in Minutes, Without a CAD Background.
Easily Create Commercial Office Layouts
Commercial clients want to see their new office designs quickly. With Cedreo's office design software, you can create detailed office designs in a single day. Create an open office floor plan complete with lighting and decor, add partial walls to delineate workspaces, or create a multi-level office design with Cedreo's floor plan duplication feature.
Learn more about Floor Plan Software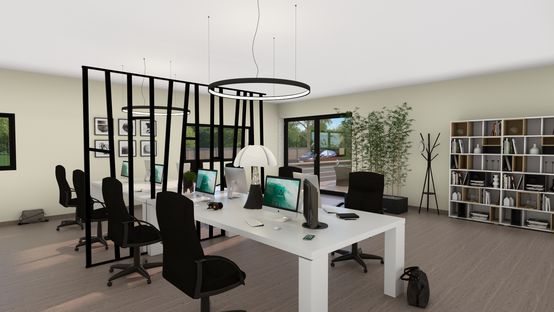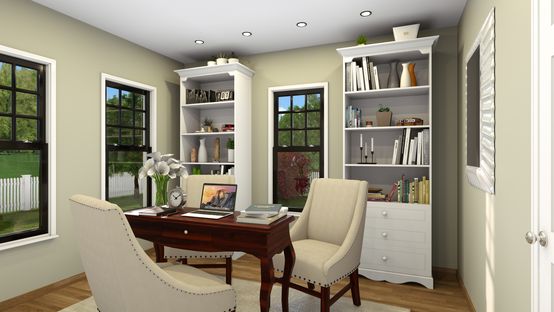 Design Stunning Home Offices
Whether you're building a home add-on or just reconfiguring an existing room to serve as a home office space, Cedreo lets you design a space that perfectly complements your customer's home. You can also easily update your design in real-time as you review it with your client.
Learn more about Remodeling Software
Create 2D Office Layouts and 3D Visualizations
You don't need CAD skills to create sleek office floor plans and visualizations. Cedreo is the office design software countless professionals use to easily draft office layouts, compose interior designs, and complete every step of planning an office space. With a common-sense interface and work-tested features, it's simple to jump right into both 2D and 3D office design work.
2D Office Layouts
With Cedreo's office floor plan software, it's a breeze to draw perfect 2D office layouts. Point-and-click controls enable quick composition of a complete office sketch, with accurate and clearly labeled dimensions. Our office layout software includes all the tools you need to add customizable symbols for openings, office furniture, and architectural features, and to label rooms according to specific office functions. If you have existing floor plans you'd like to work from, Cedreo also allows you to import those and pick up where you left off.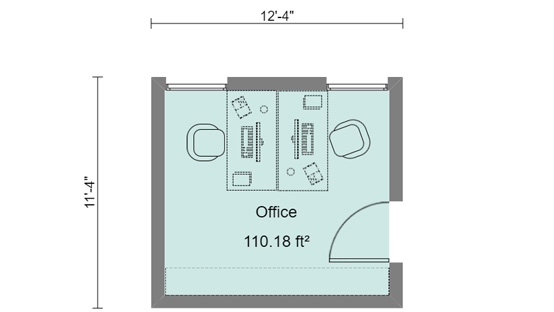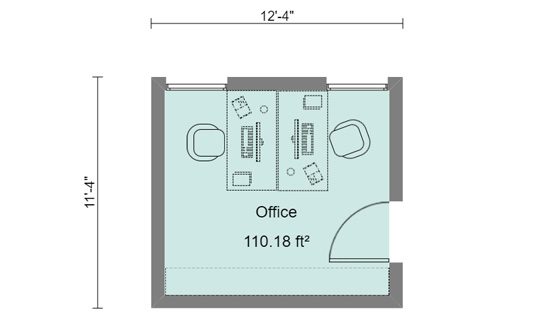 3D Office Layouts
To properly visualize an office design project, you need 3D office design software capable of high-fidelity representations of layouts as they would be in the real world. Cedreo makes your work as an office designer easy with an ever-expanding library of detailed models for furnishings, fixtures, and decor. You can customize the color and texture of surfaces and materials and resize openings for windows and doors. Cedreo organizes objects of similar styles into packs, simplifying the design process and creating coordinated schemes within minutes. Before the workday is over, you'll have a professional office floor plan viewable in 3D.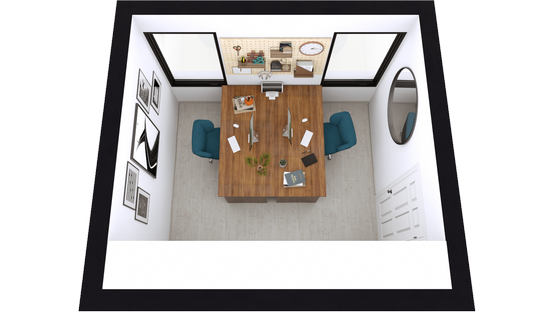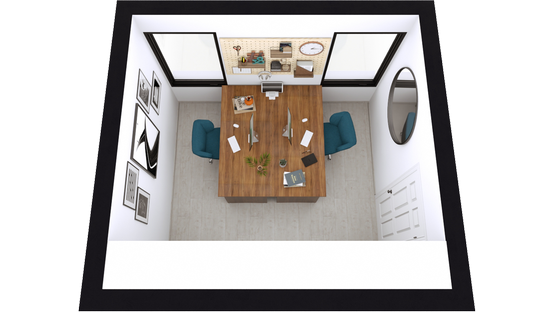 Photorealistic Renderings
Capture your office design exactly as it will look in real life with Cedreo's high-resolution rendering. Our 3D office design software features fully cloud-based rendering production, meaning you don't need top-of-the-line computers to generate lifelike representations of your space. Simply select the view you'd like for your image in the model viewer, then submit a rendering request. You'll have complete control of lighting conditions, perspective, and other visual elements that can make all the difference in creating impressive client presentations. In just a few minutes, our servers will produce your HD renderings.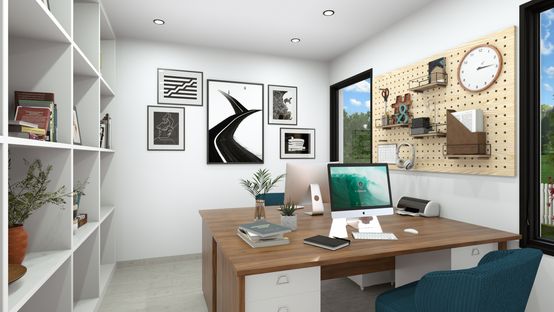 Why Builders and Designers Choose Cedreo's Office Designer
Builders, designers, and architects are choosing Cedreo as their preferred office planning program because it offers all the tools they need to create designs that close more deals.. Whether working solo or in a team, Cedreo's all-in-one functionality increases efficiency and shortens the time from concept creation to final approval.
Simple Interface
No CAD experience? No problem! With Cedreo's simple interface, you can create office designs easily, share them with clients, and save your work as a template for future projects.
Architectural Symbols
Cedreo's architectural symbols let you specify locations of plumbing, HVAC components, junction boxes, and more. That means construction contractors understand your plans with less back-and-forth communication.
Diverse Styles
Whether you're creating a sleek, Scandinavian-style boardroom or a cozy and charming home office, Cedreo has a variety of furniture, decor, and finishes to suit every design aesthetic.
Faster Rendering
If you've ever outsourced 3D office renderings, you know it might be weeks before you see the finished product. Cedreo creates renderings in minutes, so you can keep your projects moving forward.
Endless Customization
Want to create an office lobby with a mezzanine level, or a single-floor office with skylights? You can do that with Cedreo. Let your creativity shine with Cedreo's customization options.
Web-ready Images
The 3D renderings you present to clients can also enhance your website and social media presence. Upload your high-resolution product images, so potential customers can see your work.
Examples of Office Layouts and Designs
Using Cedreo's office design software, you can create a variety of office design plans and visuals. Users can develop both 2D and 3D layouts, and create detailed floor plans, covering the entire spectrum of imagery types needed for designers, builders, and contractors.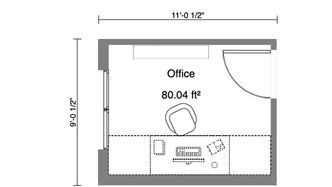 2D home office layout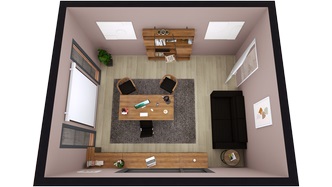 3D home office floor plan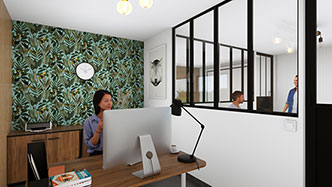 3D real estate office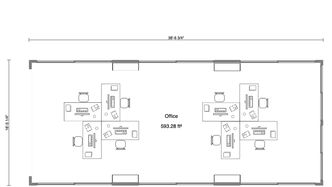 2D cubicle office layout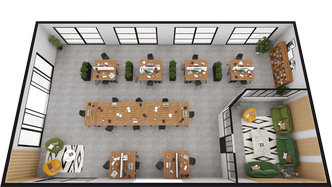 3D cubicle office floor plan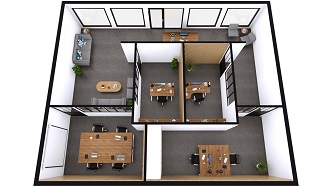 3D office lobby floor plan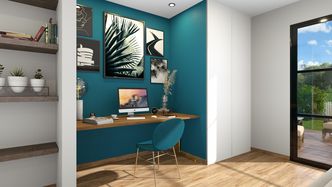 Home office rendering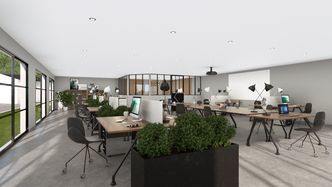 Cubicle office rendering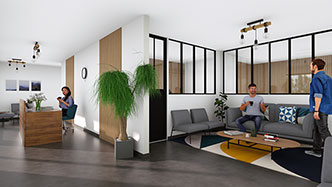 Office lobby rendering
Work Faster With Cedreo
Cedreo is the software professionals trust when they need to design office floor plans quickly.


Import Existing Office Floor Plans
If you already have plans or a blueprint, simply import them to Cedreo and start designing.


Draw in 2D & View in 3D
Cedreo's dual-window view shows your 3D designs taking shape as you work in 2D.


Resize Office Layouts
Drag external and internal walls to quickly resize or reconfigure your office layout.


Choose From 7,000+ Furnishings
Use the search function, or search by category, to find the furnishings you need to complete your design.


1,000+ Window and Door Products
Drag-and-drop windows and doors. Then adjust the size, trim style, and trim color with just a few clicks.


Share Layout Designs
Download designs to share them with stakeholders — or share them inside Cedreo, with an Enterprise plan.
How to Design and Visualize Office Layouts
Designing your office in Cedreo doesn't take technical skills or complicated workflows. You can start a project and have it ready to present before you clock out.
1. Draw or Import Layout
Sketching your office floor plan is easier than ever with point-and-click controls. Place walls with a couple of clicks, and adjust room perimeters by dragging the walls. Choose openings and other architectural features from the side menu and click your desired placement. Cedreo automatically calculates and updates room measurements, which saves you time as you work.. If your office project already has a floor plan, you can import it to Cedreo and trace over it in the 2D layout mode.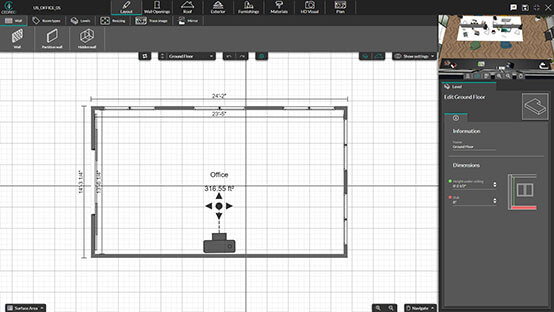 2. Decorate and Furnish
Give your office space a unique aesthetic that fits your client's tastes with our decorating tools. Select from curated collections of furnishing styles, or pick items individually. Coordinate furniture and finishes with your preferred color scheme for the best visual harmony. Cedreo's surfaces and materials library offers a broad selection of options that you can apply with one click.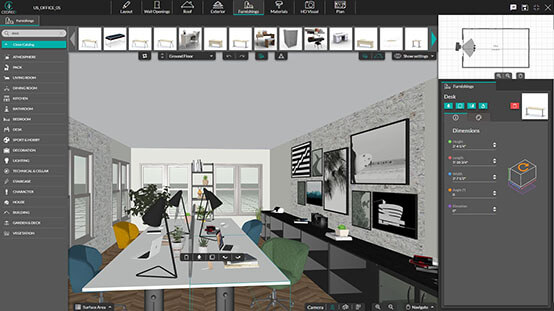 3. View Office in 3D
As you're drafting in 2D, you can see your office design come to life in the 3D window. When you're ready to explore the 3D model and find the perfect shots for presentations, enter the HD Visual mode and navigate to your chosen viewpoint. You'll be able to save this viewpoint in your project files for reference or even turn it into a high-resolution rendering.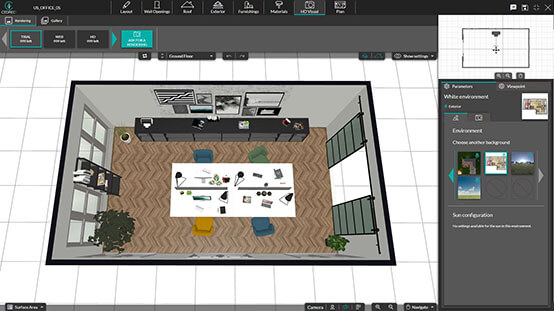 4. Generate Rendering
If you have a viewpoint you'd like to create a rendering of, just click "Ask for a Rendering," and Cedreo's servers will generate the rendering in under 5 minutes. When it's finished, you'll see the rendering in your project gallery. Then you can download or share it. You'll have a choice between HD (1280×720 px) and Full HD (1920×1080 px).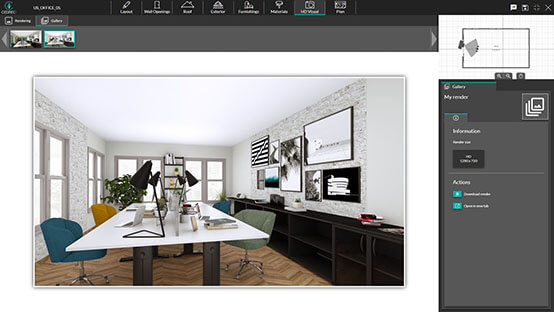 5. Share Office Design With Team and Clients
When collaboration is necessary, Cedreo's Enterprise plan allows for multiple users to work on the same office project. You can add contacts in the project's management tab, accessible via the Cedreo program dashboard.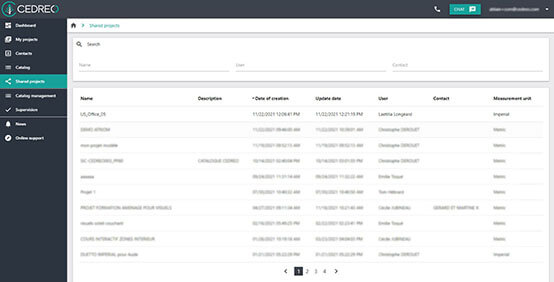 6. Revise Designs Quickly
Cedreo gives you complete control of your designs, so if you need to make revisions, you can do that on the fly and show your clients the new plans. You can even save two versions of your plans to demonstrate how an office looks before and after changes.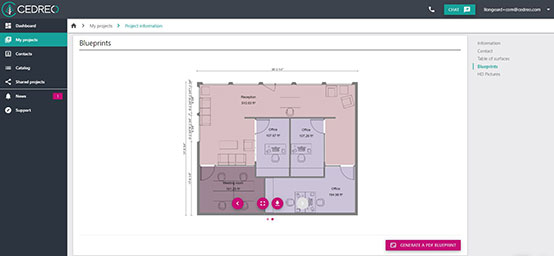 7. Upload Finished Designs to Your Website
Why explain your work when you can show it? Repurpose your completed designs to enhance your website. Cedreo's high-resolution images are web-ready whenever you are.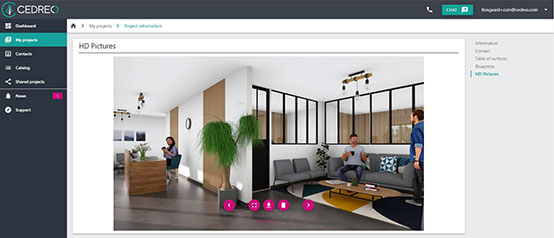 FAQ
How many projects per month can I complete in Cedreo?
Our Professional and Enterprise plans offer an unlimited number of projects per month.
Do I have to agree to an annual contract to use Cedreo?
No — Cedreo is a month-to-month subscription-based software, so you can cancel at any time.
What support does Cedreo offer?
We have a library of video tutorials, as well as live chat and phone support for Professional and Enterprise customers.
Do you offer any discounts?
Yes! If you sign up for annual billing (instead of monthly), you'll get two months FREE.