The exterior design of a home is just as important as the interior. This is especially true for tiny houses and other small spaces. Since every beautiful and functional home begins with a good plan, the first step is to find the best exterior home design software.

In this article, we'll take a look at seven of the best exterior home design software options to help you select the right one for your tiny house design.




How to Choose the Best Exterior Home Design Software
There are so many design software options to choose from, but not all will deliver equally accessible, easy-to-use, and effective features and functionalities.

Here are some important considerations.
Affordability
The cost of the software will almost always be lower than the cost of outsourcing design and engineering tasks to a professional. That doesn't necessarily mean all design software is equally affordable, or that they all provide equal value for their cost.

When selecting the best exterior home design software for your project, remember that affordability is important, but the lowest cost option isn't always the best option.

A good rule of thumb is to select an option with a free trial. Most of the best software will provide free versions to help you get a feel for the user-friendliness and the various tools. This will save you from committing to software that doesn't meet the needs of your project.
Learning Curve
Unless you have a design or engineering professional on staff, user-friendliness should be a top priority for selecting a good exterior home design software.

A steep learning curve will not only limit your ability to create the best design for your project, but it will also increase the length of time it takes you to complete the design. This will decrease the overall value of the software, so be sure to choose a user-friendly option.
Functionality
The features and functionalities that will benefit you most depend on the type of projects your clients are looking for. For example, there are many different interior design software options to choose from, but only a few provide exterior home design options.

Before you begin your search, make a list of features you absolutely need from the software. That way you can cross reference the list with the features each software provides.
Support
No design software will be without its challenges. That's why it's critical to choose an option that has a good support team.

Without product support, you could find yourself pushing back deadlines and scouring the internet for any available resource about how to complete your plan properly.

Alternatively, software with support will ensure you get the answers you need as efficiently as possible.




7 Best Exterior Home Design Solutions
Beginning your search for good exterior home design software? Here are some options.
1. Cedreo
Cedreo is the most user-friendly and functional design software available. It is professional-grade while still being easy to use for complete beginners. Thousands of general contractors use this software to complete the planning and design phase of their projects because entire home designs can be completed in under two hours.

Whether you want to complete project-ready blueprints, functional 2D layouts, 3D floorplans, or beautiful photorealistic renderings of your design, Cedreo has you covered.
Key features:
Free version: Cedreo has a free version, so you can test out the software and experience its user-friendly design before you commit to a plan.
Easy-to-use design: Cedreo was engineered to support building professionals with little-to-no design experience. As a result, it provides extremely intuitive functionality.
Sophisticated features: With a robust and advanced set of functionalities, Cedreo allows building professionals to create project-ready home plans. Professionals can create precise blueprints, floorplans, and 3D renderings with exquisite detail and advanced controls over lighting, angles, furnishings, and covering. This way, contractors can create designs that are customized to their client's tastes.
Unparalleled support: Cedreo's product support resources are comprehensive, with several options catered toward every individual's learning style. Choose free one-on-one product training to get a customized learning and support experience from your dedicated Success Manager. The company also provides a full series of video tutorials that users can access at their convenience. Finally, customer support is available via email, phone, and chat to answer all of your questions.
Cedreo has a variety of plans and pricing options available to suit every contractor's needs.

You can use Cedreo for free to test out its features and functionalities. For one project per month, you will be able to access all their features with limited furnishings and customization options in order to create five renderings.
Sign up now to start using the free version of Cedreo.
2. Floorplanner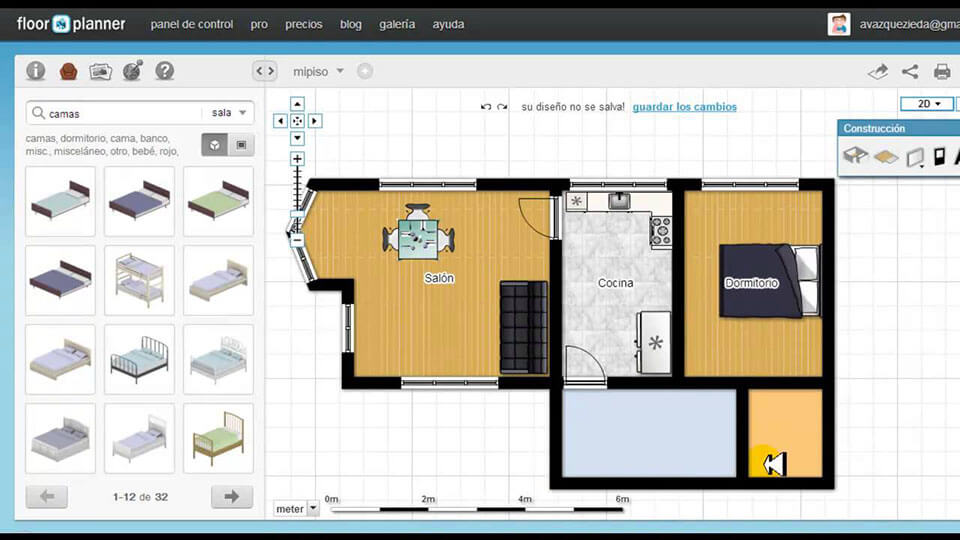 Floorplanner is a software that focuses on interior design but has additional functionality for exterior home design. The software can be used by homeowners, builders, real estate agents, furniture retailers, and more. This makes it less specialized than some of the options available on this list but allows a wider range of professionals to take advantage of its features.
Key features:
Free version: Floorplanner has a free version, but this option only allows you to design a single floor of a home. This makes it less suitable for exterior home projects. Upgrading to higher tiered membership will unlock more features, but the price point is higher than some other options on this list with similar functionalities.
Functionality: Floorplanner has a wide range of furnishing options, which makes it ideal for real estate and interior design applications. It can also produce renderings in 8K (with the highest subscription tier).
Good support: While Floorplanner offers great support in the form of videos, blog posts, and weekly webinars, they don't provide one-on-one training. They have a support team that can be contacted via message.
One user can sign up for a Floorplan Teams subscription for $59 per month. Business plans begin at $179 per month and business plans start at $599 per month.
Learn more about Floorplanner pricing here.
3. ProVia Exterior Design Center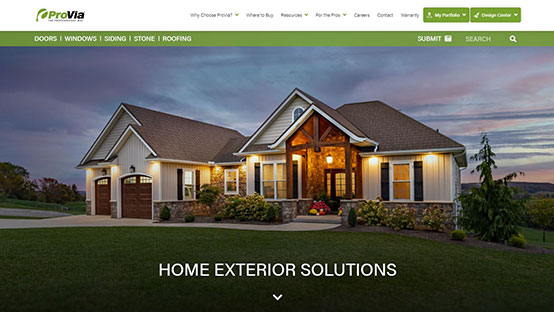 ProVia Exterior Design Center is a web-based platform for designing home exteriors. The platform is ideal for aesthetic design and not suitable for project layouts or blueprints. It is a great option for those in the early stages of home design who want to select paint colors, door styles, and window types.
Key features:
Free to use: The platform is accessible and free to anyone with a desktop computer.
Locate products: Paint colors, roofing, siding, and other coverings found in ProVia can be purchased in the real world, making it easy for your customers to select their paint and more from the comfort of their own homes.
Simple interface: Almost anyone can use ProVia, as it is a web-based application with a drag-and-drop design.
Support: ProVia provides support and educational resources that go beyond their product. Their video library provides information about design, paint, siding, and more. While they don't have a designated support team, you can contact them via email with questions.
Sign up to use ProVia now or download the free app.
4. Sweet Home 3D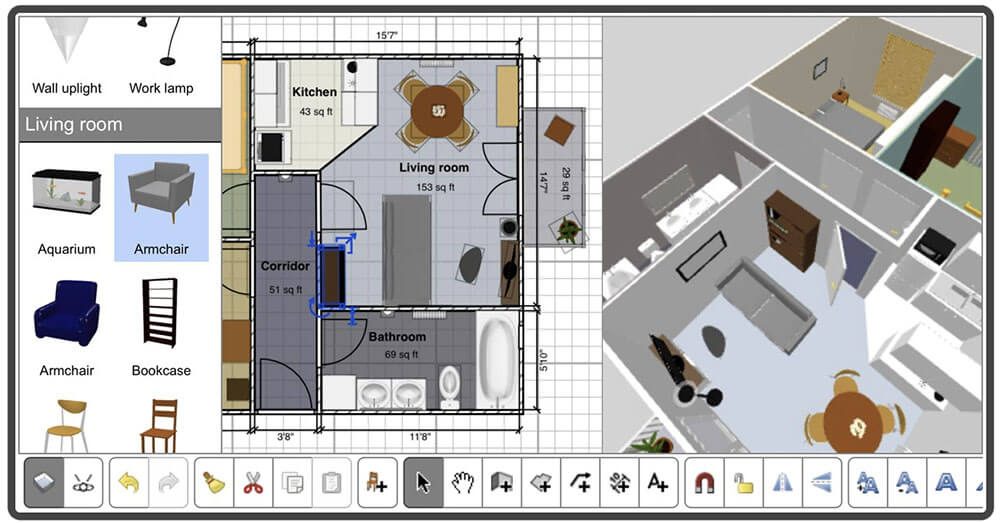 Another free option, Sweet Home 3D is a basic 2D home planning software. Users can design the interior as well as the exterior of the home, select from a limited furnishing library, and choose from various appliances. Although basic, it is a good solution for homeowners who are just beginning to design a home or remodeling project.
Key features:
Completely free: Sweet Home 3D is free to download and use, so anyone can download, log on, and start designing.
Simple features and functionalities: While the capabilities of this software are more limited, it is easy to use, even for beginners.
Support gallery: Sweet Home 3D's gallery section provides users with visual guides and examples for how to use its features.
Visit Sweet Home 3D's website to download the software.
5. HomeByMe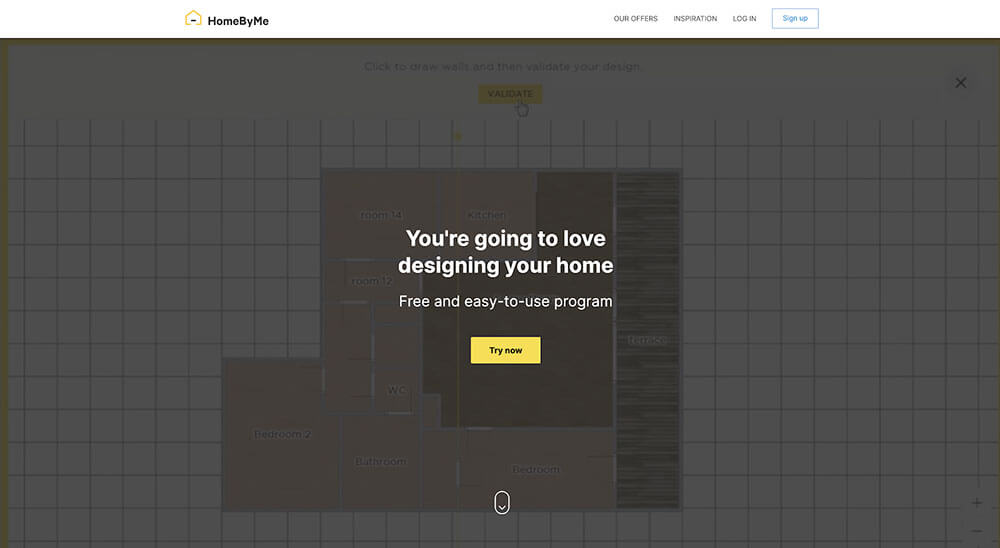 Home By Me is a design software that allows users to create 2D floorplans and 3D visualizations of both interior and exterior home designs. It is an affordable option for homeowners looking for more functionality than what is available with free software. Professionals who want to provide design examples to clients can also benefit from some of Home By Me's tools.
Key features:
Free version: Home By Me has a free version, a hobbyist version, and a professional version.
Good variety of features: The software provides all the basic features you need to design a home and generate a 3D rendering to show clients.
Easy to use: The Home By Me pro version provides unique design services to help you create an accurate floorplan that you can then furnish and decorate on your own.
Home By Me has a limited version of its software available for only $29 per month. Its unlimited version is available for $65 per month. The affordability of this software makes it an ideal solution for homeowners and hobbyists.
Sign up to start using the free version of Home By Me.
6. Dream Plan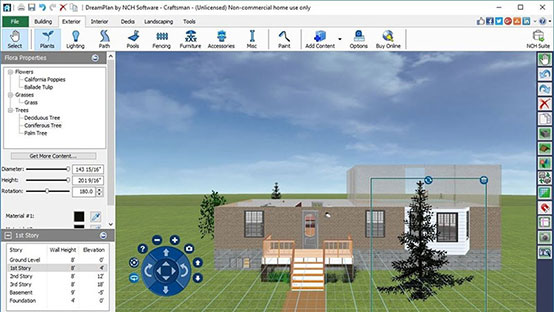 DreamPlan is an exterior home design software that also provides interior design capabilities. It is a good solution for homeowners because it is free for noncommercial use. The software is available for download and can be used to design landscaping, pools, patios, decks, and home exteriors.
Key features:
Free for noncommercial use: The software was not intended for commercial use, but its features are ideal for homeowners and hobbyists.
Easy to use: Because it was engineered for beginners, the features are intuitive and simple.
Good features: Users can plant trees, gardens, and other landscaping features. They can also reshape outdoor terrain, visualize pools, and design backyard layouts.
7. SketchUp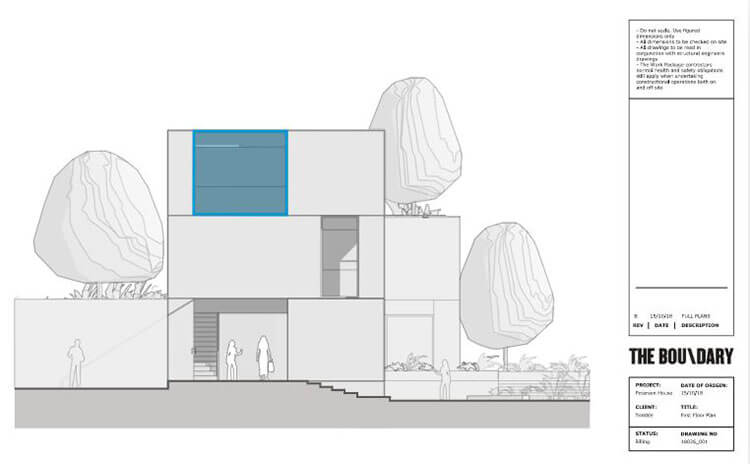 SketchUp is a popular exterior home design software for professional designers, architects, and other building professionals. It has a long list of sophisticated features and as a result, is recommended for those with design and engineering experience.
Key features:
Robust tools and features: SketchUp offers some of the best features for architects and engineers including 3D modeling, report generation, and advanced customization. Some of the features are unnecessary for use by professionals other than engineers and architects and will require some training to use.
Good support: The subscription offers a good variety of support options including video tutorials, blog posts, beginner training videos, and user guides. They also have support available via the SketchUp community.
Multi-stage project design: Similar to Cedreo, SketchUp users can create accurate blueprints and 3D renderings, covering multiple stages of a single project.
SketchUp commercial plans start at $119 for limited access, $299 for professional access, and $699 annually for enterprise access.
Learn more about SketchUp commercial plans.
Which Home Exterior Design Software is Right For You?
Every project is different and will benefit from a different type of design software. Homeowners with no design or construction experience, for example, might get the most functionality from simple, free, web-based software.

Home builders creating innovative projects such as tiny houses should use professional and intuitive software such as Cedreo.

Cedreo is the best exterior home design software that allows you to create accurate blueprints, precise 2D floor plans, functional 3D floor plans, and stunning photorealistic visualizations all in under two hours. Sign up to start using the free version of Cedreo today.