Are you facing the daunting task of estimating for residential construction projects? Don't worry, you're not alone.

Creating accurate estimates for new home builds or remodeling projects is tricky. There are so many things you have to factor into the price — materials, equipment, labor, overhead, software, subcontractors, rework, upgrades, insurance, etc.

So let's take a quick look at residential construction estimates and why they're important. Plus we'll give you an EASIER way to make your next estimate that'll save you loads of time and hassle — don't miss it!




What is an estimate?
While preparing a bid or proposal for residential construction projects, contractors need to create a cost estimate for the project. The estimate outlines the expected total cost of the construction project, including at least 3 basic elements:
Materials
Equipment
Labor
Experienced contractors and remodelers create detailed estimates divided by area and product while also giving the customer easy ways to upgrade.

For small projects — like switching out a bathroom vanity — an experienced remodeling contractor can usually figure up an estimate on the spot. But for larger residential projects — like a kitchen remodel or new home build — the contractor or members of his team might spend hours or days working up an estimate.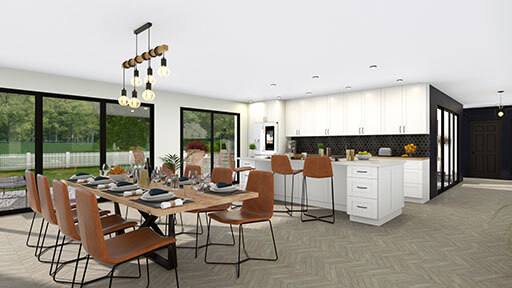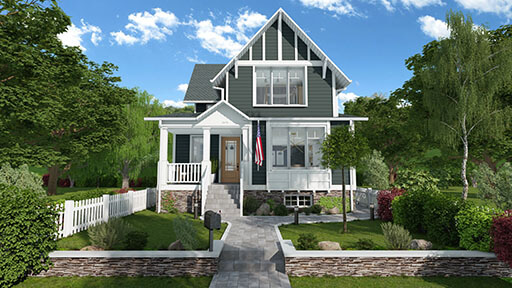 Why are estimates important in residential construction?
Residential construction estimates are important because they have a direct impact on the success of your business.

To put it simply…
Create estimates that are too high and you'll lose out on clients.
Estimate too low and your projects are more likely to go over budget. That means you'll end up losing money or risk angering clients.
However, the final cost on your projected estimate, while important, is just a small piece of the pie. How you structure your estimate can also go a long way toward winning more clients.

Why?

It's because clients value clear communication and a great way to start doing that is with a well-organized estimate proposal. Sadly, a lot of contractors tend to create vague estimates that lack important details.

Imagine you're creating an estimate for a residential kitchen remodel. You could work up a price and give your potential client the figure of $25,000. However, just a general figure like that leaves clients with more questions than answers.

But imagine if your estimate includes details like the…
Total price for specific materials like cabinets and flooring
Cost of permits
Projected labor costs
Price for hiring subcontractors
And options for upgrading and how it will affect the total price
Do that and your proposal is more likely to win over prospective clients (even if your price is a bit higher than your competitors!)

But creating detailed construction estimates can take a lot of time. So what are the best ways to create one?




How do home builders and remodelers estimate construction projects?
Since estimates are such an important part of your residential construction business, you need an effective estimating system that you can use for every single project. Here are three of the most common methods.

Manual
One of the most common ways to figure up estimates is by manually calculating everything. You can use pen and paper or a simple spreadsheet to enter figures and add them all up.

To manually estimate the cost of a construction project, builders and remodelers need to:
Create a set of plans for the project to use as a basis for material takeoffs
Manually calculate how much of each material is needed and add an extra percentage for waste
Add on equipment rentals or purchases for the project
Determine if they need to hire subcontractors and contact them for bids on the job
Estimate how many man-hours each part of the project will take and the cost per man-hour
Include necessary overhead
Add it all up
As you can imagine, all of that takes a lot of time. That's why most contractors use some type of residential construction estimating software to help streamline the process.

Apps and Softwares
There's a wide variety of different home construction estimating software, apps, and programs.

Depending on the program, this estimating software helps builders and remodelers in 3 main ways:
Create Takeoffs: Manually counting materials like how many studs, bags of mortar, or feet of pipe you'll need is time-consuming. Takeoff software helps streamline that process by generating material lists from a set of digital blueprints.
Estimate Costs: This is the core feature of most residential estimating software. Most will have pre-built templates with materials and labor already factored in. Others combine takeoffs with local supplier databases to automatically calculate material costs. And other apps include calculations for labor and consumables associated with specific tasks — like building a section of a wall.
Bid Management: Some estimating software also helps contractors manage bids they've submitted as well as bids received from subcontractors.
Top estimating software, like CostCertified, combines a lot of these features to make creating estimates less of a hassle.

However, a lot of estimating software still requires you to manually import project files from your home design program.

Is there an easier way? YES! Learn about your best option for creating residential construction estimates in the next section.

Integrated Tools
Design programs, estimating apps, 3D rendering software…wouldn't it be nice to have one program that does it all?

That's what you get with a residential home design program with integrated tools for every part of your project workflow, including estimating. A great example of that is the home design software Cedreo with the CostCertified integration.

Cedreo is already a time and money-saving home design software with its intelligent toolset and easy-to-navigate platform. But now with the CostCertified integration, it becomes an all-encompassing tool for home builders and remodelers like you
Create an entire home design in as little as 2 hours!
Save loads of time and hassle with the seamless CostCertified integration for estimating costs, managing bids, and tracking projects.
Create pro-level 3D renderings so your detailed proposals are even more attractive to potential clients.
Why not take the easy route on your next residential project estimate and switch to the unbeatable Cedreo + CostCertified combination?

No other home design and estimating software lets you do so much so fast.
Create a full set of plans in hours not days
Get automatic surface area calculations as you work
View your designs in 2D and 3D simultaneously
Create photorealistic renderings in just 5 minutes
Join the 1000s of other builders, remodelers, and designers who've already made the switch. With a FREE version, you've got nothing to lose.