Your garage can be quite a dynamic home space.
For some, it's only use is for added storage and a place to keep vehicles. For others, though, it can be pretty much anything.
From extra bedrooms to a home theater, a garage can become the blank canvas for you to explore some really interesting home renovation projects. But, to get the most out of your planning, you need to leverage the right tools.
Garage design software helps contractors, designers and even DIYers build out streamlined floor plans and 3D renders in minutes.
The best part? These programs are often easy to use.
With just a bit of creativity and some basic measurements, anyone can build out their dream garage space without much hassle.
But, with all the platforms on the market today, which one is the best for your specific needs?
Let's explore garage design apps to help you make the right choice.
10 Best Virtual Garage Designers (Free & Paid) for 2023
It's easy to get lost in all the options for home design apps these days.
From free garage design software choices to robust paid suites of tools, finding the right options for your project can feel like its own challenge.
If you're planning to design a garage, you've probably got material costs and labor needs on your mind. We've done the hard work and reviewed the most popular garage layout software options on the market today.
Before you get started with planning and design, though, it's best to assess your project needs.
For instance, design software can add value in many ways, but you still need to find the right software choice. Some platforms are best suited for beginners. Those same software options wouldn't cut it for a professional designer or contractor.
Take stock of what you need from your remodeling app:
Do you need full 3D capabilities?
Does your software need to integrate with other features like cost estimation?
Are you working for clients and need expanded options for imagery?
Do you need customizable features for your project?
All of these questions can help guide you toward the right solution.
In most cases, you'll see several options on this list that will satisfy your needs. The best software, then, would provide more than just design features.
Regardless of your needs, take a look below to get a clear perspective of what options are available to you and your garage design project.
Cedreo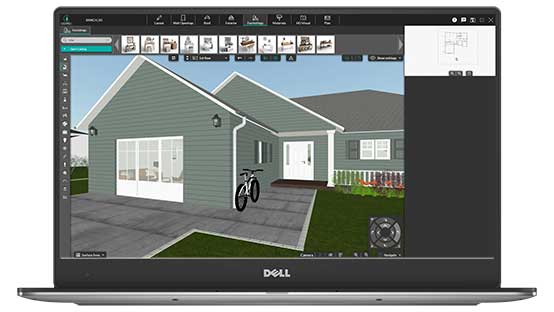 Best for: Everyone from professional contractors to novice designers
Cedreo is a robust platform that offers users the best of 2D design tools alongside powerful 3D rendering capabilities. This web-based software option leverages powerful CAD-level tools to help users build everything from 2D room plans to complete photorealistic renders of a project.
Top Garage Design Features:
Can create streamlined PDFs for print designs and in-person viewing.
Helps users keep track of their projects
Draw floor plans in under a few hours
Design garage interiors with a robust 3D object library
Estimate the total cost of a project with CostCertified integration.
Pricing:
Cedreo offers several plans and packages to make meeting any project budget simple. You can take a look at plan pricing here and get started with your free, no-obligation trial of Cedreo today.
Sketchup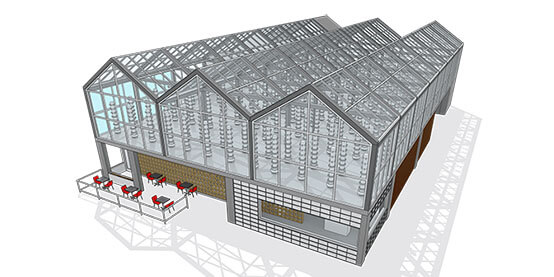 Best for: All levels of designers, from professional to amateur
SketchUp is a feature-packed garage planner platform that offers users a suite of tools tiered out in packages so anyone can utilize the software. Even with the free platform, contractors and designers managing garage renovation projects can still leverage the entire selection of tools. The user interface is easy to navigate and users can quickly design 2D sketches and render them into a 3D model with simple, intuitive features.
Top Garage Design Features:
Easy desktop integration
Ability to design on the web-only platform
Unlimited cloud storage for garage project designs
Device support for tablets and iPad
Virtual reality functionality
Pricing:
When it comes to pricing, Sketchup offers several packages to meet the demands of all kinds of users. There is a free version, but with limited functionality. SketchUp Go runs for $119/per year, with the Pro version at $299/per year and SketchUp Studio costing users $699/per year.
American Garage Builders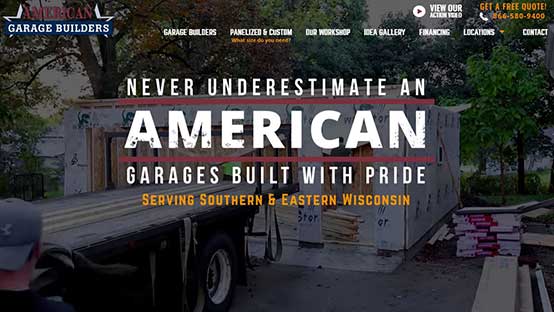 Best for: Good for beginners looking for expert help
American Garage Builders is a garage-specific building company located in Illinois and Wisconsin. While they provide their services for garage building and design, they also offer clients access to their garage builder software. This software is easy to use and provides top-down and 2D plans. This platform does not offer as much functionality as other offerings and lacks 3D design support.
Top Garage Design Features:
Great for beginners
2D floor plans
Additional consultation through AGB staff
Ability to include vehicles, storage and other common garage elements
Great for garage organization
Pricing
The software itself is currently offline, but AGB may offer it as a feature of their services if you inquire.
Planner 5D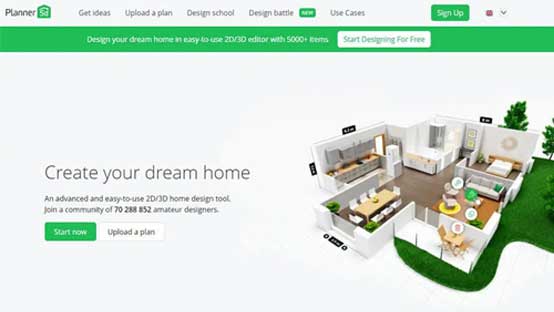 Best for: Novice garage remodelers looking for expansive 2D and 3D tools.
Planner5D designs its platform with amateur users in mind. While the free garage designing software itself still comes jam-packed with both 2D and 3D tools, the user interface is geared toward novice users or those looking for streamlined design operation. The simplicity of the software is often the draw for users. If you're looking for more extended features, other software may suit your garage design needs better.
Top Garage Design Features:
Full high-definition renders
Access to both 2D and 3D models
An expansive user and object library
Ability to edit items in the software
An easy-to-use interface
Pricing:
Planner5D is free to use.
Bighammer Garage Designer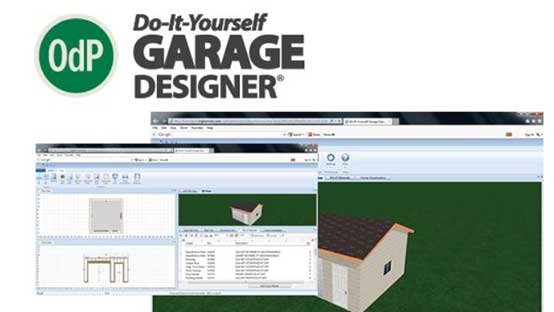 Best for: DIYers looking for digital planning solutions
Bighammer Garage Designer is a great garage design app for DIY users looking for advanced features for garage design. The software itself provides simple to use tools and an easy-to-navigate 3D user interface. Garage Designer allows users to pick materials and styles that complement their designs and leverage pre-made construction designs for quick planning. With the advanced viewing features, you can even create multiple views of your garage plan.
Top Garage Design Features:
2D design functionality
3D rendering capabilities
Garage-specific materials and models
Easy-to-use interface
Pricing:
Bighammer Garage Designer is free to use, but the software itself may not be supported by your operating system—so double-check software compatibility.
Smart Draw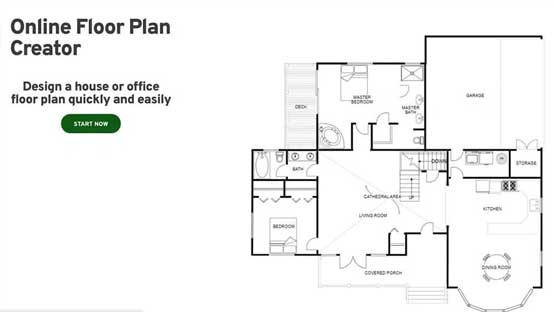 Best for: Beginners and DIYers looking for 2D tools
SmartDraw is a web-based design platform. It offers users all kinds of diagramming tools but also features room creation tools like a garage designer. But, since the program is better suited for 2D diagramming, its functionality as a garage designer is slightly limited. Still, this powerful tool is great for creating 2D floor plans and designs.
Top Garage Design Features:
Layout planning features
Library of pre-designed projects
A 2D model library
Drag and drop user interface
Pricing:
The garage design portion of SmartDraw is free, but packages for the diagramming software itself are $9.99/month.
Garage Vision Co. Designer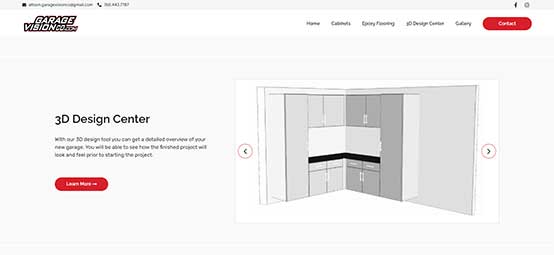 Best for: Users looking for a full consultation and design help
Garage Vision Co. Designer is a feature of Garage Vision Co.'s greater garage design services. The software itself leverages powerful 3D technology to provide realistic renders and other functionality. Since the platform is garage design specific, you'll find a 3D object library to manage things like storage, tool chests and much more. Garage Vision Co. uses the designer in conjunction with their other services, so don't expect open access for everyone.
Top Garage Design Features:
Quickly create 2D floor plans
Great cabinet design module
Ability to add packages of products for fast planning
Expert advice from the Garage Vision Co. team
Pricing:
Free to use in conjunction with their other services.
Easy Garage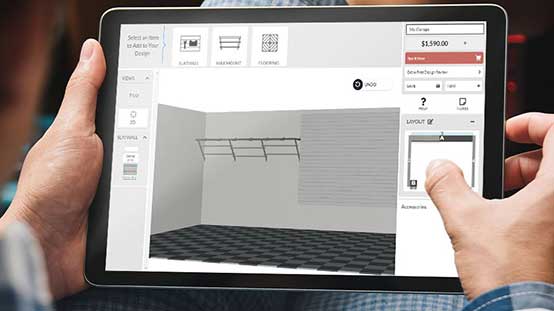 Best for: DIYers looking for help with their designs
Easy Garage sells garage storage management systems and flooring solutions. The intention of the product is to help users plan out their garage space using Easy Garage products. The garage layout software itself leverages a simple 3D user interface and can assist the user with all kinds of suggestions. There is some limitation to the program as it only offers Easy Garage products in the object library.
Top Garage Design Features:
Simple user interface
Accessible web-based platform
Free to use and experiment
Camera angle changes for better viewing
Pricing:
While Easy Garage is free to use, the goal is that you purchase Easy Garage products to outfit your space.
Roomstyler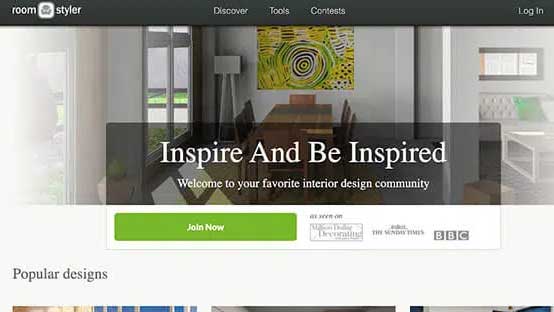 Best for: Non-professionals and DIYers
Roomstyler offers a virtual garage designer that is easy to use and navigate, even for beginner users. With dead-simple tools, users can create simplified 3D garage designs quickly and store them all online on the web-based platform. The platform offers users a full 3D object library and a selection of user designs to help spur inspiration.
Top Garage Design Features:
2D floor plan software
Full 3D tools and photorealistic renders
Panorama views
Custom layout functionality
Pricing:
Free to use
Virtual Architect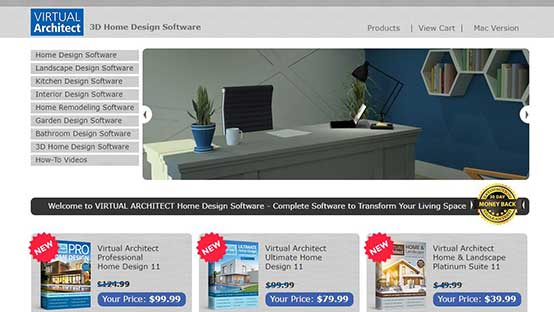 Best for: Users looking for additional design functionality
Virtual Architect is an all-in-one design platform that caters to everything from room design to garage renovation planning. The garage design tool itself allows users to create floor plans from scratch or with help using the design wizard. The software also leverages a 3D viewing module for better visualization of a project. From lighting to shadows, the 3D features can also create photorealistic renders quite easily.
Top Garage Design Features:
Build models from the ground up
Ability to upload photos for reference
An extensive 3D object library
Video tutorials for beginner users
Pricing:
You can try Virtual Architect for free, but the full software suite costs $99.99 to download.
Which Garage Design Tool Are You Going to Try?
Now that you have an idea of what garage design software options are on the market, you can now make an informed decision on which platform to choose.
Whether you're a DIYer or a professional garage designer, leveraging the power of 2D and 3D modeling tools is a great way to add value to any project.
Since the garage is a great room to improve if you're looking to maximize home value, more and more homeowners are turning to software to help them create stunning plans and designs.
Cedreo is a feature-packed garage design tool built for all levels of users. If you're looking to get started with Cedreo for your next garage renovation project, be sure to start your free trial.