Technology is impacting every industry like never before, and the construction industry is no different.

Although the home building and remodeling industry is notoriously slow when it comes to adopting new technologies, in 2022 it finally seems to be catching up.

Large construction firms tend to be the first to adopt the latest technology trends. But fortunately, more and more of these technologies are now accessible to residential home builders, contractors, and remodelers like you.

So what are some of the hottest home builder technology trends for 2022? In this 5-minute ready we'll take a quick look at:
How modern technology can benefit home builders
4 trends you should consider getting on board with this year
Let's get started!




Technology for Home Builders
Construction projects usually involve countless hours of tedious planning and hard manual labor. Fortunately, modern technology can help streamline just about every part of a construction project.

Here are a few concrete benefits to jumping on board with modern tech trends in the construction industry.
Easier Planning: A lot of residential contractors still rely on confusing spreadsheets, group emails, and complicated CAD software for planning projects.

But modern software solutions help consolidate your entire project planning process into one easy-to-use program.
Better Budgeting: Creating estimates for new home builds and remodels is usually a tedious process. You know how it goes…you spend hours creating takeoffs from the building plans which you then compare to current material prices.
But current tech trends are making it easier than ever to create accurate construction estimates and budgets. And with a more accurate budget, you're less likely to go over budget and lose out on profits.
Faster Business Growth: More construction firms than ever are relying on modern technology to grow their business and land more clients.

With the internet, digital marketing, and social media, it's easier than ever to promote your business to a huge group of people.

And with modern software that helps you create stunning 3D home plans that impress clients, you can finally start closing more deals.
More Sustainable Buildings: In recent years, a growing number of clients are looking for green buildings and sustainable materials that create less of an impact on the environment. Fortunately, modern tech solutions make it easier, even for small construction firms, to design and build environmentally-friendly buildings.

Easier project planning, better budgeting, faster growth, sustainable construction…want your business to reap those benefits?
Check out some ways to do that in the next section.




Top 4 Technology Trends for Home Builders in 2022
Check out 4 of the hottest tech trends for home builders in 2022.
Carbon Footprint Calculator
One of the most exciting new technology trends in the green building space is the ability to calculate a building's carbon footprint.

Tools like the Embodied Carbon in Construction Calculator (EC3) developed by Skanska calculate the carbon emissions embodied in building materials. The embodied carbon refers to all the carbon used to manufacture, transport, and install a certain material.

By using calculators like this, builders can make smarter choices by understanding which types of materials have a larger carbon footprint.
3D Printing and Renderings
3D technology used to be expensive and complicated. But in recent years it's become more accessible, even for small construction firms. Here are two popular trends in the 3D space.
3D Printing: 3D printing isn't just for small plastic parts. A new generation of large-format 3D concrete printers can "print" the structure for a house. Although the technology is still in development, with time it should lead to cheaper and faster construction over traditional building methods.
3D Renderings: 3D renderings (realistic 3D computer images of what a finished house will look like) used to be expensive and difficult to create. But finally, with software like Cedreo, anyone can create photorealistic 3D images in just a few minutes — no CAD or 3D modeling experience required!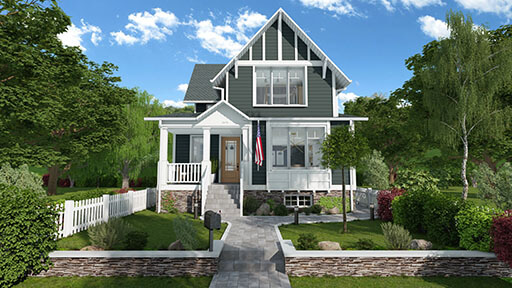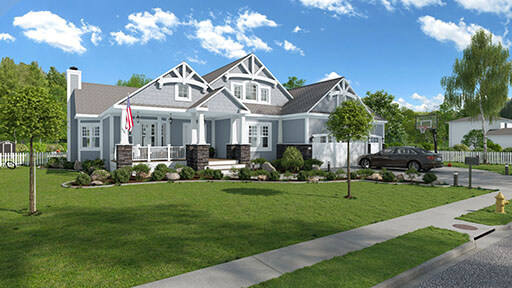 This is a trend all contractors should jump on. When you add 3D renderings to project proposals, it helps clients instantly visualize the finished project. This leads to better communication and more contracts!
Estimating Software
Most construction projects go past deadline and over budget. That's why estimating software, like CostCertified, is a huge new trend.

With most estimating software, you can:
Create takeoffs
Quickly calculate costs with pre-built templates and access to local supplier databases
Manage bids
An exciting new trend we're happy to be a part of at Cedreo is estimating software that's integrated into your design software. Now in 2022 with Cedreo home design software and its CostCertified integration, you can do all your designing and estimating in one place!
Disaster Simulation Software
According to one report, 57% of all structures in the US are at risk from natural disasters. So it's no wonder that the use of disaster simulation software is on the rise.

Modern software can simulate the effects of earthquakes, hurricanes, and other disasters. This helps builders and engineers make better design decisions when building in disaster-prone areas.




Conclusion
Ready to take full advantage of some of 2022's biggest technology trends for home builders?

While not all may be available to your business, there are some you can start using today, like 3D Renderings and Estimating Software. And fortunately, there's only one tool that you need to do both — CEDREO.

With Cedreo home design software and the CostCertified integration you can:
Create professional and realistic 3D renderings even if you don't have any 3D design experience.
Create accurate estimates without having to manually input your plans and material lists into another program.
Plus, you've got access to Cedreo's entire set of home design tools.
Design an entire house in 2 hours
View plans in 2D and 3D simultaneously
Use the Enterprise plan for streamlined team collaboration
Win more clients with stunning 3D project proposals
Start using it today and see why 1,000s of other home builders have already made the switch to Cedreo.