More and more designers, builders, and remodelers are adding interior renders to their workflow. As a result, they're enjoying higher conversions, streamlined communication, and happier clients.

Want to get those same results? Thinking of adding an interior rendering to your next project proposal? Here's everything you need to know.

In this 5-minute read we'll consider:
What is an interior render?
Why are they important for interior designers?
And 7 best practices for creating stunning interior renderings.
Let's get started!




What is an Interior Render?
An interior render is a photorealistic 3D image that showcases a space's interior design.

In the past, most 3D interior renderings were created with special rendering software that works as an add-on to your existing CAD or BIM home design program. Using the rendering program, you take simple 2D floor plans and convert them into 3D designs with as much realistic detail as possible.

Until recently, realistic interior renders were reserved only for big construction firms with huge budgets and teams of professional designers. But now with programs like Cedreo, anyone can create professional home designs and 3D interior renderings.




Why Renders Are Important For Interior Designers
Still relying on 2D plans, sketches, and mood boards to transmit your ideas to clients? Here are 3 powerful reasons you should add interior renderings to your next project presentation.
Help clients visualize the finished project
Just because you can see the finished project in your imagination doesn't mean your clients can.

For most clients, it can be next to impossible to envision how color swatches, material samples, and 2D floor plans combine to form their finished project. And when a client doesn't clearly understand what you're offering, they're less likely to accept your proposal.

That's why an interior render is so great — it removes the guesswork. It's the best way to showcase and explain all your design ideas because you're essentially giving your clients a look into the future.
Collect feedback and make real-time updates
Do you usually get a lot of client feedback only after you've started working on the project in their home? You know how much time and money it can cost you to rework your designs based on client feedback in the middle of a project.

Interior renderings help you avoid that. Show your client an interior rendering and they'll clearly understand what you're proposing. This makes it a lot easier for them to give constructive feedback.

And if you're using software like Cedreo, you can make real-time updates in the field based on client feedback. Imagine how much that would streamline communication on your next project!
Use interior renders as a sales tool
Few things can inspire clients as much as a photorealistic 3D rendering. Detailed interior renderings evoke a lot more emotion than just 2D floor plans.

When's the last time you showed a client a 2D floor plan and they responded, "Wow! That's beautiful!"? Add interior renderings to your project presentation and get ready for plenty of comments like that.

An interior render also builds trust. It shows a potential customer that you're a professional who understands what they want.

So when you combine the positive emotions evoked from a rendering along with increased trust, you've got a guaranteed recipe for increased conversions.




7 Best Practices For Interior Renderings
So how can you make sure your interior renderings look amazing and wow your clients? Here are 7 things to keep in mind.
Adjust lighting
Accurate lighting helps your interior renderings look as realistic as possible. That's why it's important to choose a rendering program that gives you the ability to adjust both natural and artificial lighting.

Fortunately, Cedreo makes lighting adjustments easier than ever. With just one click you can switch from daytime to sunset to showcase how the home's interior looks at different times of the day.

You can also add a wide variety of artificial lighting options—from the soft glow of a candle to the room-filling illumination of a floor lamp—and accurately see how they affect the look of the interior design.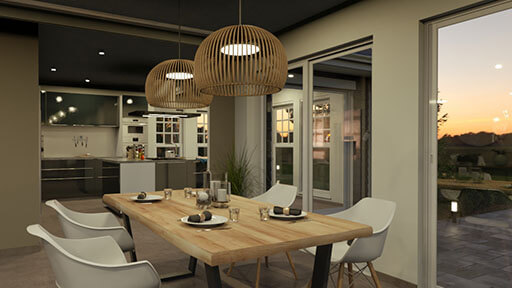 Use shadows
Shadows work hand in hand with the lighting to create a realistic image. While some rendering software requires you to make an endless amount of manual adjustments to get the shadows just right, modern programs like Cedreo do the heavy lifting for you.

Just add the lighting fixtures and Cedreo creates an accurate combination of light and shadows on walls, floors, and furnishings. This brings the space to life by revealing realistic textures and reflections.

What about shadows from natural light? Cedreo makes it easy by giving you full control over the sun's orientation when creating your interior render.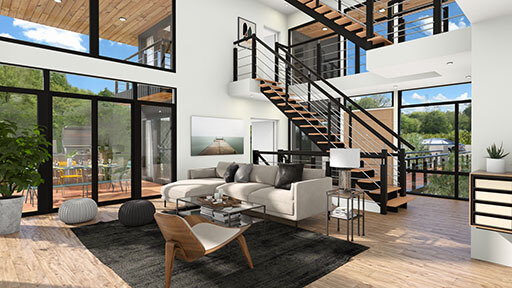 Add furniture and decorations
What would an interior render be without furnishings? As a designer, you need the ability to add furniture and decorations that match your client's style. And if you can customize those design elements…even better!

Just be careful when choosing your program for interior renders since some limit you to basic furnishings and then require you to pay for extra "product packs".

Fortunately, Cedreo doesn't limit your creativity. With the paid version you get unlimited access to the entire design library with over 3,000 realistic furnishings and objects.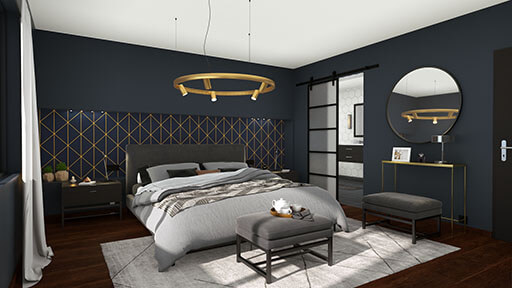 Add lifelike objects
Don't forget that your design is meant for real people, so be sure to add some life to your interior renders.

From Cedreo's design library, you can choose objects like decorations, pictures, books, potted plants, and even pets and people. Add lifelike objects like those to your design so it becomes more than just a house—it becomes a home.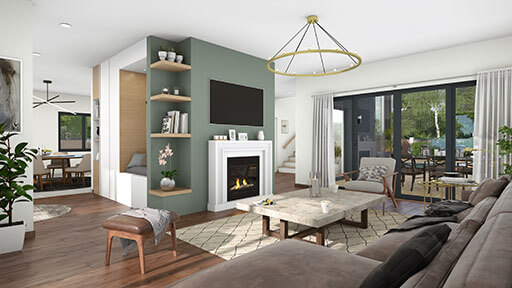 Use textures
Realistic textures help an interior rendering go from just "nice" to "wow, that looks like a real picture!"

More complicated rendering programs give you full control over settings like roughness, bump, and reflections. Others give you the ability to download extra texture packs that you can integrate into your designs.

User-friendly programs like Cedreo take care of most of those settings for you so you can get accurate textures without the hassle.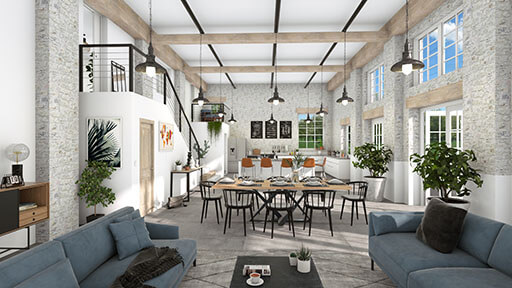 Adjust surface coverings
As an interior designer, you want full control over the color, material, and texture of just about every surface. Only then can you fully express your ideas to your clients.

Want to create a feature wall with wood planks? Add tile in the entryway that transitions to hardwood in the kitchen? Want to test out different cabinet colors in the bathroom?

Do all that and more with Cedreo's 3,500 customizable surface coverings, textures, and materials.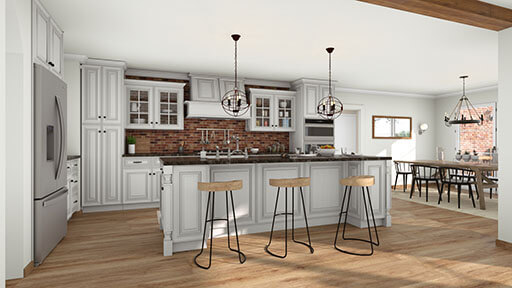 Provide multiple viewpoints
When you show how the space looks from a variety of viewpoints your clients get a better idea of the finished project's overall flow. Showcase how the kitchen looks from the dining room. Or let clients get a view of their new patio at sunset from inside the living room.

Cedreo even lets you save viewpoints so you can test different design ideas and create an interior render from the same spot each time.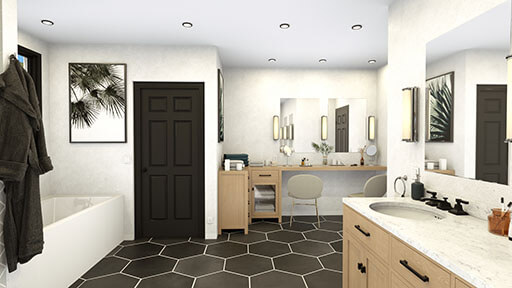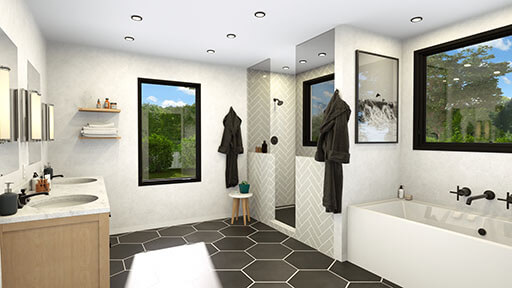 Generate Photorealistic Interior Renders
Ready to increase conversions and streamline communication with interior renders? With Cedreo, you can start today!

Don't worry about hassling with complicated CAD programs or expensive 3D modeling software. Cedreo gives you everything you need to plan virtually any home project — bathroom remodels, hardscapes, entire home builds, and more — no CAD experience required. Finally, you can create an entire set of 2D plans and 3D renders in hours, not days.

Why wait to integrate interior renderings into your workflow? Start using Cedreo today.