Modern kitchen design has become a popular way to add personality and flair to any home. From sleek contemporary designs to bold, bright color schemes, there are so many unique ideas for creating the perfect modern kitchen. Whether it's classic white cabinets with stainless steel appliances or bright colors and patterns, there's something for every style and budget. Kitchen designers need to stay abreast of the latest trends in modern kitchen design to create stunning spaces for their clients.
Here we'll explore some of the hottest trends and ideas in modern kitchen design. From incorporating natural materials like stone and wood, to embracing statement-making hardware and appliances, we want to help you master the art of creating a modern kitchen that reflects the client's personal style and meets their needs.
10 Modern Kitchen Designs for a Kitchen Facelift
Whether you're interested in giving the kitchen an entirely new look or just want to give it a subtle facelift, these 10 modern kitchen design tips are sure to help you get started on the right track. 
1. Keep It Open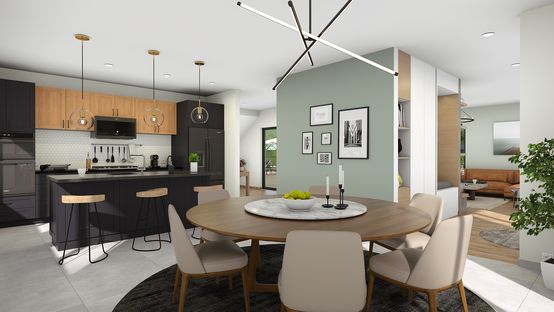 One trend that is particularly popular for modern kitchens is keeping the space open for maximum efficiency. Open kitchens are often seen as more contemporary than closed-off ones, while still providing the necessary functionality. This type of design is particularly ideal for a kitchen facelift, as it can provide a more modern look to an existing space in a cost-effective way.
2. Add An Industrial Feel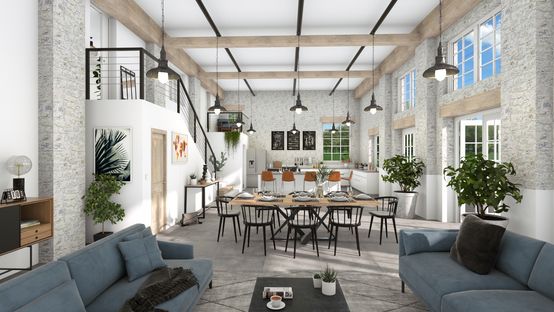 You can easily add an industrial feel with the right accents for a kitchen upgrade. Industrial design is all about adding contemporary elements that are both functional and stylish. This style is reminiscent of historical factories combined with sleek modern touches that will bring a unique aesthetic to any kitchen.
When thinking about industrial design, envision the warehouses of Brooklyn or Chicago-style lofts. Raw materials such as concrete and wood are used to create a unique texture in the kitchen space. Stainless steel appliances with exposed pipes or ducts give the kitchen a signature industrial look.
3. Incorporate Gold Accents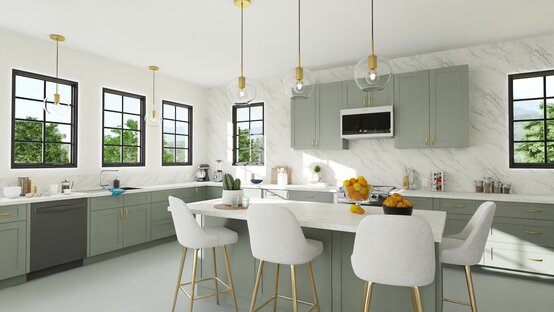 Gold accents add a touch of class and sophistication to any kitchen space. These accents can tie in perfectly with the existing design, or act as a statement piece to refresh the look of the kitchen.
Using gold accents is an easy way to give a kitchen a modern facelift without having to do major renovations. A single golden cabinet door handle or wall light fixture can bring the kitchen into the next decade and make it feel timeless all at once.
If you're feeling more daring, larger golden elements such as countertops or appliances can make the kitchen a statement piece that will draw all the attention of any dinner party. Gold accents look especially stunning when paired with white or black cabinets and quartz countertops to create an ideal combination of modern glamour.
4. Use Traditional Elements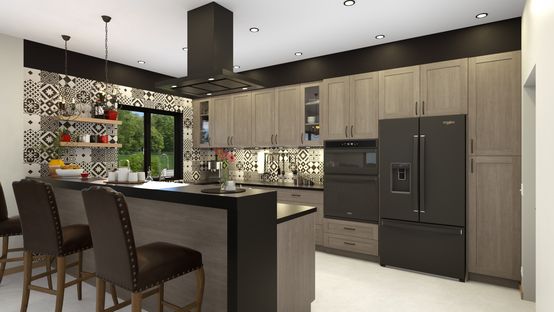 When designing a modern kitchen, it's important to remember the traditional elements that have been used in kitchens throughout the centuries. While contemporary kitchen design has certainly come a long way, there are still some classic touches that can be included to give a timeless yet modern appeal to a kitchen.
One traditional element that can be used to great effect is a farmhouse sink. These sinks have been popular for centuries and are making a comeback in modern kitchen designs. A farmhouse sink adds an old-world charm to the kitchen while being incredibly practical for washing dishes or prepping food.
Using stone or tile accents in the kitchen is also a great way to create an updated yet classic look. Ceramic tiles can be used as a backsplash, while natural stone floors and countertops are elegant and timeless. Natural materials like wood and stone bring timeless appeal to any modern kitchen.
5. Focus on Materials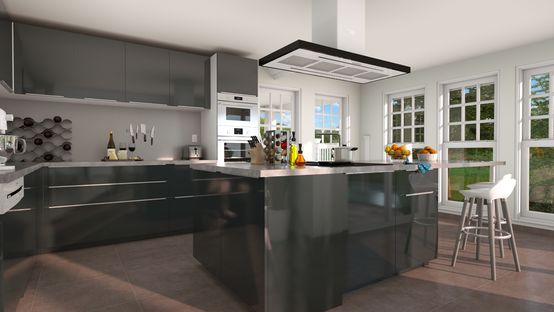 Materials are the key elements to creating a modern style in any kitchen. With so many options available, you need to be mindful of which ones will create the best overall look and feel for the space.
For a modern kitchen design, consider using contemporary materials such as stainless steel, quartz countertops or glass backsplashes. These materials all offer a high-end look with a modern touch, and can be easily incorporated into existing kitchen designs.
When selecting materials, think about how they will work together. Make sure to combine colors and textures so that everything flows seamlessly in the space. Also consider what kind of functionality you want from the material, for instance, if the kitchen gets a lot of use, you may need to select materials that are easy to clean and maintain.
6. Mix & Mingle Styles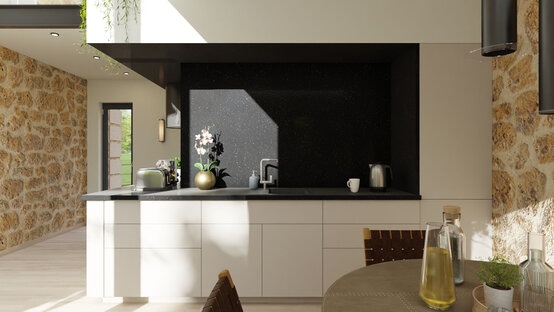 Many kitchen designers are turning to the modern trend of mixing & mingling styles when planning out their kitchens. This style features an eclectic mix of colors, textures, and finishes that makes it easy to create a unique, one-of-a-kind look. It is a great way to make a tired kitchen look completely new again.
A great way to get started with this style is by looking for classic pieces that can be used as the foundation of the space. These pieces are typically made from materials such as wood, metal, or stone, and they can provide you with a streamlined look for the kitchen. By blending traditional elements with more modern pieces, you will be able to create a space that is full of character.
7. Go All White or a Full Beige Palette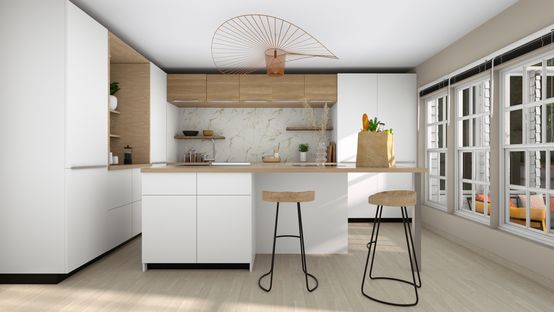 When considering modern kitchen design, many designers debate whether to go all white or opt for a full beige palette. While both are modern styles, each has advantages and disadvantages.
For example, going all white offers the advantage of brightening up a space and making it feel larger than it actually is. It also creates a clean, contemporary look with minimal effort and cost. The downside of this option is that it can be difficult to keep a white kitchen looking spotless and fresh without frequent cleaning and maintenance.
A full beige palette offers an elegant, timeless appeal that is slightly easier to maintain. The muted tone gives any kitchen a more homely feel and can be easily accessorized with splashes of color. However, too much beige may lead to a dull atmosphere that lacks the vibrancy needed for a modern design.
8. Two-Tone Cabinetry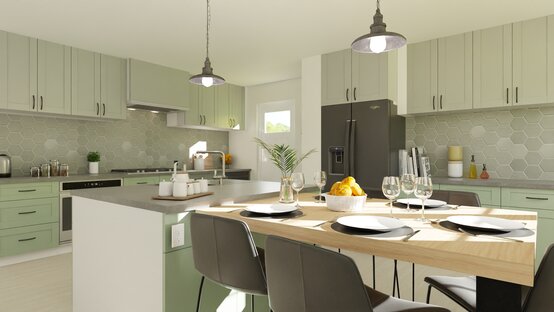 Two-tone cabinetry is quickly becoming a popular trend in modern kitchen design. This type of style provides designers with an eye-catching way to update the look and feel of the kitchen without having to undertake a full renovation. By introducing two colors into the cabinetry style, they can create a unique, customized look that will stand out in any kitchen.
When selecting two-tone cabinetry for a kitchen, it is important to consider the overall look and feel of the space. For example, if it's a modern kitchen with clean lines and contemporary finishes, they may want to choose neutral colors such as white and gray or black and white for their cabinetry. On the other hand, homeowners with a traditional kitchen may find more warmth in warmer hues such as navy and white or brown and black.
9. Decorative Island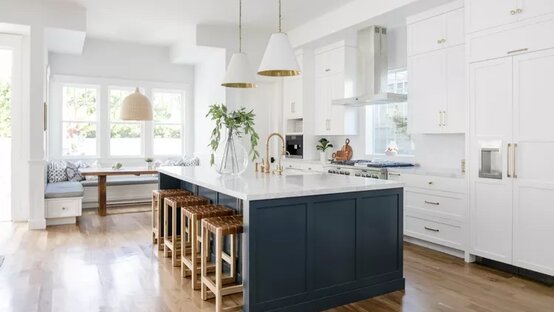 Creating a timeless and modern kitchen design is all about making the most of the space available. Kitchen designers can achieve this by using a decorative island as part of their overall design plan. Decorative islands are a great way to add texture, color, and even interesting shapes to a kitchen while also providing much-needed storage for cooking utensils and ingredients.
No matter the style of kitchen, decorative islands serve as a unique piece of furniture that brings together all the other elements in the room. By using elements such as open shelves, unique cabinet doors or statement hardware on a decorative island, designers can draw attention to these areas for a truly modern kitchen.
10. Throw In A Fun Statement Color
There are many ways one can incorporate a fun statement color into a kitchen's look. From choosing a daring shade of paint for cupboard doors and walls to using exciting textures like marble or granite, kitchen designers have plenty of options at their disposal.
A great way to instantly inject some life and personality into a kitchen is to add an accent color somewhere. This could be a pop of bright yellow on the backsplash, for example, or a deep blue on the cabinets. This splash of color can be enough to give the room a fresh, contemporary feel.
How Do You Design A Modern Kitchen?
Today's kitchens are sleek, open and uncluttered, with emphasis on clean, horizontal lines and lack of ornamentation. Designing a modern kitchen requires careful attention to both aesthetics and functionality. Here are some tips for creating a beautiful, contemporary kitchen that still serves its primary purpose:
Minimize Clutter and Invest in Storage – Good storage options are a must for any modern kitchen design. Opt for shelves, cabinets and islands that offer both function and style. Look for built-in appliances as well as discreetly hidden storage solutions like pull-out drawers and integrated garbage bins.
Take Advantage of an Open Layout – An open layout is a hallmark of modern kitchen design, so make the most of it by using islands and counters to create an efficient workspace. Don't forget that you can define areas within the space with different materials, textures or color palettes.
Incorporate Technology – Technology can be integrated into a kitchen design in many ways, from modern appliances and energy-efficient lighting to tablets for recipes and meal planning.
Choose Modern Kitchen Cabinets – Modern kitchen cabinets are often characterized by their low profile with smooth surfaces and no intricate detailing. To keep the design cohesive, choose the same style of cabinetry and hardware throughout the entire space.
Finish with a Statement Piece – A unique artwork or statement piece can be the perfect finishing touch for a modern kitchen design. Bold colors and shapes can add an extra pop of interest to the space while keeping it looking contemporary and chic.
No matter what style you choose, remember that function is just as important as form when it comes to designing a modern kitchen. By incorporating efficient storage solutions, technology, and adding a statement piece, you can create a kitchen that is both stylish and practical.