With the best house design apps, designing your dream home or remodeling project has never been easier. Even if you're a professional construction company, switching to modern home design software can save you loads of time and money.

In this 5-minute read, we'll give you 10 of the best house design programs that take the hassle out of creating professional house plans.




10 Best House Design Apps 2023
1. Cedreo
Best For: Housing professionals who want an easy-to-use residential design program

Available On: Desktop browser anywhere you have a laptop and wifi

App Overview: Cedreo is an innovative house design program that more and more housing professionals are switching to. Instead of complicated CAD interfaces and expensive 3D modeling programs, Cedreo lets virtually anyone create professional 2D and 3D home designs in just a matter of hours.

Experienced housing professionals love the intelligent toolset that is engineered to save you time and money. And with the ability to create fully furnished and decorated 3D renderings with accurate lighting effects, it's easier than ever to communicate your ideas to your clients.

Some more of Cedreo's stellar features:
Import existing floor plans
Extensive design library with 1,000s of different materials, decorations, and furnishings
Download and print 2D plans to scale
Get pro-level 3D renderings in just 5 minutes
CostCertified integration for easier estimating
Although Cedreo doesn't currently have mobile apps, with its cloud-based software you aren't confined to your desk. All you need is a laptop and wifi to access the full power of Cedreo's software.

Pricing/Trial:

Cedreo has a plan that fits every price range, check out our plans and pricing to learn more.
2. SmartDraw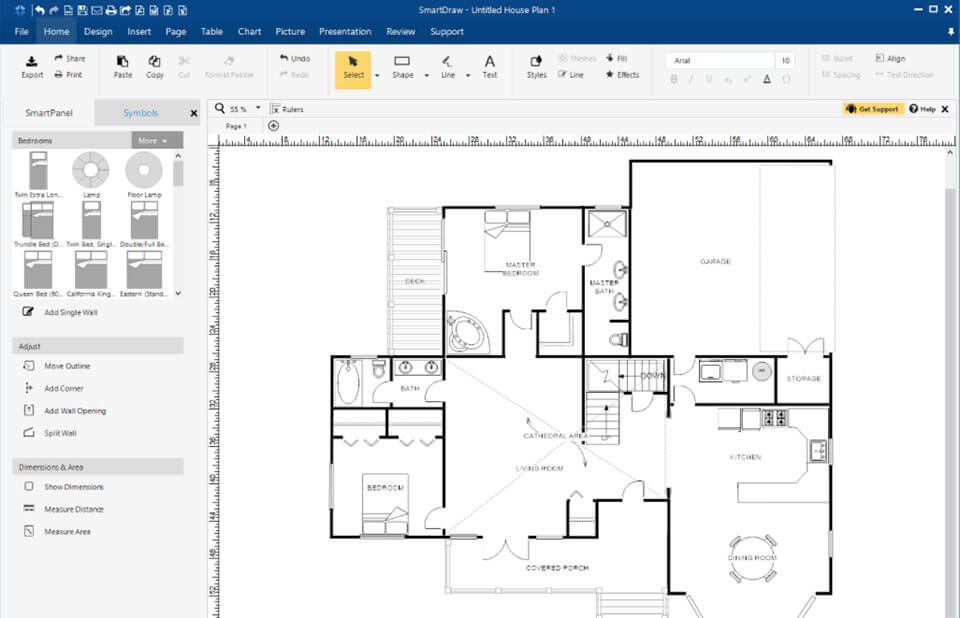 Best For: Creating basic 2D floor plans and diagrams

Available On: Web Browsers

App Overview: Smartdraw is more than just a 2D house design app. Sure you can create detailed 2D floor plans with architectural and mechanical symbols. But you can also use it to create a wide variety of other charts and diagrams.

It integrates easily with cloud storage and other productivity apps like Office, Teams, and Google Workspace. That makes it an excellent option for housing professionals who need a tool for drawing simple floor plans and organizing their businesses.

Pricing/Trial:
Individual – $9.95/month
Team Plan starts at $5.95/user/month (5 user minimum)
Enterprise Plan starts at $2,995/year
3. Magicplan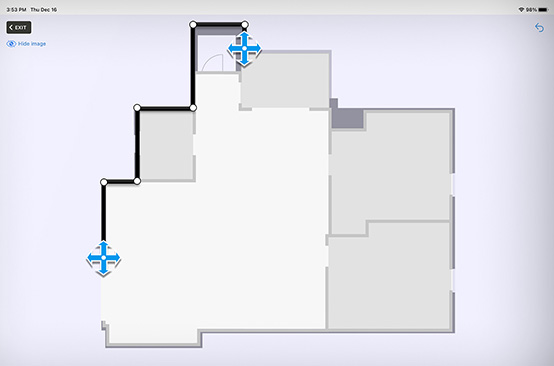 Best For: Builders and remodelers who need a quick way to sketch floor plans in the field

Available On: Android and iOS

App Overview: Magicplan aims to replace the traditional paper and pencil method of sketching floor plans in the field. It's a nice solution for housing professionals who are visiting a property and need to make a quick floor plan sketch.

Then, add notes and photos to the floor plan that you can pass along to your design team. And if the homeowner needs a quick estimate, Magicplan helps you do that while you're away from your desk.

Pricing/Trial:
Free – Access all features on 2 projects
Sketch – $9.99/month
Report – $29.99/month
Estimate – $89.99/month
4. Planner 5D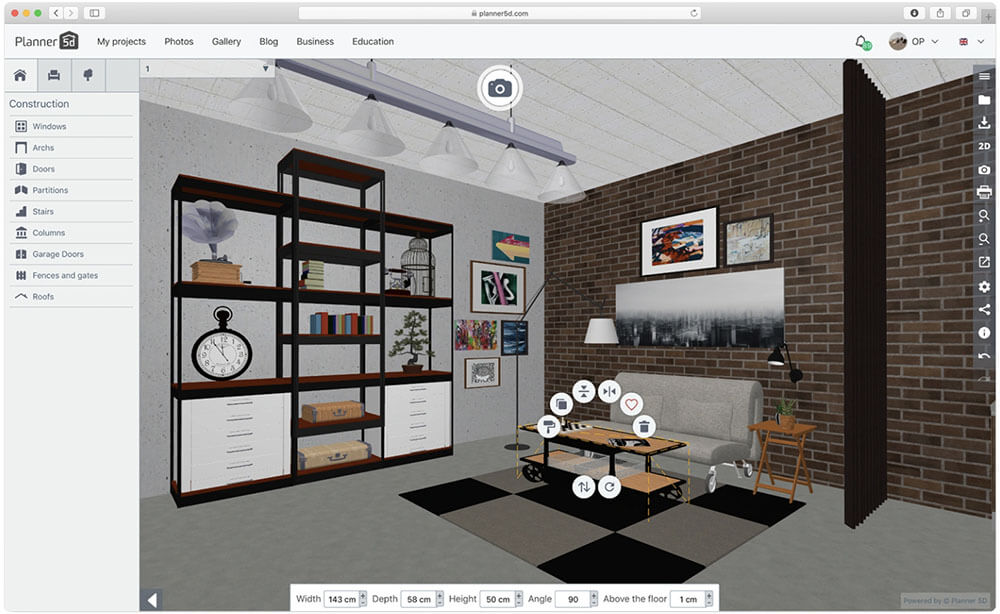 Best For: Amateur Designers

Available On: Android, iOS, and Desktop

App Overview: If you're completely new to the house design world and are looking for easy-to-use programs for a DIY project, the Planner 5D app could be for you.

It's got some cool features like 3D visualizations, virtual reality viewing, and automated furniture arrangement. However, if you are a construction, remodeling, or design professional, you'll probably need more features than what this home design app has to offer.

Pricing/Trial:
Free for Basic
$6.99/month
$15.99/year
$24.99/premium forever account
5. SketchUp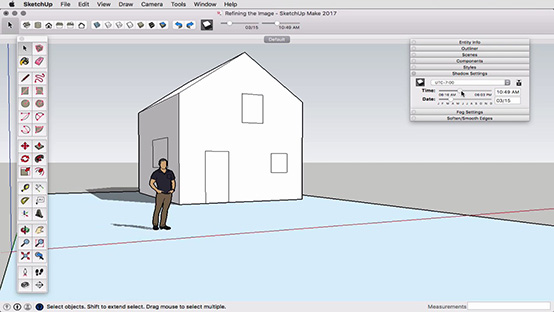 Best For: 3D Design Pros

Available On: Android, iOS, Windows, and Mac

App Overview: SketchUp is a 3D modeling program with a wide range of applications — from creating 3D product models to designing commercial buildings. If you use SketchUp as a house designing app, it's good if you already have some 3D modeling or CAD experience.

And while SketchUp (especially the PRO version) gives you powerful tools for creating custom shapes, you need to purchase add-ons to create professional 2D floor plans and 3d renderings.

Pricing/Trial:
Free with limited features.
Shop: $119/year
Pro: $299/year
Studio: $699/year
6. Foyr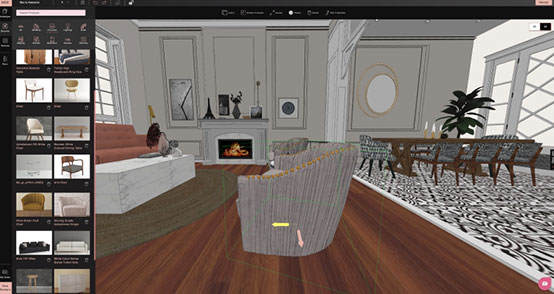 Best For: Interior Designers

Available On: Web Browsers

App Overview: The Foyr house design app targets the needs of interior designers. Its easy-to-use tools help streamline the design and decorating workflow. Plus, it's got a huge selection of 3D objects you can drag and drop into your designs. However, if you do more than just interior decorating, Foyr will leave you wanting more.

Pricing/Trial:
Basic – $59/month
Standard – $89/month
Premium – $159/month
7. RoomScan Pro
Best For: Easy floor plan creation in the field

Available On: iOS (Certain features only work with Pro model iPhones and iPads)

App Overview: RoomScan simplifies the tedious task of creating an accurate floor plan of an existing home. Instead of relying on tape measures and hand-drawn sketches (which are usually less than accurate), RoomScan Pro uses the last iPhone Pro and iPad Pro's built-in laser scanner to create precise 2D floor plans. Or you can use compatible Bluetooth laser measures which integrate with the app to do the same.

Pricing/Trial:
Free with in-app purchases to use certain features
8. Live Home 3D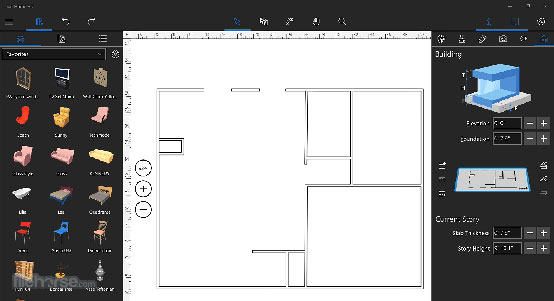 Best For: DIY Home Remodelers

Available On: Android, iOS, Windows, and Mac

App Overview: Live Home 3D packs a surprising amount of features into its house design platform — kitchen planner, landscape design, 3D renderings, and even an augmented reality app for iOS. And its entire toolset is relatively easy-to-use even if you're not a design professional.

There's a limited library of video tutorials and articles to help the DIYer get started with their designs. But if you're a housing pro you'll probably miss having a personalized support team (like you get with Cedreo!)

Pricing/Trial:
Free with limited functions and in-app purchases
Pro- $49.99 + In-app purchases for additional materials, plants, decorations, etc.
9. Floorplanner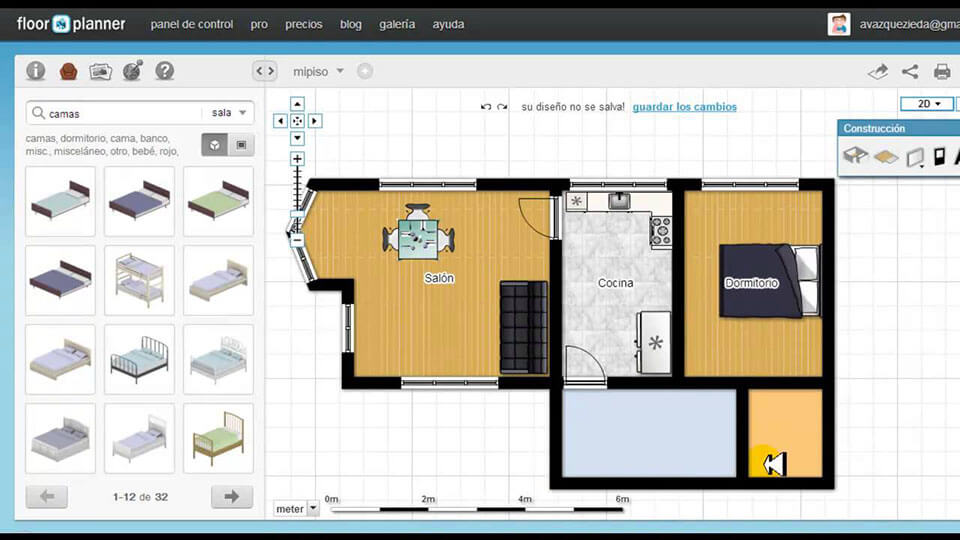 Best For: Interior Designers

Available On: Web Browsers and Android

App Overview: Floorplanner is a nice home design app for creating beautiful interiors. Just draw the floor plan and then decorate it with furniture and fixtures. Floorplanner lets you choose from several different 3D rendering qualities all the way up to 8K.

However, since Floorplanner is focused on interiors, if you need to design an entire house — interiors, exteriors, landscaping, roof, etc. — you'll want to go with another app (like Cedreo).

Pricing/Trial:
Basic – FREE
Plus – $5/month
Pro – $29/month
Team- $59/month (Up to 10 users)
Business- $179/month (Up to 100 users)
Enterprise- $599/month (Unlimited)
10. Houzz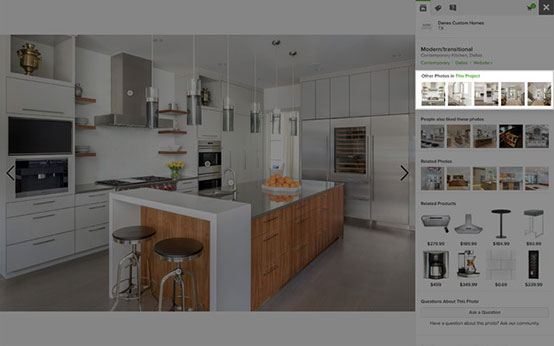 Best For: Home Design Inspiration

Available On: Web Browsers, Android and iOS

App Overview: Every new house design starts with a big idea, and the Houzz home design app gives you tons of idea inspiration. The app makes it really easy to browse and save design ideas and shop for furniture and decorations. Houzz also has some new tools for contractors, like a floor planner as well as other project management tools.

Pricing/Trial:
Free
Houzz Pro Starter – $65/month
Houzz Pro Essential – $99/month
Houzz Ultimate – $399/month
Conclusion
So which house design app is the right one for you? If you're looking for easy-to-use home design software that's still powerful enough to create custom residential home plans, go with Cedreo.

No other house design program lets you do so much so fast.
Create an entire set of house plans — interior and exterior — in as little as 2 hours
Download pro-level 3D renderings in 5 minutes or less
Integrate with CostCertified for streamlined estimating
Sign up for the FREE version of Cedreo today!