Dining out is an experience. Much like a well-thought-out and executed play, every design piece and team member must work harmoniously to provide a world-class dining event for guests. It all starts with the design of the restaurant floor plan.

Guests often don't want a peek behind the curtain. The magic is all part of what makes a restaurant alluring. But, the somewhat unexplainable quality of a memorable dining experience isn't magic at all — it's planning and proper understanding of the customer journey.

A masterfully crafted restaurant floor plan can be the foundation for decades of unforgettable meals for patrons. But, to make the most out of this critical stage of development, you must have a firm grasp of the balance needed to bridge worker efficiency with the guest experience.

If you're designing a restaurant floor plan, here are some tips and tricks you can use to ensure your space will please patrons and keep your staff happy.




Why Do You Need A Restaurant Floor Plan?
One of the most important aspects of any restaurant is the floor plan. Accordingly, it's not a stage of the planning process you want to overlook.

A good floor plan will be able to satisfy all the goals of your restaurant. This often means anticipating the needs of staff and guests as well as business growth. Nobody would have predicted the surge of takeout and delivery during 2020 and the COVID-19 world crisis. Still, restaurants with the flexibility built into their restaurant floor plan to accommodate this shift flourished.

While you can't predict the future, you can think ahead and work elements into your floor plan that can help optimize for growth down the line.

But a floor plan is much more than looking forward; it's about satisfying all your current needs as well. A well-designed floor plan will accomplish a few goals:
Optimize your dining room and kitchen for staff and guest traffic
Offer enough space for guests and staff
Arrange necessary elements thoughtfully
Place rooms and other areas exactly in the right location
Take safety and local regulation seriously
Much more
When all the elements of your restaurant floor plan work in harmony, your guest and staff will flow through the dining room smoothly. No one will need to fight for space and no guest will have a bad seat in the house.

How can you achieve this masterful restaurant floor plan design? Let's take a look at some concepts you should consider to make the most out of your dining room floor plan.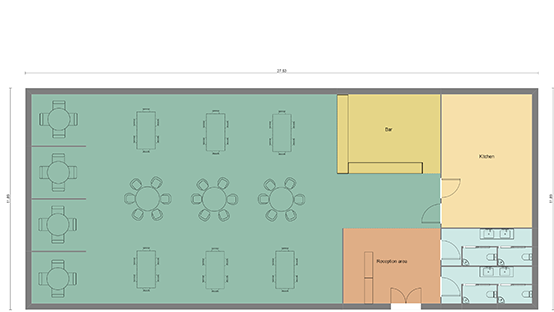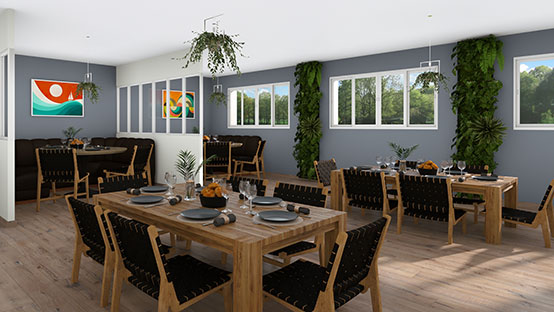 Things to Consider When Designing a Restaurant Floor Plan
Planning the design of a restaurant floor plan shouldn't be a struggle. By keeping a few general aspects in mind when creating your floor plan, you can create a design that benefits guests, workers and, of course, your profit margin. Let's explore.
1. Flow of Traffic
How will your guest get from the host stand to their table? What about your serving staff? How can they efficiently sweep their section without missing out on a guest's needs? These are all questions you can ask to make the most out of your flow of traffic.

Understanding how the flow of traffic will affect service is critical to your understanding of your dining room floor plan. No plan is perfect, but as you go about designing your restaurant, try to take stock of all your traffic flow needs.
2. Space Needs
Part of what makes a dining experience so special is feeling comfortable. For your guests to feel at home, they need the proper amount of space. Especially post-COVID-19, guests are acutely aware of how close they are to each other in the dining room.

Moreover, your staff also needs room to work. If the aisles between tables are too narrow, it can lead to bumped guests and unhappy diners.
3. Entrances, Exits, and Doors
Proper restaurant floor plan design includes thoughtful planning of all exits, entrances and doors. This is not only a safety problem but also a guest and staff comfort issue. Nobody wants to sit next to a door to the outside when the weather is too balmy or too chilly. It can ruin the dining experience.

It's a matter of balance, though. Guests and staff should always have clear access to exits in case of an emergency. Doors to the back of the house (BoH) should be out of sight too.
4. Room Placement
Room placement is a critical component of restaurant floor plan design. For instance, if you intend to keep a private dining room for special events and occasions, it needs to be private. That means putting it in a location with less foot traffic and walls or dividers to give guests more room to enjoy their dinner.

This goes for waiting and takeout areas as well. Make sure they don't intrude on diners in your main dining area.
5. Safety & Compliance
Design and aesthetics might be top of mind, but don't forget safety and compliance. Remember, keeping your guests safe should be a top priority — this means obvious exits that are clearly marked.

You also want to create an inclusive space. To do this, you must consider guests who require special accommodations. Becoming ADA-compliant is a great way to show your community you're committed to serving everyone, regardless of their needs.




Tips & Tricks for Designing a Functional Restaurant Floor Plan
Weighing all your floor plan needs can feel daunting. Luckily, we've got some simple tips and tricks you can use to make the most out of your restaurant floor plan design. Let's dive into those now.
1. Amplify the Ambiance
A good restaurant design doesn't just make sense; it also transports your guests to a new environment. Whatever the concept of your restaurant, a little attention to ambiance goes a long way.

You'll find thousands of ways to improve the ambiance of your design. It could mean installing soft lighting fixtures above each table or even adding accent paint on the walls near the kitchen to draw the eyes away from the action. In this regard, a skilled interior designer can help you quite a lot. A cohesive and strategic approach to ambiance can make all the difference.
2. Think About Each Space Individually & Together
Each individual section of your restaurant floor plan design should ooze individuality. Your bar and dining area should feel distinct enough from each other that the experiences cater to different types of guests.

At the same time, you need to blend each space so that guests feel continuity between spaces when they walk through each area. This also goes for the BoH design as well — especially if you're working with an open or outdoor kitchen concept.
3. Recognize Your Seating Capacity
Seating capacity is a big thorny problem for dining room floor plan design. On the one hand, too many seats mean cramped guests and an overloaded kitchen. On the other, sparse seating leads to fewer guests and a hit to overall sales.

Balance is key. Generally speaking, you want to give each guest around ten square feet of space in the dining room. This will also depend on the type of restaurant you're designing. Fine dining concepts usually need more space, while a more community-focused eatery might employ an open seating format to host more guests.
4. Gather Real Life Inspiration
"Good artists create, great artists steal." While this quote attributed to Pablo Picasso might not feel at home in a restaurant design plan, we can learn a lot from this idea. When planning out your floor plan design, doing some field research at your favorite spots is a great strategy for finding inspiration.

Go to popular locations around you. What's working for them? What's not? These clues can give you insight into your own designs.
5. Use a Floor Plan Software
While a pen and paper can get you a long way, these days, you have plenty of tools at your disposal. When it comes to upping your floor plan design game, why not utilize kitchen design software?

Floor planning software can help you easily design a full 3D kitchen layout in under a few hours. Floor plan software like Cedreo allows you to easily draw your floor plan, furnish, decorate and customize using an extensive 3D object library. You can even customize different colors and textures to make your floor plan as close to reality as possible.




Make Your Restaurant Floor Plan Shine with Floor Plan Software
When it comes to designing a restaurant floor plan, you should now have a firm understanding of what it takes to design for efficiency, staff productivity and, most importantly, guest experience. From designing the traffic flow to mastering the ambiance, all these little details add up to create a unique experience for diners.

Designing a restaurant floor plan can feel challenging at times. With all the moving parts and varied needs, it's easy to overlook certain aspects of your design. The last thing you want is to find mistakes after construction.

To give you the best chance at getting things right the first time, you need a better way to design and view your restaurant floor plan. Cedreo kitchen design software can help you create a comprehensive overview of all the aspects of your floor plan.

Outsourcing design to designers and engineers can overload your opening budget. When it comes to opening a restaurant, every penny counts. That's why using design restaurant floor plan software like Cedreo is so important. In Cedreo, you and your contractors can create streamlined designs that are beautiful, functional and flawless. If you want to learn more about Cedreo kitchen design software and start your free trial, sign up today.
Ready to Start Designing Your Perfect Restaurant Floor Plan?
Get Started Free
See Pricing Plans