For building professionals, getting accurate drawings, designs, and plans is critical to the success of every project. Outsourcing the job to professional architects and designers can help ensure you get the precise plans you need, but the process can eat up precious time and money from your budget.

Completing layout and design plans in-house could save you and your clients a lot of money. It could also make or break your ability to land a sale, as the process can be completed much more quickly which gives you a competitive advantage.

For these reasons, choosing the right design software can make a huge difference in your sales and efficiency. When a 3D design software is working for your team, it will attract more customers to your business, increase employee and customer satisfaction, save you money, and drastically reduce the length of the pre sales phase.

With so many options available, how can you know which 3D design software is right for your team? AutoCAD is a popular choice, but what makes it different from the other software on the market?

If you're looking for the perfect 3D design software for your team, keep reading.




What is AutoCAD?
AutoCAD is computer-aided design software for industry professionals that has been used widely since its release in the 1980s. It is available as a desktop application but it also has web and mobile apps.

AutoCAD is perhaps the most commonly used CAD software in the world. It is produced by AutoDesk, a developer with over 100 million software users across the globe. Industry professionals such as architects, engineers, designers, and city planners use AutoCAD to plan and design complex building and development projects.

Correct and effective use of AutoCAD software requires training and experience. It offers a variety of complex tools and functionalities that enable users to create precise and accurate project plans, layouts, and designs that require a level of expertise to develop.

The software allows design professionals to create exact 2D and 3D plans that include annotations and precise measurements. It can account for a variety of building materials and can automate design processes such as drawing a comparison, schedule creation, and additions.




The Difference between AutoCAD and other 3D Software
The main difference between AutoCAD and other 3D software is that it's intended for use by professional designers. This has an impact on the functionality, design, price, and quality.

Who It's Designed For
AutoCAD is designed for industry professionals, in particular design experts. Professionals with an extensive engineering background will enjoy the complex and varied functionality of AutoCAD's toolkit.

Some of the most common users of AutoCAD are as follows:
Architects
Civil engineers
Structural engineers
Designers
Project managers
For hobbyists, house flippers, DIYers, and housing professionals outside the design sector, AutoCAD can be less user-friendly.

Hobbyists and DIYers can use mobile apps and simple software such as SketchUp.

However, construction professionals who understand the home building industry need software with better quality and more capability like Cedreo. Cedreo is 100% cloud-based and user-friendly software that creates precise layouts, flawless designs, and stunning 3D visualizations of your project in a matter of minutes.

Cedreo offers advanced functionality and professional quality output for homebuilders at a fraction of the price, making it ideal for home building professionals who want to create project designs in-house to save time and money.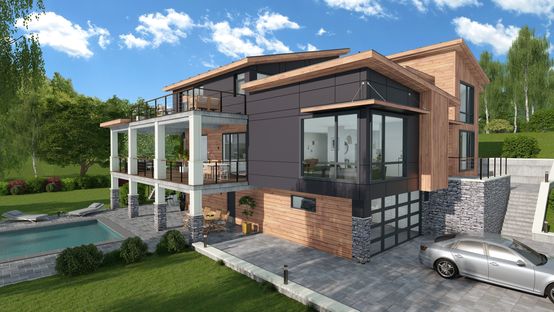 Functionality & Design
AutoCAD is designed to be a technical tool with advanced industry functionalities. These functionalities include:
Industrial design
Mechanical design
Architecture
Aerospace engineering
Astronautics
Since it is CAD software, these functions are computer-aided and are primarily used for technical design and drafting. This means the software offers different toolkits than other design software.

Standard 3D modeling software is designed to support its user in the creation of a space from a blank canvas. The tools provided allow users to design, build, and animate a world. Programs focused on hobbyists and DIYers are designed to provide a more artistic and inspirational experience for their users.

In contrast, AutoCAD is focused on precise and scaled designs that serve as blueprints for home building professionals. This allows the contractors and project managers to have a clear path forward in constructing the build.

Cedreo provides users with the ability to create precise, construction-ready layouts and drawings while also allowing them to conjure breathtaking 3D and photorealistic visualizations of their designs. This capability allows building professionals to create their project plans in-house and customize the presentation of the design to suit the unique tastes of their customers.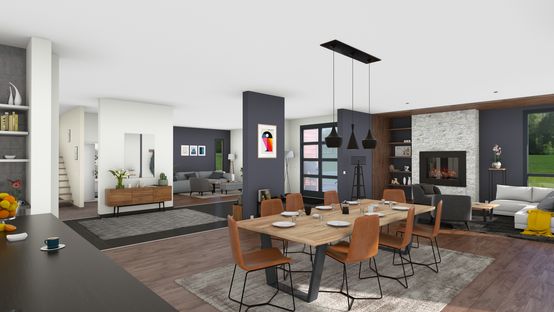 Quality of Output
More advanced software such as AutoCAD and Cedreo offer the highest quality of output possible in 3D modeling and design programs.

The type of quality offered by AutoCAD is ideal for industry design professionals because of its advanced tools for planning challenging and complex projects in major metropolitan areas. There are much fewer options for visualizations, as the software is focused on engineering and drafting.

The quality of hobbyist and DIY 3D software is focused primarily on aesthetics, but it is much lower than more professional options.

Cedreo is preferred by home building professionals. The quality is focused on precise home layouts and floor plans as well as visually stunning 3D renderings that impress clients. Comparable renderings in AutoCAD, while possible, would take a significant amount of time and expertise. This is why AutoCAD is recommended for designers and engineers, while Cedreo is recommended for home building professionals.




What Software is best for you?
When looking at different 3D design software for home building projects, it's important to consider your level of expertise and the intended use of the product. AutoCAD is the premier choice for design and engineering professionals, whereas public programs are ideal for hobbyists.

Building professionals who want to design beautiful, precise, and accurate drafts of their home building projects choose Cedreo. Cedreo offers the functionality for creating construction-ready drawings while also providing the ability to conjure impressive 3D renderings that will set your team up for success.

Cedreo is the 3D design software that helps building professionals improve client relations, increase sales, and establish a professional reputation. Sign up to start using the free version of Cedreo today.