In the past few years, health and wellness architecture has exploded in popularity. With the effects of a global pandemic, more and more people are making wellness a priority in every aspect of their lives — including in the buildings where they live and work.

That's why modern work and living spaces shouldn't just be functional and comfortable. They should also promote physical and mental wellness.

So as a housing professional…
How will this growing wellness architecture trend affect your business?
How can you start to implement wellness in designs for your clients?
And are there any tools that can make it easier for you to adapt to this trend?
In this 5-minute read, we'll answer all those questions and more. Let's start with a quick overview of the current trends.




Wellness Trends in Commercial and Residential
Whether you're working on commercial or residential wellness designs, here are a few of the hottest trends.

Commercial
With employee retention becoming an ever-growing problem, more companies are focused on creating spaces where their employees enjoy working.

So look for office buildings to include biophilia in their designs. Commercial spaces that include greenery, wood, stone, and other natural materials are quickly becoming the norm.

Some research shows that including biophilia in retail spaces motivates customers to spend more, so you can even expect to see it more in retail stores.

And with companies looking for ways to help their employees stay healthy, expect to see more fitness centers and outdoor areas at the workplace.

Some other commercial wellness architecture trends we're seeing are:
Making natural light a priority
Improved air quality monitoring
Open spaces for easier collaboration
Residential
The number of wellness-focused residential projects nearly tripled from 2017 to 2020. So if you're a contractor, remodeler, or interior designer, these are some wellness residential design trends you should look for.

With the continuing threat of respiratory illnesses, more homeowners are concerned about the air quality in their homes. So the demand for advanced air filtration and sanitation systems will continue to grow.

Smart circadian lighting systems are also growing in popularity. This helps mimic natural lighting to keep your body's internal clock aligned with the light/dark cycle of the sun so you sleep better at night and are more alert during the day.

Other wellness residential design trends are:
Ergonomic work-from-home spaces
Exercise rooms or home gyms
Increased use of sustainable materials
Energy-saving fixtures
In the next section, check out some areas in which you can implement these wellness trends.




Key Design Areas
Here are 4 key areas where health and wellness should influence your designs.
Indoor/Outdoor Space
Instead of having a clear delineation between indoor and outdoor areas, look for ways to bring nature inside with biophilic design.

Try to implement natural materials into your projects as much as possible. This could be as simple as adding some indoor plants. Or it could include using rustic wood and stone in the interior design.

Another great way to make the inside feel less confining is to include plenty of well-placed doors and windows. Also, use tall windows and french doors to make it easier to view and access the outdoors.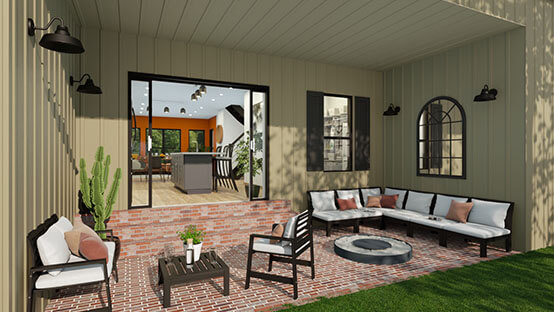 Lighting
Natural light is a must-have in any home. When used properly, it has tons of benefits like:
Spending less on heating and cooling
Less need for artificial light
Helps people feel more productive, happier, and calmer
Reduced eye strain
Provides Vitamin D
So look for ways to increase natural lighting — well-positioned windows, bi-fold doors, reflective surfaces, and light colors all will help.

You can also install artificial smart lighting that mimics the changing color temperatures of the sun's light throughout the day. In the morning and evening, the lights take on a warmer temperature while throughout the day, The light has a cooler, bluish hue. This acts as a type of "light therapy" to regulate your body's natural rhythms.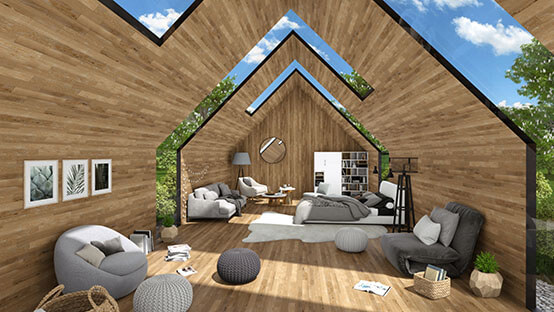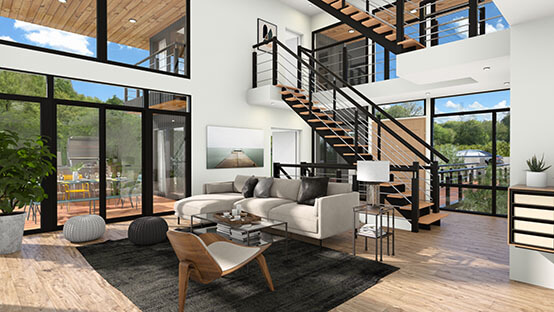 Materials
Wellness in design also involves using sustainable materials that are better for the environment. And fortunately, many of those materials are also a healthier choice for those who end up living and working around them.

So try to incorporate materials such as:
Bamboo
Cork
Sustainably harvested timber
Recycled materials
Reclaimed wood
Green insulation
Color Palettes
It's surprising the effect colors have on our moods. They can make us calm, excited, energized, and even hungry.

So for places like the bedroom, choose lighter, soothing colors (like soft blue and green) to promote a feeling of calm.

On the other hand, places like elementary schools can benefit from pops of brighter colors (like orange and yellow) to promote an energetic and creative atmosphere that helps get kids excited to learn.
How 3D Design Software can help
Ready to start implementing wellness architecture into your projects? One of the best tools to help you start is 3D home design software. Here are 3 ways modern design software like Cedreo can help.
2D/3D Floor Plans
A complete set of 2D and 3D floor plans is the backbone of any wellness project.

With Cedreo's 2D floor plans, you get accurate measurements and surface area calculations. Easily place doors and windows, and then resize them as needed. Add furniture, move walls, and see all your changes get instantly updated in the 3D window.

The 3D floor plans help your designs to come to life. Choose from thousands of different materials in Cedreo's design library, including a wide range of natural materials like stone and wood. Add biophilia to your designs with indoor plants and other natural decorations. Then mix and match colors until you find the right palette for your project.

The 3D plans bring all the design elements together to clearly show your clients the health and wellness aspects of the design.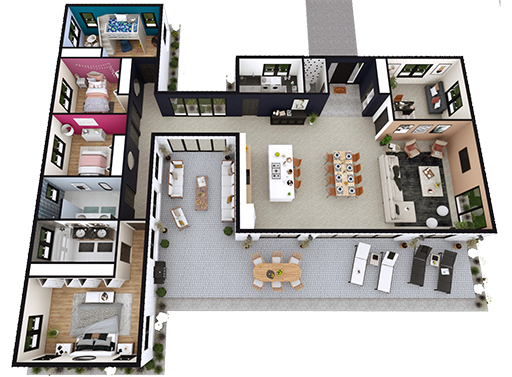 Site Plans
A lot of wellness designs focus on creating a feeling of being outdoors even when you're inside. To do that effectively, it's important to have a design program that lets you create more than just the interior space.

If you use a program like Cedreo, you can create the entire site plan. That way you and your clients can accurately envision what you'll see from inside the home. And that, in turn, helps you know where to place windows and doors to best compliment the site's exterior features.

Site plans are also important for creating outdoor recreation and fitness areas. Want to include a pool, swing set, walking path, or outdoor patio? All it takes are just a few clicks in Cedreo.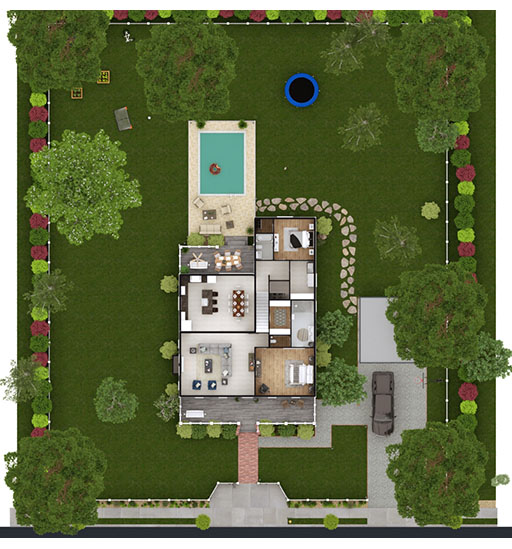 3D Renderings
Cedreo's 3D renderings are the best way to show off your wellness project. They're easy to create right from the 3D floor plans. Just select the view and lighting settings and in 5 minutes your rendering is ready.

Cedreo's renderings showcase important elements like accurate natural lighting effects, realistic greenery, and lifelike stone and wood textures. Clients love seeing all those details that help bring their wellness design to life.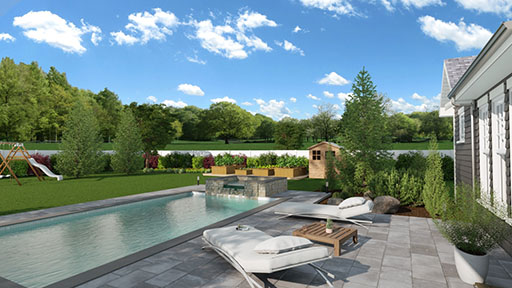 Summary
Ready to start using health and wellness architecture concepts in your projects? It's worth it to jump on the wellness trend and consider things like color palettes, lighting, sustainable materials, and biophilia when creating your designs.

However, it can seem overwhelming to try and implement all those changes. So why not save yourself the headache and switch to a design program like Cedreo.
Easily add and customize a wide variety of wellness design elements
Create an entire home design in just 2 hours
Impress clients with photorealistic renderings
With a FREE trial, you've got nothing to lose. So why not sign up for Cedreo today!