Interior design is an ever-changing field, and keeping up with the latest trends is crucial for residential contractors, remodelers, and interior designers. As we progress through 2023, we can expect to see exciting new trends emerging that will shape the look and feel of homes and living spaces.
So in this article, we're going to….
Explore the latest interior design trends for 2023 — from bold patterns and new color palettes to sustainable design and a focus on wellness.
Take a look at some trends that are on their way out.
Give you a few ways to incorporate new trends into your projects to keep your clients happy and your business thriving.
Whether you're a seasoned design professional or just starting in the industry, read on to discover the latest interior design trends you should be using in 2023.
Interior Design Through The Years
Interior design trends have undergone significant changes over the years, reflecting the changing tastes and preferences of homeowners.
In the 90s, the dominant style was minimalist, with a focus on neutral colors, clean lines, and simple decor. This trend was exemplified by the popularity of track lighting and glass coffee tables. We also saw a rise in the use of tropical prints and pastel colors, with peach and mint being particularly popular.
As we entered the early 2000s, the design trends shifted towards more opulent and grandiose styles. Ornate details, bold colors, and rich textures were in demand, with a focus on the use of gold and silver accents. Popular materials included faux finishes, textured walls, and distressed wood. Some of the most popular design trends included the use of chandeliers, oversized furniture, and elaborate window treatments.
In recent years, interior design trends have shifted towards a more streamlined, minimalist style again. A focus on clean lines, natural materials, and a neutral color palette has dominated design, with a big emphasis on Scandinavian-style simplicity. The popularity of industrial-style decor and rustic touches has also increased in recent years. It's normal to see exposed brick walls and raw wood finishes in homes.
Now, we're seeing a resurgence of bold patterns, colors, and textures. Designers are experimenting with maximalism — embracing rich, layered decor that creates a sense of luxury and indulgence. Natural materials and sustainability have also become more important considerations in interior design, with a focus on eco-friendly materials and energy-efficient appliances.
As we move through 2023, we can expect to see these trends continue to evolve and shape the way we approach interior design. Check out the next section to get some more details on the current trends.
10 Top Interior Design Trends for 2023
As you read through these top design trends for 2023, look for ways to implement them in your projects.
1. Focus on Wellness
In 2023, the focus on wellness is a major trend in interior design. Homeowners are seeking ways to create spaces that promote relaxation and rejuvenation, with a particular emphasis on creating spa-like bathrooms and serene bedrooms. And more are creating spaces in their homes for meditation and exercise.

What you should do: Plan to incorporate natural materials such as wood and stone to create calming and grounding spaces, while also integrating elements such as aromatherapy and lighting to create a calming atmosphere. And don't forget to leave space for home gyms.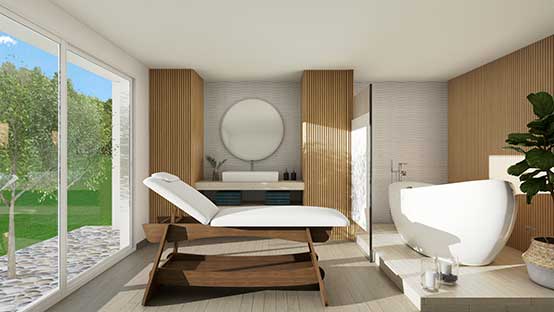 2. Art Deco Returns
Art Deco style is making a comeback in 2023, with a modern twist. This style is characterized by bold geometric patterns, luxurious materials, and metallic finishes.

What you should do: Integrate Art Deco elements such as statement lighting fixtures, geometric wallpaper and curved furniture pieces into contemporary designs to create a look that is both sophisticated and timeless.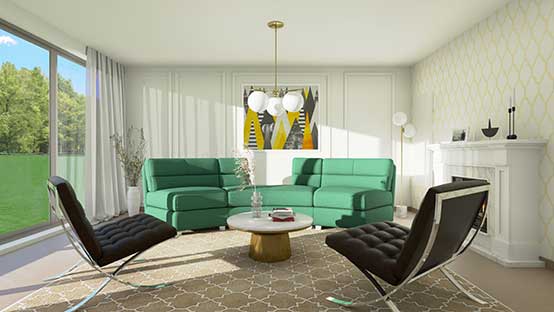 3. Designer Laundry & Mudrooms
Laundry and mudrooms are often overlooked when it comes to interior design. However in 2023, these spaces will get a design makeover. Homeowners are seeking functional spaces that are also stylish and inviting.
What you should do: Look for ways to incorporate features such as built-in storage, durable materials and stylish lighting to create laundry and mudrooms that are both practical and aesthetically pleasing.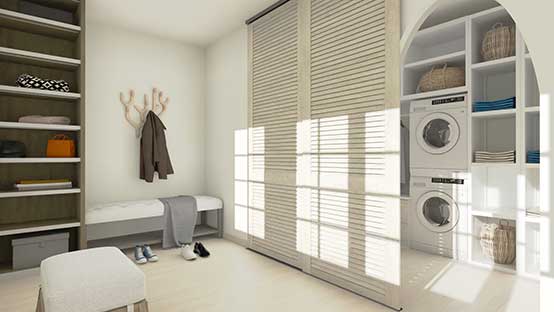 4. Sustainable Design & Materials
Sustainability is becoming increasingly important in interior design, with a focus on using eco-friendly materials and energy-efficient appliances.

What you should do: Try to incorporate sustainable features such as solar panels, green roofs, and energy-efficient lighting to create homes that are not only beautiful but also environmentally responsible. Recycled materials and vintage or upcycled furniture are also popular choices in 2023.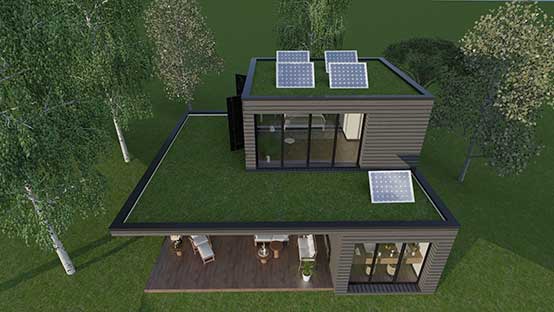 5. Bringing the Outdoor In
In 2023, the trend of bringing the outdoors inside continues to grow in popularity. More homeowners want to experience and enjoy the outdoors from the comfort of their homes.

What you should do: Be sure to incorporate biophilia in your designs. Include elements such as indoor gardens, natural materials and large windows to create spaces that are bright, airy and connected to nature. Use living walls, indoor water features and natural light to create a sense of tranquility and relaxation in homes.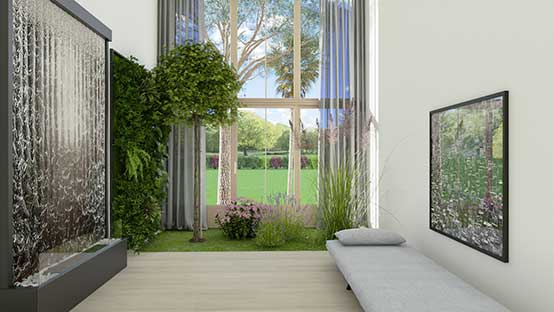 6. Dedicated Dining Rooms are Back
In recent years, open-concept living spaces have dominated interior design. But in 2023, dedicated dining rooms are making a comeback. Homeowners are seeking spaces that are separate from the main living area for formal meals and gatherings.

What you should do: Spend less effort creating hybrid kitchen/dining room spaces. Don't be afraid to forgo seating in the kitchen and save it just for the dining area. Then, use elegant dining tables, statement lighting, and decorative wall treatments to create dining rooms that are both functional and stylish.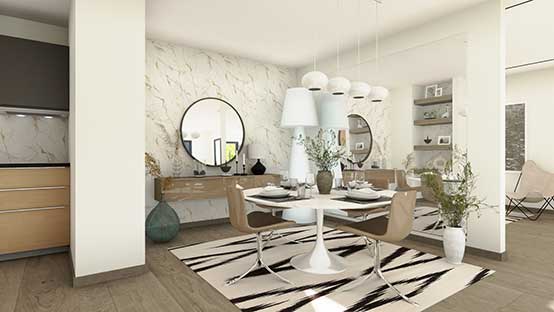 7. Textures & Bold Patterns
In 2023, designers are incorporating more textures and bold patterns into their designs, creating spaces that are visually interesting and inviting.
What you should do: Textured wallpaper, plush rugs and woven fabrics are options you'll want to present to clients. Use bold geometric patterns and vibrant colors to create a sense of playfulness and personality in homes.

PRO TIP – Use a 3D home design program like Cedreo to test different paint, texture and material combinations. It's got thousands of different options to choose from. So whether your clients want calm and subdued or bold and vibrant, you can create a realistic 3D design to match.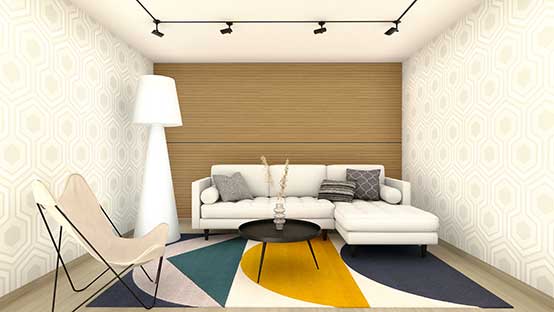 8. Modern Maximalism
Maximalism is the trend of the moment, with designers embracing a more-is-more approach to interior design. In 2023, we are seeing an explosion of color, texture, and pattern in homes, creating spaces that are bold, eclectic and personalized.

What you should do: Look for ways to incorporate vintage pieces, statement artwork and bold accessories to create maximalist spaces that are both visually stunning and deeply personal.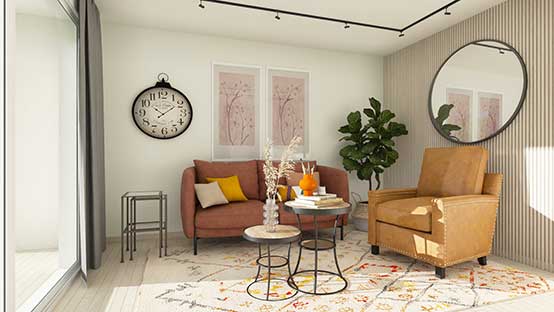 9. Entertainment Focused Seating
Homeowners are seeking more comfortable and versatile seating options in their living spaces, with a particular emphasis on creating spaces that are ideal for entertaining.

What you should do: Consider adding features such as built-in seating, sectional sofas and statement armchairs to create spaces that are both practical and comfortable for hosting guests.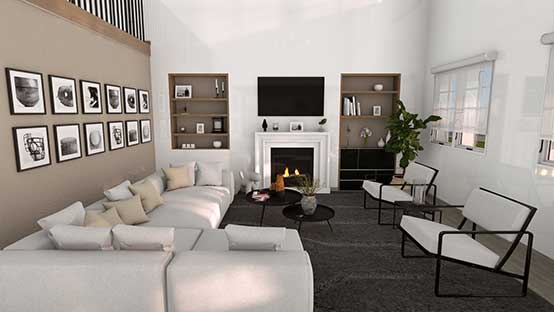 10. New Color Trends for 2023
The color trends for 2023 are all about bold, expressive hues that evoke a sense of joy and optimism. At the same time, there is also a focus on more subdued shades that create a sense of calm and tranquility.
Here are some of the top color trends for 2023:
Rich jewel tones: Deep, saturated colors such as emerald green, sapphire blue, and amethyst purple add a touch of luxury and sophistication to interiors.
Warm neutrals: While bold colors are popular, there is also a focus on warm, earthy neutrals such as terra cotta, caramel and rust. These colors create a cozy, welcoming atmosphere that is perfect for relaxing.
Bold accents: For those who want to add a pop of color without going all-in, bold accent colors such as hot pink, electric blue and sunny yellow are popular in 2023. These colors can be incorporated through accessories such as throw pillows, artwork and decorative objects.
Soft pastels: On the opposite end of the spectrum, soft pastels such as blush pink, lavender and baby blue are also popular in 2023. These colors create a sense of serenity and calm that is perfect for bedrooms and bathrooms.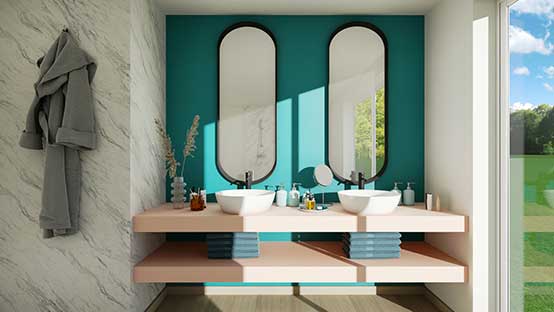 So those are the trends that are "in" right now. What about trends that are on their way out? See more about these in the next section.
Outdated Trends Moving into 2023
As new trends emerge, old ones must make their exit. Here are some outdated trends that are being replaced by new ones in 2023. You might want to re-think your plans of using any of these since they're likely to go out of style sooner.
Industrial Style: Industrial style has been popular in recent years, but it's starting to feel overused and tired. In 2023, we're seeing a shift towards more organic and natural materials.
Accent Walls: Accent walls have been a go-to design trick for many years, but their popularity is waning. Instead, designers are focusing on creating texture and interest throughout the entire space.
All-White Interiors: While all-white interiors can be beautiful, they can also feel sterile and unwelcoming. In 2023, we're seeing a move towards warmer and more inviting color palettes.
Open Concept Living: Open concept living has been popular for several years, but it can be challenging to create a sense of coziness and intimacy in these spaces. In 2023, we're seeing designers focus on creating more defined spaces within open floor plans.
Minimalism: While minimalism has been popular for several years, it's starting to feel too sterile and impersonal. In 2023, we're seeing a move towards more eclectic and personalized spaces.
2023 is shaping up to be an exciting year for interior design. From a focus on wellness and sustainability to bold patterns and vibrant colors, there's something for everyone in the latest trends. While it's important to stay on top of the latest design trends, it's also important to have the right tools to bring your vision to life.
That's where Cedreo design software comes in. With Cedreo, you can create beautiful 3D designs, impress clients and streamline the design process.
Create 3D renderings with realistic lighting and texture to test new design ideas.
Choose from a vast library of design objects.
See your space in 3D as you create the 2D layout.
Impress clients with colorful and detailed project proposals.
With a free version, you've got nothing to lose. Give Cedreo a try today and take your design business to the next level!