No matter the size or style of the kitchen, transforming it into a stylish and functional space is easier than you think. Whether you're new to decorating or have worked on designs for years, finding just the right inspiration can be tricky. That's why we've assembled this collection of kitchen design ideas and inspiration to help get your imagination going.
From unfussy backsplashes like subway tiles to key accent pieces, bright-colored walls, and imaginative lighting, we've got something for everyone. For those looking to go all-out on a kitchen renovation, we have plenty of ideas to help you create the perfect space.
Things to Consider When Designing a Kitchen
Designing a kitchen is no small feat. From considering the size and layout to figuring out the perfect style, there are many factors to consider when coming up with kitchen design ideas:
The size of the room should be considered when planning the space, is there enough space for all of the amenities needed? What about storage or an extra island? When it comes to size, the larger the better (in terms of kitchens!).
Another important factor to consider when designing a kitchen is the focal point. The focal point should draw attention and set the tone for your overall design. Whether it's an accent wall or a built-in oven, this should be well thought out and strategically placed within your design.
The island is another important element to consider when designing a kitchen. An island can provide much-needed counter space and often doubles as an extra dining area. It's also important to consider how much space must be left between the cabinets for safe maneuvering within the kitchen space.
You must plan the space efficiently as it directly affects the workflow in the Kitchen. This includes where appliances are placed and the location of sinks and other amenities. It is also important to account for foot traffic when planning your design; this will ensure that there is a safe cooking area.
10 Design Ideas & Inspiration to Improve any Kitchen Design
1. Choose a timeless, unfussy backsplash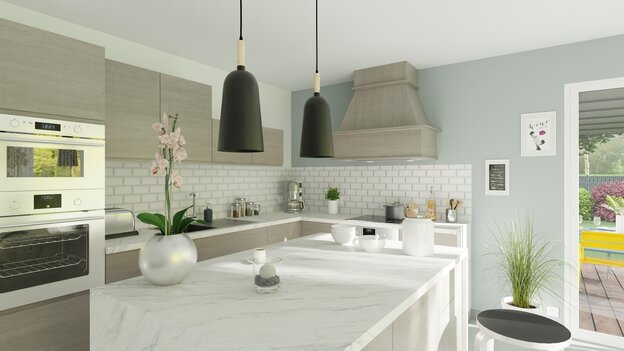 Instead of fading into the background, a backsplash can be an interesting design element in any kitchen. A timeless and unfussy backsplash is perfect for modern kitchens that need to stay up-to-date without looking too trendy or overdone. Here are a few ideas on how to achieve this look:
Start with classic shapes and materials such as subway or arabesque tiles.
Stick to neutral colors like white, cream or gray to keep the look simple and timeless.
Consider installing a mosaic backsplash which can add texture and depth without being overwhelming.
If you want to add a bit of flair, incorporate metallic accents such as copper or gold into your backsplash design.
2. Utilize Every Inch of Space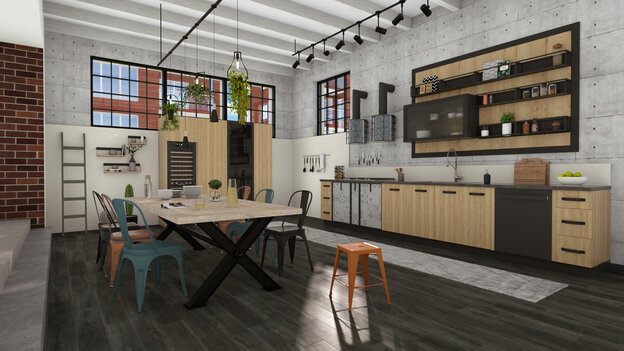 Utilizing every square foot can help you create a stunning, functional kitchen. From maximizing storage options to finding clever ways to add more countertop space, here are some inspiring ideas for making the most of your kitchen design.
Start by making use of wall space. Wall shelves and hanging racks can offer plenty of additional storage while helping to keep countertops clutter-free. Spice racks can also be used as shelving or hung on a wall for extra organization.
Utilize corner spaces with pull out shelving or a rotating lazy susan, and create more countertop space by installing an island.
Think outside the box when it comes to storage options. Add some decorative baskets or jars on shelves and countertops for an attractive way to store items like utensils and towels.
3. Start With One Key Accent Piece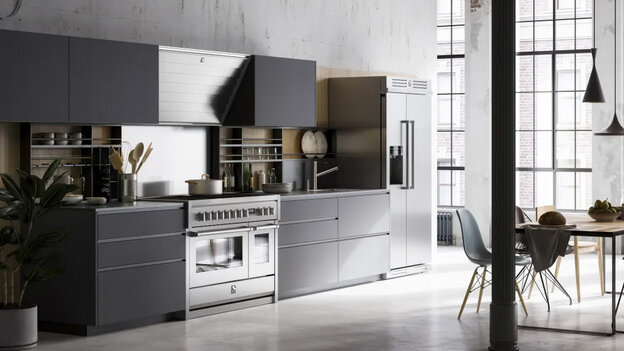 One of the best ways to improve a kitchen's overall look and feel is to start with a key accent piece as your main inspiration. This single item can be used to inform the rest of the kitchen design decisions and help you create a cohesive and stylish interior space.
A great example of this technique in action can be seen by selecting one piece of furniture or an appliance and using it as your main source of inspiration. For example, a modern-looking stainless steel range can be the start of a great kitchen renovation, and the design elements you choose for the countertops, backsplashes, and cabinetry should all complement this focal point.
4. Brighten Things Up With Paint Colors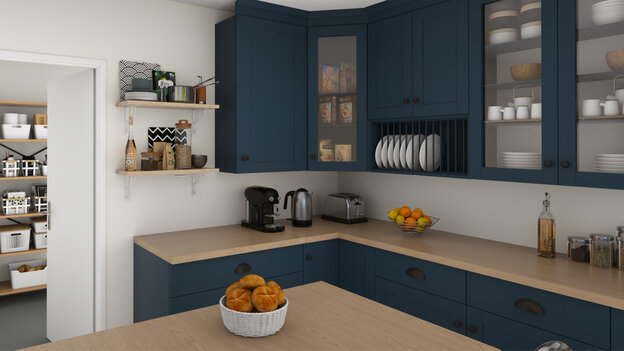 Paint colors play a big role in whether or not a room looks inviting and comfortable. Painting the walls can be an easy way to brighten up any room, and the right combination of colors can help create a stylish and functional space.
Lighter colors tend to open up the room and make it feel larger. Neutral shades like off-whites, creams, and beiges can give you just enough contrast without being overwhelming. If you want to make a bold statement, try adding a pop of color with darker shades like navy blue or gray.
5. Add An Extra Sink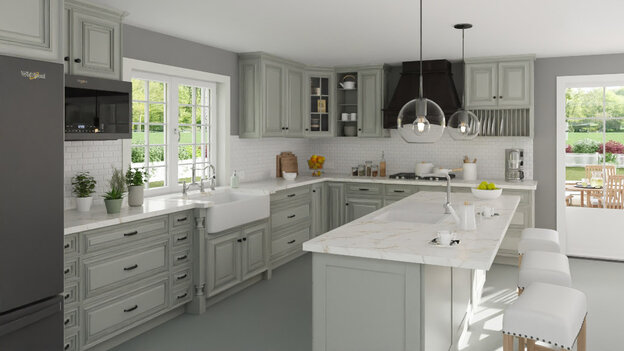 From a design perspective, adding an additional sink can provide more opportunities for creating stylish and inviting spaces that are designed with functionality in mind. Depending on the shape and size of the kitchen, there are various design ideas and inspirations to consider.
For example, an extra sink can be used as a wet bar for entertaining guests, or simply set up next to the existing sink for added convenience when two separate tasks must be done simultaneously. In addition, adding an extra sink can provide a great opportunity to create a unique focal point in the kitchen. Consider incorporating a farmhouse-style sink for added aesthetic and functional appeal.
6. Disguise Appliances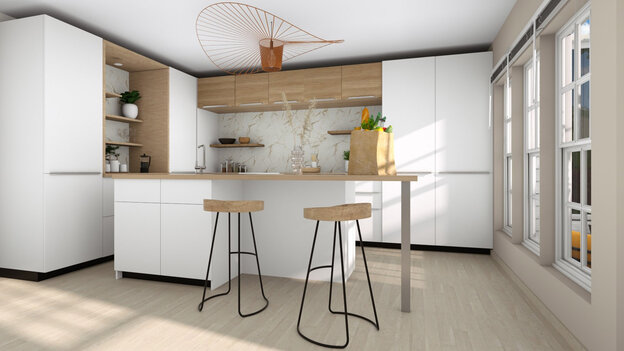 Disguising appliances can spice up any kitchen design and provide unique inspiration for your next project. With new technologies available, there are countless ways to disguise or hide traditional appliances like stoves, refrigerators, microwaves, and dishwashers while adding functionality and even more style to the space.
One way to make your kitchen design flow seamlessly is by camouflaging appliances with custom panels that match the other cabinetry. This is an especially useful trick when working with smaller spaces, as it can help make the overall look of the space seem more uniform.
You can also disguise appliances with appliance garages. An appliance garage is a cabinet-style storage unit that you can use to store your small kitchen appliances in one place and out of sight.
7. Experiment with Open Cabinets & Shelves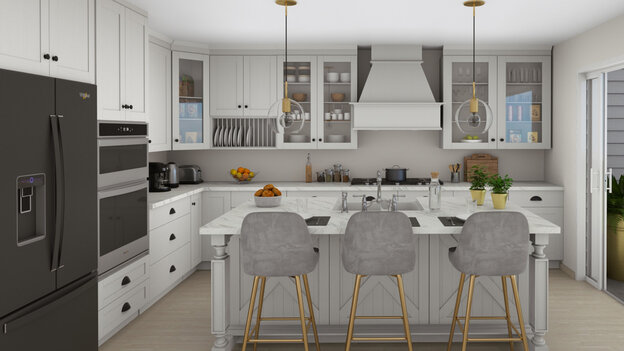 Open cabinets and shelves are a great way to add design interest and style to any kitchen. By experimenting with different cabinet styles, you can create a unique look that is all your own.
Open shelves are a great way to make use of awkward space in tight kitchen areas. Shelves can be mounted directly onto the wall, suspended from the ceiling, or even designed into a custom built-in storage area.
Cabinets with glass fronts offer a great opportunity to show off your kitchen items. This type of cabinet can be used for storing anything from cookware and dishes to collectibles and antiques. Consider adding in different types of glass, such as stained or frosted, for an even more unique look.
8. Add A Service Window for Indoor/Outdoor Dining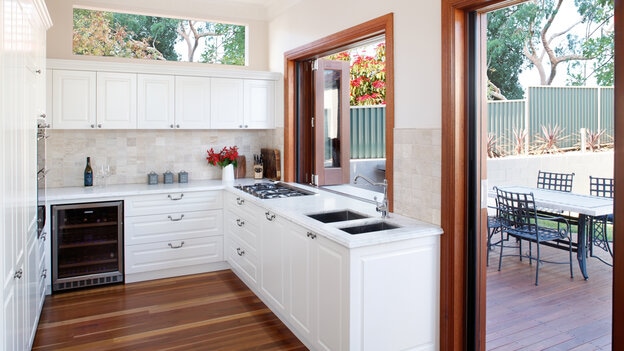 Dining indoors and outdoors can be a great way to enjoy meals with friends and family. For those who have limited space for indoor dining or would like to create an outdoor oasis for entertaining, adding a service window is the perfect solution. This design idea allows you to bring the outside in, providing an easy access point for food preparation and service.
Service windows can be customized with various materials and finishes to match the style of the home. Framed in wood, metal or composite materials, these windows are a great way to add an architectural element to any kitchen design.
9. Accommodate Pets With Their Own Area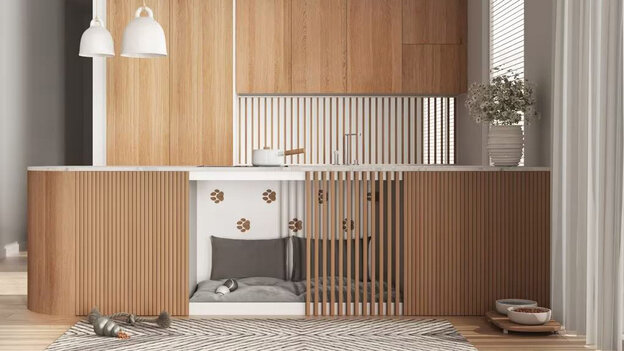 Pet owners should be sure to include their beloved animal's comfort and safety in mind. While there are plenty of ways to make a kitchen space more pet-friendly, one great idea is to create an area that's dedicated exclusively for the furry friend. This will not only provide the pet with their own little space but can also add an interesting and unique element to the kitchen design.
If possible, keep it away from potential hazards like high-temperature stoves or sharp edges. You can also consider installing a pet gate or divider so that animals have their own spot without intruding on other kitchen areas.
10. Consider Lighting As Part of the Design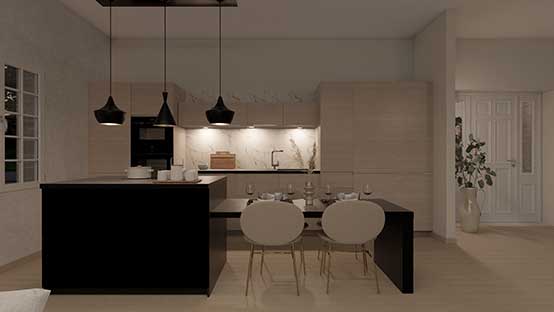 Lighting can often be overlooked when it comes to kitchen design. But lighting is important in creating the perfect kitchen and should not be ignored. With proper lighting, you can create a warm and inviting atmosphere that will make cooking enjoyable.
Consider how you want to light different areas of the kitchen. A well-lit kitchen provides plenty of visibility while cooking as well as makes the space look larger and brighter. In addition, proper lighting can help you to accentuate the colors of your cabinets, countertops, walls, and flooring.
How Floor Plan Software Can Help You Create A Stunning Kitchen Design
Every house needs a well-designed kitchen; it's the heart of any home. From cooking to entertaining, you need functional and stylish elements in the room. A floor plan software can help you design the kitchen of your clients dreams. With 3D visuals and easy-to-use tools, you can create a stunning design in no time.
Using floor plan software is one of the best ways to visualize and turn your ideas into something tangible. You can customize every aspect of the kitchen space with precise measurements and detailed designs. You may want to add an island, a breakfast nook, or an extra counter. Whatever you choose, the software will help you make it happen.