Between a global pandemic, supply chain issues, and skyrocketing material prices, it's harder than ever to create residential construction cost estimates.

Want some tips on estimating costs for your next residential home project?

In this 10-minute read, learn about:
The average cost to build a house in 2023
3 easy ways to create cost estimates
PRO tips for creating residential estimates
Average Cost to Build a House per Square Foot
In 2023, the average cost to build a new home ranges from $100 to $200 per square foot. That means that a 2,500-square-foot home would cost between $250,000 and $500,000.

Keep in mind the price will depend on several factors, such as:
Location
Current Material Prices
Quality of the Finishes
Whether It's a Standard Floor Plan or a Custom Build
The Home's Features
For example, a high-end luxury home with more expensive features like granite countertops, smart home capabilities, crown molding, etc. will cost closer to $400 to $500 per square foot.

Factoring in all those elements, the average cost to build a new house in the USA is $248,000 with the average ranging from $178,000 to $416,000 depending on size and location.

*Important! – Remember that this price does not include land, financing, and landscaping. All of that will add thousands of dollars more to the overall cost of the home.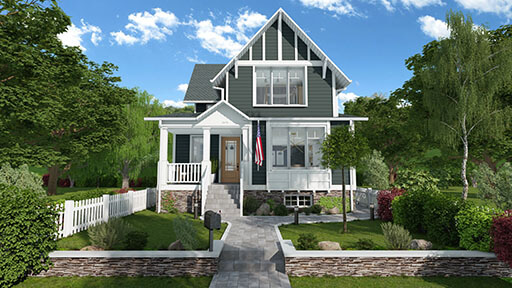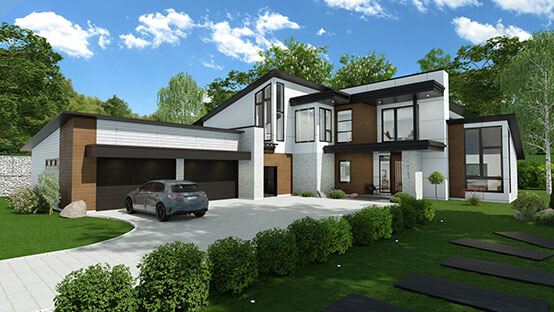 Residential Construction Costs Estimates
The main costs for residential construction can be divided up into the following three categories.

1. Pre-Construction Costs
Pre-construction costs make up 10 to 25% of the total building estimate. These involve everything you need to do to reach the construction stage of the project.
Designing the house
Creating initial estimates
Purchasing and preparing land
Getting permits
House Plans: A full set of house plans can cost anywhere from a couple of hundred dollars for a standard set of pre-prepared plans to $8,000 or more for a full set of custom house plans.

Initial Estimates: Your client will give you the bid set with the house plans and all the relevant info you need to give them an initial estimate.

Land Purchase: The total cost of land varies a lot depending on where it is and how large it is. In housing developments, an average lot can cost between $50,000 and $100,000. In rural areas, you may be able to find undeveloped land for just a couple of thousand dollars.

Land Prep: This can include:
Connecting to the electric grid: $1,000-$30,000+ (Depends on how far you are from the closest power lines)
Connecting to water and sewer: $1,000-$10,000
Land Surveyors: $400-$1,000
Soil Testing: $800-$2,500
Clearing trees, excavation, and grading: $1,500-$10,000+ (Larger undeveloped properties will cost more)
Permits: You'll need to submit the house plans and other documentation to various offices (like zoning and code) in order to request the necessary permits. This usually costs from $500-$2,000. Urban areas cost more and rural areas less.

2. Residential Construction Costs
Now you've got the actual cost of building the home's skeleton without any of the finishes. The total costs usually work out to be 50% materials and 50% labor and will include the following building elements.

Foundation:
This can range from $6,000 to $30,000 depending on if it's just a concrete slab (cheapest) or a full basement (most expensive).
Framing:
Since this makes up the "bones" of the house, the framing is one of the most expensive parts of the estimate and will cost anywhere from $20,000 to $50,000.
Building Systems (Plumbing, Electrical, HVAC)
This is another expensive part of the building. The materials for these systems are expensive and installation is labor-intensive. Expect to pay anywhere from $30,000 to $75,000.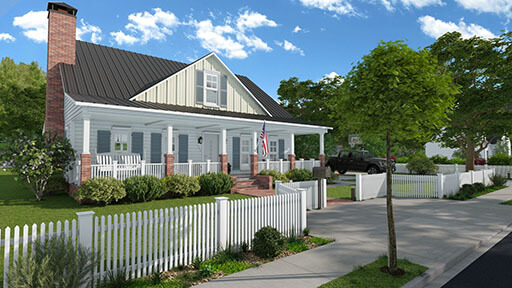 Exterior Finishes
For exterior finishes, figure in the cost of siding, roofing, exterior windows & doors, brick, stucco and similar items. The total cost estimate will be around $30,000 to $60,000.
3. Interior Home Finishing Costs
The total cost of interior finishes can run between $40,000 and $150,000 or more. High-end finishings are expensive and labor-intensive and can make up a large chunk of the overall cost of the home.

The interior finishes can include major items such as:
Cabinets: $3,000-$30,000
Countertops: $1,000-$5,000
Flooring: $10,000-$40,000
Paint: $4,000-$11,000
Lighting: $2,000-$13,000
Interior Doors: $5,000-$20,000
Trying to figure up all these prices can make your head spin. Are there any easy ways to estimate these costs? Check out the next section.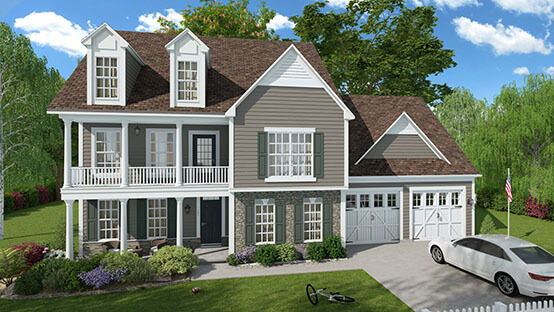 How Builders Can Estimate the Cost of Residential Construction
Here are three methods you can use for creating residential house construction cost estimates.

The Unit Pricing Method
A lot of contractors probably already do this to some extent. Basically, it involves charging a set price per square foot (or other similar units) for various tasks. Use this method when creating estimates for things like flooring, drywall, painting, and framing.

Fortunately, it's not too difficult to create your own unit pricing estimator. Here's how.
Take a look at a past job — for example, painting the interior of a new house.
Add up all the material costs associated with that job.
Add up the total labor costs.
Add on any equipment purchases or rentals.
Divide the total cost by the square footage of the house.
Now you've got a unit price per linear foot.
The next time you need to estimate the cost to paint a new home, just multiply the total square footage by the price per foot.

Tip – To create an even more accurate unit price, divide the price by the square footage of what was painted. Do that by multiplying the wall length by height. It takes a bit longer to calculate but is more accurate in the end.

2. The Square Foot Method
The Square Foot Method for estimating residential construction costs is similar to the unit pricing method. The difference is that instead of coming up with a price per square foot for one specific aspect of the construction, you're creating a price per square foot for the entire home construction.

Here's how to do it.
Take a look at a few of your recent home builds.
Divide the total cost to build (including materials, labor, overhead, etc.) by the total square footage of the home to get the cost per square foot.

Now you can calculate the average cost per square foot. In this case — $111.88.
When a client requests an estimate for a set of residential home plans, just take the total square footage and multiply it by your average cost per square foot.
*Example – 2,400 square foot home X $111.88 = $268,512

*The square foot method is a great way to quickly come up with an estimate when you need to make a last-minute bid on a project. If you use a home design program like Cedreo, you can customize the plans based on your client's needs and instantly get up-to-date square footage calculations for making quick estimates.

3. The Rule of Two Method
The Rule of Two method is nice for making quick estimates for jobs that you do often. It's based on the idea that total construction costs are usually split evenly between materials and labor — 50% materials, 50% labor.

That means if you know the price for either materials or labor, you can just double it to get the total estimate.

For example, let's say a homeowner asks you for an estimate on repainting the walls and ceiling in their dining room and kitchen. As an experienced remodeler, you probably already have an idea of how much labor that will take.

Maybe you think it will take two workers two days to complete that task. Two people x $200/day x 2 days = $800 in labor. Multiply that times two and you've got an estimate of $1,600 for the job.

6 Residential Construction Cost Estimate Tips
Check out these 6 quick tips to help you improve your residential construction cost estimating.
Pick a floor plan: it all starts with a floor plan. Make sure you and your clients commit to a specific floor plan. Since everything else hinges on the basic home layout, you need to define this right from the start.
*That's why it's best to use home design software like Cedreo. With Cedreo it's easier than ever to create a set of custom home plans for your clients.
Provide customers with an estimate for cost per square foot: use the Square Foot method to give your clients a rough estimate of the cost early on. Providing a conceptual estimate like this helps them evaluate their budget and make better decisions about where to splurge and where to economize.
Educate your customers on what features mean: clear communication is important and your clients need to understand exactly what they're getting. If they understand how different features contribute to the overall design, they'll be able to make better decisions.
*Since it can be hard for some customers to visualize the finished project, more and more builders are using 3D design software like Cedreo to give clients a "preview" of what their home will look like.
Allow for unexpected costs: always add a buffer for unexpected costs. In today's world of supply chain issues and rising material costs, this is more important than ever since prices and availability can change from one day to the next.
Avoid cost overruns: look for ways to keep costs down.
Choose subcontractors wisely
Buy materials when they're cheapest
Avoid delays
Include detailed information in the contract regarding how to proceed if the budget needs to be adjusted
Use construction estimating software
Construction estimating software takes the headache out of estimating and leads to more accurate cost estimates. One of the best options for residential contractors is the Cedreo / CostCertified combination. Design the project in Cedreo and then it automatically transfers the info into CostCertified where you can quickly create a customized and accurate estimate for each client.

Conclusion
Creating cost estimates for residential construction projects can be tedious and time-consuming. But with modern technology like Cedreo and its CostCertified integration, it doesn't have to be.
Create and modify home designs on the fly based on client budgets
Download 3D photorealistic renderings to impress potential homebuyers
Automatically transfer home plans into CostCertified for creating accurate estimates
Learn more now about how Cedreo can help with your next residential project.