Landscape design software is a diverse, expansive category with options catering to the amateur hobbyist, tech-savvy enterprise, and everything in between.

Are you a homeowner tackling the next big DIY project? A contractor with a small operation? Maybe you own a big landscaping firm or design custom pools. Whatever the case, the best landscape design software speaks to your unique needs, aligns with your current tech stack, and fits your budget.

In this article, we'll look at a variety of options — from free landscape design software to the professional tools you need to wow clients and get more done in less time. Let's dive in.




10 Best Landscape Design Software
Finding the best landscape design software starts with defining a few key factors — your target use case, goals, experience, and what kind of infrastructure you're working with.

With that in mind, here are nine landscape design software solutions worth taking a look at, each designed for a specific set of needs.
1. Cedreo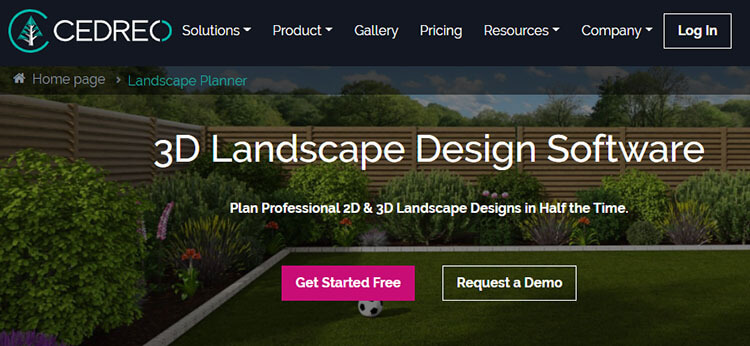 Best for: Landscape designers, architects, contractors, home builders, remodelers

Overview: Cedreo is a 3D home and landscape design platform that enables landscape pros, builders, interior designers, and architects to put together a complete design proposal in under two hours. Its user-friendly interface makes it easy to create professional-looking designs without the steep learning curve you'll find with BIM or CAD solutions many design pros use on the job.

While not designed explicitly for landscape professionals, Cedreo offers a number of features that cater to the needs of this group — think exterior 3D renderings and 2D drafting tools that can be used to design patios, decks, pools, and the perfect garden.

Landscape pros can also use Cedreo to collaborate with clients and colleagues, as well as promote their business online — or in-person, via personalized visual presentations.

Key features:
Generate 2D and 3D floor plans (or exterior layouts), blueprints, and photorealistic renderings of backyards, patios, decks, and more
Draw property boundaries, lawns, driveways, and borders, and Cedreo's area calculator will automatically update your design to reflect changes as you make them.
Access Cedreo's product catalog of 7,000+ materials, plants, coverings, hardscapes, and outdoor decor
Customize outdoor lighting, sun orientation, and even add cars and characters to further personalize client presentations
Draw and print to scale, get area calculations, and save your favorite templates for reuse
Collaborate with clients & teammates — share files directly from the app or via email, text, or social
Pricing: Paid plans start at $119 per month and Enterprise pricing is available upon request. Users can also sign up for a free account with limited access to features or book a demo for the "full experience." Click here to get started.
2. VizTerra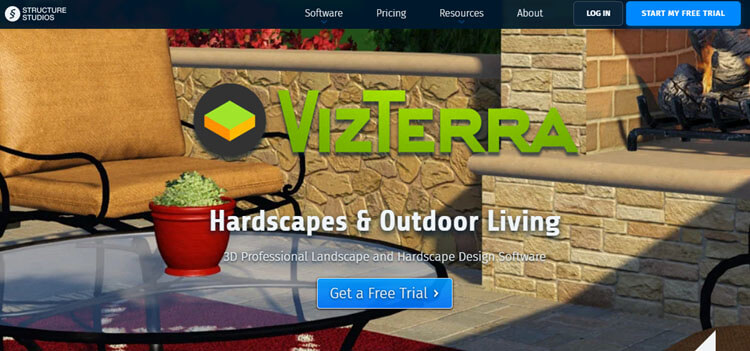 Best for: Landscape designers, pool designers

Overview: VizTerra is a landscape design platform that allows users to generate realistic 3D presentations, comprehensive blueprints, and instructions contractors can follow on the job.

We found that while customer reviews were generally positive, there were some recurring "cons" you should know about before you commit. For one, because it's an on-premise solution, the software requires a lot of RAM. Some customers complained about poor support, outdated graphics, and a "clunky" user experience.

It's also worth noting that while VizTerra is designed for landscape professionals, it doesn't replace traditional CAD tools — it complements them, offering a user-friendly platform that helps designers customize plans, collaborate with clients, and sell their services.

Key features:
Toggle between 2D and 3D design modes
Design from GIS surveyed terrain data, AutoCAD files, and site maps
Wood deck design tool
Instant dimensions
3D object library with thousands of customizable plants, furniture, materials, and outdoor decor
Pricing: Plans start at $97 per month. While there's no free version available, VizTerra does offer a free trial.
3. iScape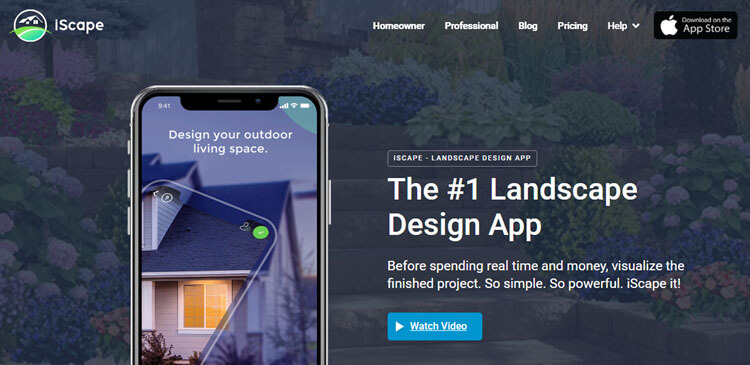 Best for: Landscapers, contractors, homeowners (with different plans available for different user groups)

Overview: iScape is an iPhone app that aims to help homeowners and professionals design on the go, collaborate with clients, and win more deals. It also promises to help designers avoid the issues that cause delays, waste resources, and eat into profit margins.

iScape's visualization and planning features help landscape designers show clients what the final project will look like, before it begins. It's a powerful sales tool that allows users to generate AR presentations, detailed proposals, and even manage incoming leads. That said, the app is available only on iOS devices and you can't export your designs to share on other devices.

Additionally, even the most dedicated Apple enthusiasts may find this app a bit too basic to stand on its own. Ultimately, it's best suited to design pros looking for a mobile solution to supplement their existing tech stack and enhance client/prospect interactions.

Key features:
2D & 3D AR design & presentation tools
Object library with access to thousands of hardscapes, plants, and outdoor decor
Proposal tools
Ability to upload images from your camera and start designing
Pro Designer network
Pricing: Free plan available to homeowners and hobbyists with limited access to features and the in-app object library. Pro plans are $29.99 per month and offer access to all features, and Enterprise pricing is available upon request and comes with multiple licenses, premium support, customizations, and integrations.
4. Idea Spectrum Realtime Landscaping Plus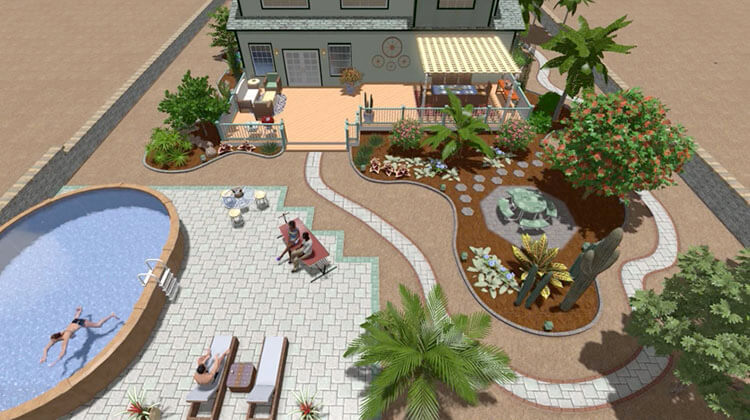 Best for: Landscape designers, architects, remodelers, pool/hardscape designers

Overview: Idea Spectrum Realtime Landscaping Plus is an on-premise professional landscape software solution that integrates with existing CAD tools and enables users to quickly generate designs with no prior design experience.

Because Idea Spectrum is hosted locally, you'll want to make sure your system has the RAM and computing power to ensure optimal performance. Some users noted that running the program on devices with a low battery slows down processing time, so you'll also want to make sure there's an outlet nearby during landscaping sessions.

As it stands, the 2020 release is available only for Windows, though the 2018 Plus version is available for both Mac and PC.

Idea Spectrum Realtime Landscaping offers a long list of features any design pro will appreciate. But it lacks the flexibility, frequent updates, and support you'll get with a cloud platform.

Key features:
Access to the in-app library with 5,000+ plants and thousands of realistic materials and elements, such as mulch, brick, concrete, stone, and lighting
Design driveways, patios, fences, and paths
Add houses with in-app "House Wizard"
Easy cost estimation tool with integrated project materials lists
Share designs via email, upload to your site/socials, download, or print
Pricing: Plus: $99.95 for the full product, with upgrades available for $39.95. The Pro version is $149.95, and the Architect version is $399.95 (both products were released in 2020 and don't appear to be eligible for upgrades at this time).

A 30-day free trial is available, but you'll have to contact the company directly to access the demo.
5. Garden Planner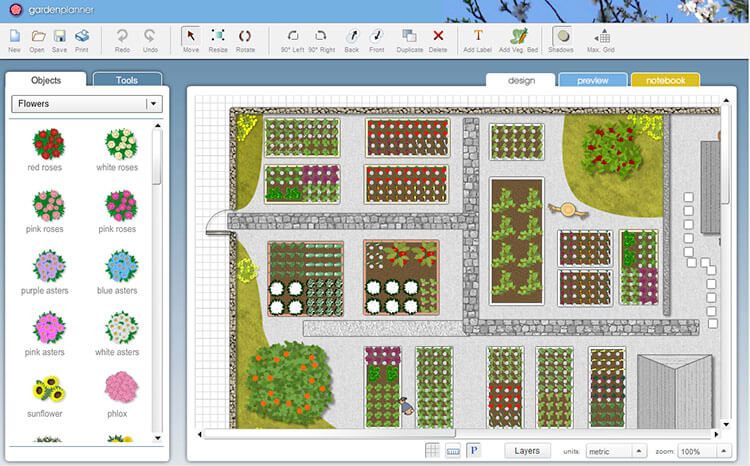 Best for: Homeowners, DIY-ers, amateur designers

Overview: Garden Planner is an easy-to-use, affordable landscape design platform that allows users to create simple designs using a drag-and-drop editor and built-in object library. The Vegetable Patch Builder is one of its standout features, allowing users to plan vegetable gardens using a simple grid layout.

While Garden Planner isn't cloud-based, all updates are free to anyone who purchases the full version of the software. You're not on the hook for a monthly subscription and won't have to pay for in-app purchases to unlock "premium" features.

At the same time, you get what you pay for. If you're looking for a simple tool to help you map out a backyard vegetable patch or community garden, Garden Planner is a solid option. We could see this being a useful tool for homeowners, as it might help them communicate their vision to a professional landscaper and ensure they get the results they were hoping for.

But, it's also worth noting that it probably won't meet the needs of a professional landscape designer. All planning is in 2D, there's no photorealistic rendering functionality, and it can't automatically calculate dimensions or elevations. The graphics also feel outdated — so Garden Planner probably isn't a great option for anyone who needs to put together client presentations.

Key features:
Flexible drag-and-drop editor
2D garden planning, with the option to add notes and generate a list of plants
In-app library with 1,200+ plants and object symbols
Drawing and design tools
"Vegetable Patch" Builder
Pricing: $38 for full version. All future upgrades are free, and users have the option to download a demo before they commit. Garden Planner also offers educational licenses with support for up to 500 computers.
6. PRO Landscape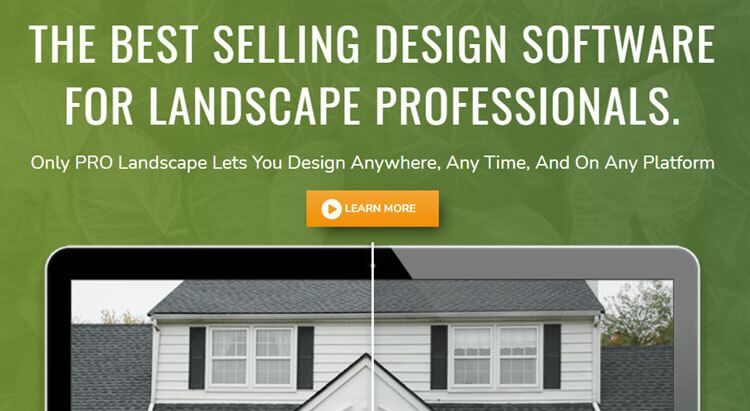 Best for: Landscape design, and construction and renovation projects

Overview: PRO Landscape is professional landscape design software that promises to let users generate and share their designs from any device or location. The app allows you to take pictures of the physical location you'll be working on. And from there, you can add plants, pathways, and pavement and share a few different options with clients.

It is worth noting that while PRO Landscape is a "pro solution," it's not an all-in-one tool for landscapers, architects, or anyone else dealing in exterior design.

The official website positions it as more of a sales tool, designed to help users win deals with compelling imagery and detailed proposals.

It does come with CAD tools that enable users to create scaled drawings, import CAD files, surveys, and Google Earth images, and draw from your own set of measurements. However, it's not a replacement for the heavy-duty tools design pros use to manage client accounts and projects, collaborate across department lines, and generate data-driven plans.

Unfortunately, this platform doesn't have many reviews, which makes it difficult to get a clear picture of how useful this software is for pro landscape designers or how real people are using it on the job. Still, PRO Landscape has some impressive features (plant growth simulations, 3D renderings, proposal generation, etc.) — so, it's certainly worth a test drive.

Key features:
Photo imaging tools — 3D renderings, "movies," lighting design, free image service
CAD tools such as automatic render modes, one-click plant legends, and customizable symbols and patterns
Access to in-app image library containing 18,000+ plants, climates, hardscapes, and outdoor furniture and decor
Proposal generation and management tools
Companion app for iOS and Android
Pricing: PRO Landscape is available as a free download, but you'll need to pay for in-app upgrades to access the full library and feature suite (and to avoid ads that could make you look bad in front of clients).
7. Total 3D Landscape & Deck Deluxe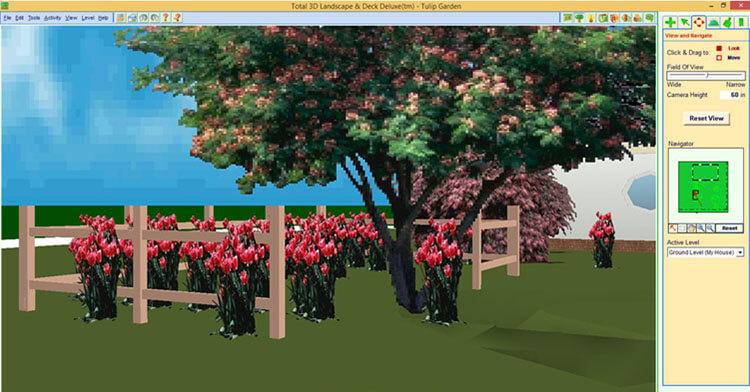 Best for: DIY-ers, individual home owners, small businesses (internal use only)

Overview: Total 3D Landscape & Deck Deluxe is an affordable landscape and deck design tool built with simplicity in mind. This application is designed for total beginners — think casual plant hobbyists or first-time DIY-ers.

Individual homeowners or even some small businesses may find Total 3D Landscape & Deck Deluxe provides the basic functionality they need to take on simple projects. While the interface is somewhat outdated, Total 3D helps users avoid the learning curve that comes with CAD tools or even some of the more feature-rich drag-and-drop-options.

Professional landscapers, designers, or architects might want to look for another solution that offers more sophisticated features and better graphics. The platform's Windows 95 aesthetic is unlikely to help you close deals. It's also missing key professional features like 3D renderings, cost estimations, collaboration tools, and quick-start templates.

Still, we could see organizations embrace this as an internal tool (especially if landscape design isn't a core part of their business) based on its ease of use and low price point.

Key features:
Plant encyclopedia with 4,600+ varieties, with ability to filter results by 20 different characteristics
Ability to import your own objects (i.e. your existing backyard furniture or hardscapes) from digital photos
Scan and trace blueprints
Smart YardBlock (drag-and-drop tool for mapping decks, lawns, pools, etc.)
Color-coded design plans (so you can easily ID elements like fences, plants, and furniture)
Pricing: One time payment of $19.99 for the Deluxe version or $29.99 for the Premium version, which comes with more advanced features like custom sun orientation, deck and patio design tools, and the ability to incorporate topographical elements into your plans.
8. Pool Studio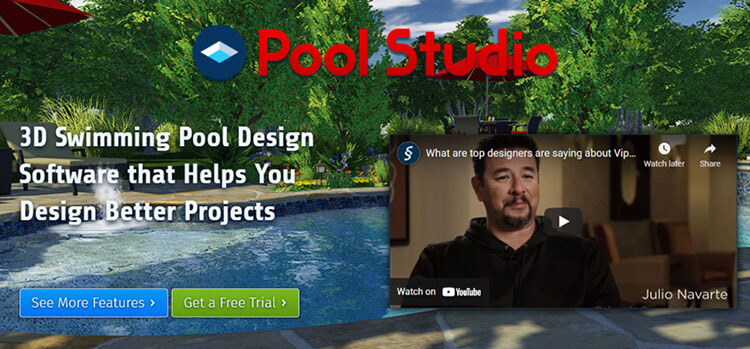 Best for: Designing swimming pools

Overview: Pool Studio is an all-in-one 3D pool design solution that allows users to draft 2D plans, present concepts in 3D, and generate detailed construction plans.

Unfortunately, Pool Studio is not compatible with Mac OS and its features focus primarily on pools and their immediate surroundings (i.e. patios, decks, and walkways).

Pool Studio might be a good choice for PC users who specialize in designing and building pools — maybe ponds and other types of water features — but for anyone operating outside of that niche subset, we'd recommend finding a more versatile tool.

This tool comes with some impressive features — it's just a little too specific for anyone who isn't a pool designer or koi pond specialist.

Key features:
Design pools, koi ponds, and water features — as well as decks, patios, and some outdoor hardscapes
Real-time interactive visualizations, MP4 video renderings
Import CAD files and SketchUp projects
Access 3D object library of 2,700+ objects — pool building materials, outdoor furniture and decor, terrain, even fire effects
Perform automatic calculations, generate spec sheets and construction pages, and instantly create artistic 3D fills
Pricing: Pool Studio plans start at $147 per user/month. 30-day free trial available.
9. Virtual Architect Ultimate Home Design with Landscaping & Decks 10.0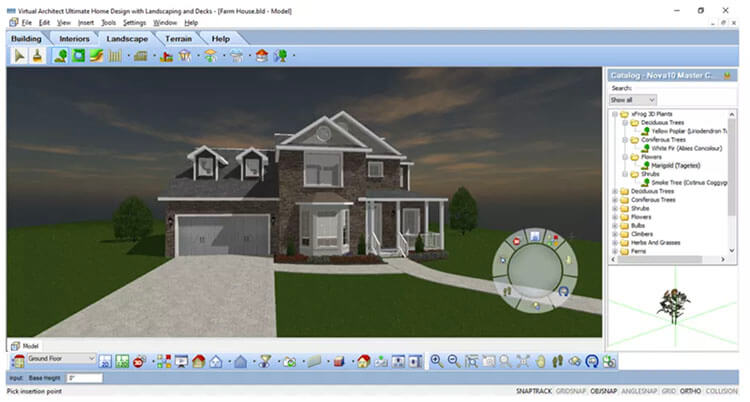 Best for: Landscape professionals, contractors, builders, architects

Overview: Virtual Architect Ultimate Home Design With Landscaping & Decks is an easy-to-use landscape design platform that allows you to design gardens, decks, paved areas, and structures like gazebos and retaining walls.

The app includes an extensive plant library and offers recommendations for when to plant, how often to water, and when to prune. You'll also find thousands of 3D graphics, garden design tools, and even a feature that allows you to visualize how plants will mature up to 50 years in the future.

Virtual Architect offers a robust set of features designed specifically for landscaping. However, it's an on-premise solution with a lot of requirements — including 8GB RAM, 10GB hard disk space, and a Windows-compatible mouse. Unless you're working with a relatively new PC, you may need to invest in additional storage space to run this program.

Key features:
Draft in 2D, design in 3D, and generate virtual tours in a single click
Preview seasonal changes, and visualize plant growth
Generate decks, gazebos, patios, etc., in minutes
Database with an extensive plant selection (7,500+), hardscape features, furniture, lighting, and more
Pricing: $99.99 to download the full version, plus the Virtual Architect Instant Makeover app.
Which Landscape Design Software Is Right for You?
Ultimately, the right landscape design software for you is the one that aligns with your target use case, experience, and budget.

Cedreo offers a wealth of features that make it easy for anyone — from DIY-ers to seasoned pros — to generate professional designs within minutes. With the ability to generate exterior renderings, customize the sun orientation, and add objects from an extensive product library, you can create stunning outdoor designs that help you close more deals.

In addition to helping pros create outdoor plans, our software allows home builders, interior designers, and architects to generate floor plans, create compelling 3D presentations, and customize building materials and decor.

Sign up for a free trial to see Cedreo's full feature set in action!