Small backyard guest houses are skyrocketing in popularity.
They're great for hosting guests over a long weekend and can provide some much-needed extra living space. They offer your guests more privacy and comfort than just a spare bedroom.
Building a backyard guest house can also become an extra source of income if you're interested in short-term rentals. With the rise of platforms like Airbnb, this is much easier than ever before.
So, if you or your clients are planning to build a backyard guest house, what should you keep in mind?
In this post, we'll cover the following:
Different building approaches (pre-fab, custom-built and others)
Three simple design tips
Several guest house floor plan ideas
Let's start with three different types of backyard guest house builds.
What Type of Build-Out?
Here are three types of guest houses you might consider when approaching a guest house build for a client.
Custom Build
Building a custom backyard guest house gives you and your clients the most control over the design and layout of the space.
In most cases, the process of building a custom guest house is the same as building a regular house. That means creating the site plan design, getting zoning/building permits and working with your team to construct the house.
However, because construction teams build these types of homes from scratch, they tend to be some of the more expensive construction projects.
The average cost per square foot to build a home ranges from $100-$200 per square foot. That means a 500-square-foot guest house would likely cost at least $50,000 to build. 
Convert Existing Structure
Another option is to convert an existing structure like a garage, large shed or even a barn.
One of the main benefits of converting an existing structure is that it can be much less expensive than building a new one from scratch. Plus, it's usually a quicker and easier process since you won't need to lay a foundation or build the basic structure.
And who doesn't love the rustic charm of a quaint old barn with exposed beams converted into a modern guest house?
However, you'll need to keep a few potential drawbacks in mind. For example, existing structures may not be up to code. Remember that in many areas, guest houses must meet certain safety and habitability standards — so be sure to check with your local code office.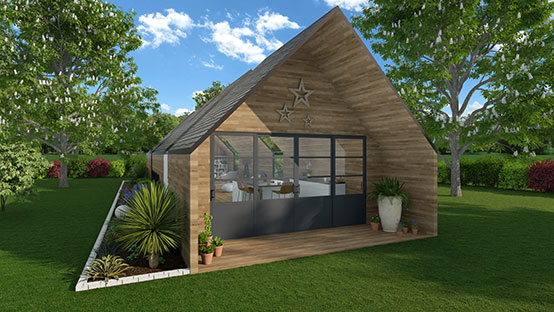 Buy Ready Made Structure
Another option is to buy a prefabricated home. You'll find several choices that might work for your project:
A storage shed that you can finish and turn into a simple guest house studio
A backyard guest house kit that you build yourself
A prefabricated guest house or tiny home
A ready-made structure like this is more cost-effective than building a custom guest house, but it still gives you some room to customize certain parts of the design.
Things to Consider when Designing a Guest House
Want to design the perfect backyard guest house that your clients will adore? Then be sure to work with them to consider these three factors.
Location
It's important to decide on the guest house location first since that will help determine the size and type of guest house your client's property can handle.
You want to find a good location for your guest house to provide guests with privacy while still being easy to access. Work with your clients to check out their property and decide on the right location.
Autonomy
Next, you and your clients should decide how separated the structure should feel.
Will it be just a small bedroom and living area?
Will it have its own bathroom or maybe a half-bath?
Will it be a fully equipped and autonomous guest house with a kitchen, bathroom, bedroom and living areas?
What Purpose will it Serve
Help your clients imagine how they will use their guest house:
Will it just be an extra bedroom for overnight guests?
Will it double as a playroom for the kids?
Do they want a place where aging parents can live if needed?
Do they plan to rent it out from time to time?
That will help determine the size and type of guest house you build.
Want some inspiration for guest house floor plans? Check out the next section.
Best Floor Plans for a Guest House
Small house plans can make or break a space. Check out these three different styles of guest house floor plans. Create these and more in as little as two hours with Cedreo's Home Building Software.
Standard
This type of guest house layout resembles a standard one-bedroom or studio apartment.
You'll usually have an open floor plan with the kitchen, dining and living room areas grouped together. Then, off that main area will be a door to a small bathroom and another to the bedroom.
A studio layout is similar except that instead of a separate bedroom, the living area will usually include a sofa bed or futon where guests can sleep. 
Loft Style
Loft-style backyard guest houses are a great choice when space is limited since they make great use of vertical space.
The first floor has an open floor plan with a small kitchen and living area, as well as a small bathroom. Then, the above section of the first floor is a loft with a sleeping area.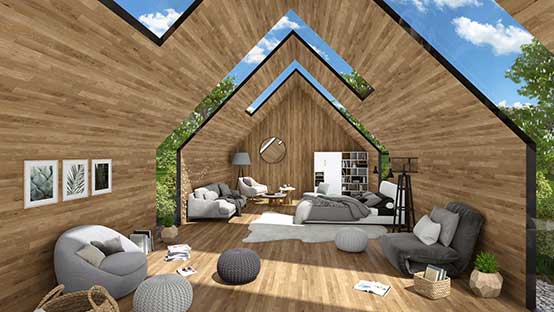 Entertaining
These types of guest houses are multi-purpose structures that can provide extra entertaining space as well as a place for guests to sleep.
A lot of clients love having an extra room with large sliding or french doors next to a patio or pool area. A guest house like that with a bar and outdoor kitchen is perfect for entertaining.
Then, a sleeper sofa, futon or murphy bed can provide extra space to house overnight guests.
Conclusion
Ready to build your client's dream backyard guest house? Here are a few key points to keep in mind:
Choose the right location
Consider use and activity
Choose the best building option
You can also save loads of time and hassle when designing and building backyard guest houses by switching to a design program like Cedreo:
Use 3D renderings to show your clients how the guest house will look on their property
Import prefab guest house floor plans and then finish, furnish and decorate them with Cedreo
The intelligent software works with you so you can create home plans faster