Your kitchen is the heart of the home.
It's where you make your meals, gather your family and even entertain guests. No wonder kitchen renovations are some of the most popular projects for homeowners.
But tackling a kitchen remodel is more challenging than most people think. You have to worry about sourcing the right materials, designing a killer layout and much more.
From appliances to flooring, what kitchen design challenges should you consider?
Let's explore some common kitchen design considerations and challenges you might face with your next renovation project.
What to Consider When Designing a Kitchen
If you think about your kitchen space, you start to get a clearer picture of all the elements that make up a practical and stylish design:
Appliances
Materials choices like backsplash tiling and flooring
Layout considerations
Storage
Workspace
Waste collection area
It's easy to get lost in all the fun design elements like lighting and countertops, but don't forget to consider practical choices like ventilation.
With the average cost of a kitchen remodel sitting at around $25,000, it's essential to master the design process to get control over your budget.
Here are a few common areas you should spend some time planning when you start your project.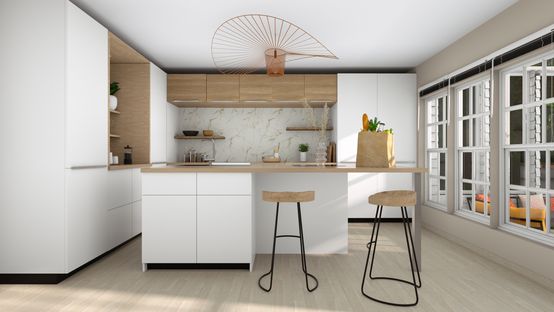 Layout
A kitchen layout is the foundation of the space's flow. Since you're going to be spending time cooking and working in your kitchen, it's essential to think hard about your layout choice:
Single wall layout
Galley layout
G-shaped kitchen
U-shaped kitchen
L-shaped kitchen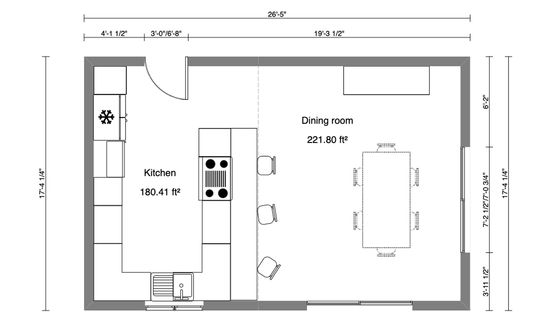 Storage
Storage needs to be both practical and work with your overall theme.
While gorgeous cabinetry can wow guests, you'll run into issues quickly if you don't have enough space to store everything you need.
It's good to plan out both cabinetry as well as consider a pantry or external storage for extra space.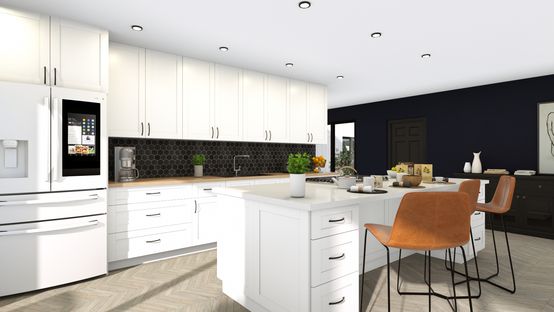 Flooring
It's easy to imagine flooring choice as one of the most consequential design decisions for this type of project.
In reality, though, because of the kitchen's high traffic, it's best to go for durability over style. While fancy hardwood flooring choices may look great, your family will undoubtedly damage the floor sooner rather than later.
Choose synthetic materials like Marmoleum or linoleum for the best durability.
Counterspace
Much like storage, you want to think about countertop space practically.
Make sure you have enough space to work and not bump elbows with everyone else in the kitchen. Additionally, think about your choice of countertop.
Countertops are the first thing someone sees when they enter your kitchen, so it's good to make this a priority in your budget.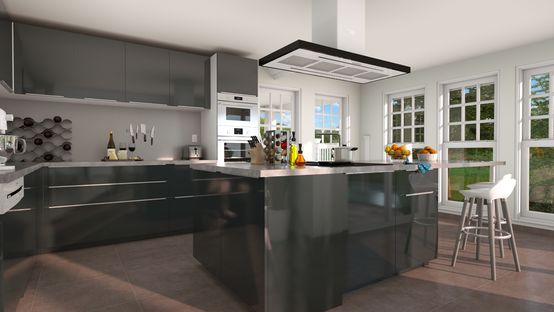 Ventilation
If you cook often, good ventilation is important.
Think not only about the flow hood over the range but also your HVAC ductwork as well. You want to keep your kitchen comfortable even when the oven and range are running.
Moreover, your range hood is critical to keeping smells and smoke at bay.
Skimp here, and you could face problems down the road.
Lighting
Proper lighting can make or break a good kitchen design.
Too much lighting can make a space feel commercial and unwelcoming. Too little, and you can't see what you're doing while you work.
Strike a balance and consider accent lighting to add some extra flair.
Also, go for LED choices when possible. They can save you money and last a very long time.
The Top Challenges When Designing a Kitchen
Whether you're planning an open floor plan layout for your kitchen or just updating appliances, you might face some common design challenges.
It's easy to lose track of the fact that you need to spend time in your kitchen every day.
The best designs balance practical choices with style and design.
Let's explore a few of those challenges.
Insufficient Storage
The storage needs of a family of four differ from those of a young couple. No one size fits all solution for storage exists for all kitchen designs.
From cabinets to pantry space, consider how much you'll need to store and where you need to store it. It's often the case that homeowners only realize the problems in their designs months after the project wraps up.
Don't let that happen. Make sure you have enough storage.
Poor Workflow – The Kitchen Triangle
I'm sure we've all seen some stylish kitchens. But what's it like to work in one?
If you're an avid cook, you know how hectic dinner can get if you don't have the right space to work in. Always put some extra planning into the layout and configuration of your appliances.
A good guideline to follow is the kitchen triangle which puts three key appliances and fixtures nearby each other:
Bad Ventilation
Ventilation problems aren't just about smells; it's also a safety concern.
While the smoke and vapors coming off your cooking food might smell great, without proper ventilation, they can fill your home.
Smells can get trapped in furniture and much worse. The last thing you want is a home full of smoke every time you cook.
Poor Lighting Choices
As we touched on earlier, lighting matters.
Luckily, with some simple planning, you can make the most out of your kitchen lighting.
Always opt for soft lighting behind and under cabinets. When it comes to your stove and countertops, you want to make sure you have a spotlight to help illuminate your work.
Choosing the Right Layout
The right layout can significantly affect how you use your kitchen.
If you don't want to be frustrated every time you cook, put an emphasis on traffic lanes and the kitchen triangle to get your layout down.
Moving Windows and Doorways
While you can do a lot with layout design, don't forget about window and door placement.
Natural light is a welcomed addition to any space, so make sure your windows aren't blocked by appliances. Also, consider where your doorways are located to build better sight lines and help improve overall traffic flow.
Lack of Pantry
Cabinets are great, but they don't always pack in the kind of storage you need in a home.
If you have the space, try to create a panty.
You can even separate this space from the rest of the kitchen to keep extra storage space out of sight.
Small Counter Space Areas
If you're working with a small kitchen footprint, making the most out of your existing space is key.
This is especially the case when it comes to countertop spaces.
Try to think practically about your design choices here. Remember, this is a working space. Make sure you take into account all your needs, like space for food prep or an area near the range.
Tackle These Kitchen Design Challenges with Ease
If you're thinking about a kitchen renovation, hopefully, you've got some ideas to get you started and understand some common kitchen design challenges.
The main theme is to think practically.
Design choices that stand out are great, but the kitchen is a utility area as much as it is a focal point of the home. Put emphasis on making this space easy to work in. You want to optimize for overall flow and layout.
If you're struggling during the planning and design of your project, consider kitchen design software. Platforms like Cedreo provide everyone, from professional designers to DIYers, the tools they need to create custom floor plans and 3D renders in under a few hours.Get designing today with Cedreo's free trial!