Residential construction drawings are at the heart of any home building project. They offer the details needed to get building permits and build the home.

When it comes to potential buyers, though, they can be overwhelming. Firms often offer 30 pages of architectural drawings that leave potential customers more confused than excited.

Here is how you can use your residential construction drawings to make more sales and get your customers excited about your residential projects.




What Should Residential Construction Drawings Include?
There are many different construction drawings that home builders, remodelers, and designs can use for their residential projects. However, the rights ones will give customers the details they need to understand what their home will look like. These are some of the critical drawings that clients will want to see.
Site Plans
These large-scale drawings show the full scope of the site. Often confused with the floor plan, the site plan displays all of the structures and where they are on a plot of land.

Site plans are critical because they communicate a clear vision and how the structures collectively fit on the land. A site plan starts with property lines and exact measurements between the home and landscaping. It displays the ideal location for key features, such as a lawn, swimming pool, or driveway, as well as the materials that can be used.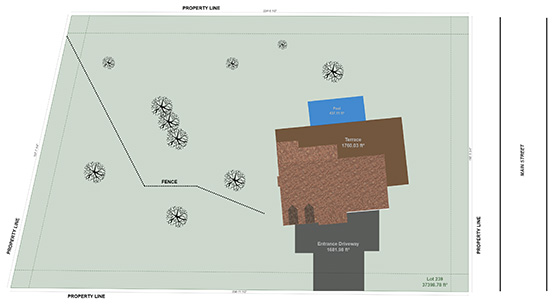 Floor Plans
These plans are a horizontal view from above the building that displays the total layout of the rooms inside. Floor plans enable designers to show the features and details of the structure. For example, floor plans illustrate wall thickness and height, drop ceilings.

Whether remodeling a kitchen, building a home, or illustrating a temporary workspace, floor plans can display to customers what a building will look like.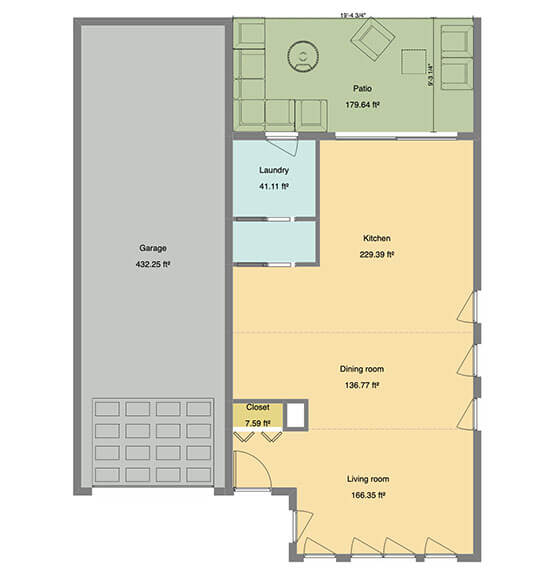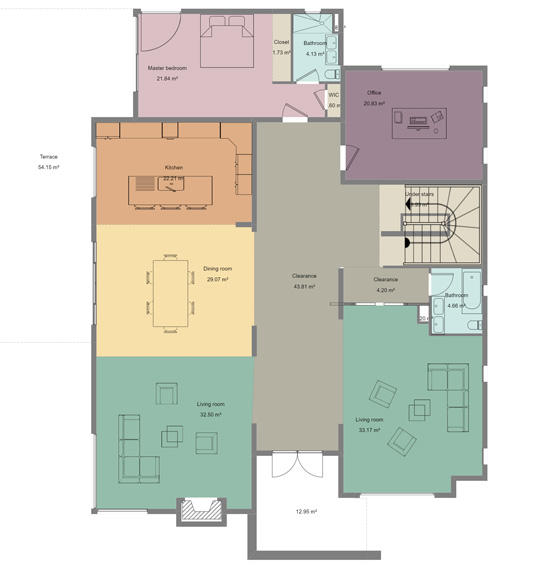 Elevations
Interior and exterior elevations are orthographic projections that show the entire length of the building. It helps give you a critical perspective of the house from any angle or side.

Exterior elevations display overall building height, floor to floor height, and any wall openings, like doors or windows, the materials on the outer surface.

Interior elevations show the details of the room, which includes the walls. They display the total room height, wall openings, such as doors and windows, finishes and cabinetry, and any wardrobe.
Surface Tables
The design and flow of the house are critical to selling it. Surface tables allow customers to better view the rooms and where they are located in the home. Not only will they see where the rooms are located, but they can identify where the garage and terraces, for example, are in their home as well.
Electrical Plans
Electrical plans lay out the critical electrical features of the structure. These plans will illustrate light fixtures, smoke and carbon monoxide detectors, outlets, switches, and code-required fixtures.

Clients will have a visual representation of the electrical system and circuits to customize for their lifestyle or specific requirements.
Materials
While your customer may understand the general layout of the structures and start to understand what will work where materials help complete the vision of the finished project. Whether you will be working with natural or painted wood, stucco, brick, or metal, an illustration that includes materials and their shapes will help complete the overall view of the space.
Roofing
Roofing plans give detailed and accurate information regarding the structural members for framing the roof. It enables the builder to decide the location, number, and size of the required structural members. Roofing plans also display the overhangs, gutter, venting, and connectors. These all help customers understand how the roof will affect the home's exterior.




How Can Residential Construction Drawing Help Close Deals
These aspects of residential drawings play a critical role and are the basis for the designs that the client will see. They are also foundational for creating 2D and 3D renderings that give clients the clarity and excitement that help you close the deal.
2D Renderings
Using your residential drawings, you can create a clear and open floor plan that is easily customized for each client. These 2D drawings include:
Color-coding. Color-coding ensures that your customers can see and understand where rooms, structures, and landscaping are placed.
Window and door openings. Many clients are looking for open and bright spaces. Displaying windows and doors provides greater clarity and ensures that they get a vision of how the rooms flow and the light in them.
3D Renderings
3D renderings take the bare bones of 2D drawings and the complexity of residential construction drawings and transform them into a life-like walk-through of the structure. Not only will clients be able to gain clarity and understand where everything goes, but they can envision themselves in the space.

The realistic quality of 3D renderings puts them in a more enthusiastic space to buy.
Fully-furnished plans. An empty room can mean endless possibilities for some clients, but many others require some help with imagination. Fully furnished plans can give them a better understanding of the layout and make it feel like they are living there already. With realistic furnished details, your clients fall more in love with the space and start to see how they fit in the house.
Exterior details. Clients won't just get a feel for the rooms, but the exterior structure as well. Draw them in with the unique architecture and details of the outside. 3D renderings offer a look into the exterior details that residential drawings can't.
Sun orientation. Does the afternoon sun fill the house with light? Does morning time hit the outdoor garden just right? Sun orientation helps illuminate the unique structures of your building and gives the home a more realistic feel.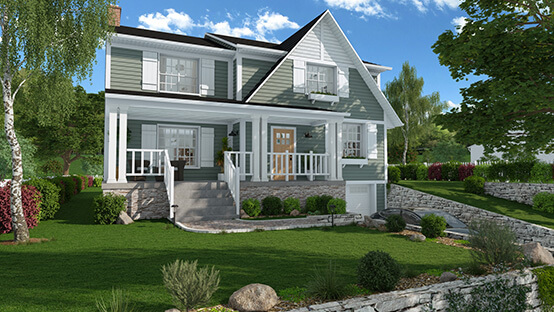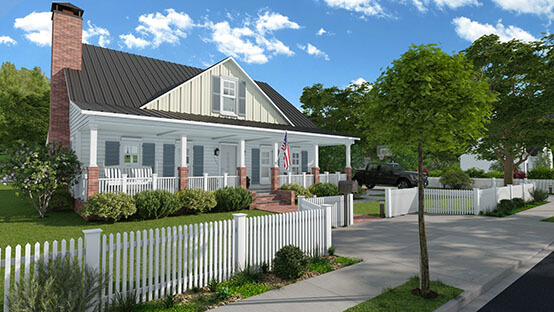 How to Choose Software for Residential Construction Drawings
Software plays a critical role in bringing residential construction drawings to life and selling the dream of the home to your clients. However, they are not all the same, and some can offer more advantages. Some factors to consider include:
Ease of Use
Complicated design software takes time to learn and is frustrating for many users. Instead, invest in tools specifically for drawing creation and floor plans.
Storage
Older design software often requires significant hard drive space and memory, making it slower and limited to laptops and desktops. On the other hand, Cloud-based storage frees up the software to run faster. It also enables users to access projects on the field and wherever they need it.
Scalability
Most businesses experience expansion and slow times. Users can scale up or down depending on their needs with different service tiers. If they have a large influx of projects, their software can handle the additional load, but they can also scale down in slower times.
Features
What you get for the cost of software is sometimes misleading. Some design programs require add-ons for 3D renderings or to access some design elements. Find software that includes these features in the price.
Support
Learning new software and handling new projects requires some help. Check to make sure the program you invest in offers support and tutorials that show you how to make the most of your software.
Ongoing Development
Home design is not a stagnant process, and clients want cutting-edge design. Your software should keep up with the changes. Choose one that updates its image library regularly and accepts feature requests from clients.
Image Quality
The quality of images is the selling point for clients. 3D renderings are most effective when they're high quality. Plus, you can use these renderings in your marketing materials and on your website to appeal to prospects. Find software with the high-quality images that sell.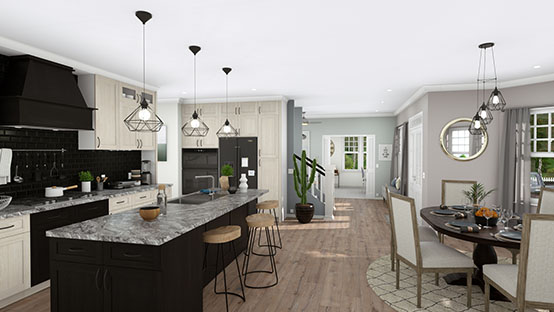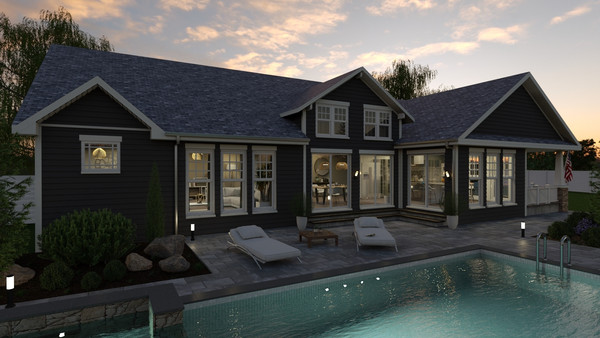 File-Sharing
Let your customers access their home designs from anywhere or take them home. Make sure that your software makes it easy to download and share your drawings and renderings.
Free Trial
Finding the right software may take some time before investing in the one for you. Choose a platform that offers a free trial, so you can see whether it suits your needs first.




Sell More Homes with Designing Software: Final Thoughts
Your home design software does more than make rendering fast and easy. It is critical for selling homes and getting customers excited about what you have to offer them. They take complicated drawings and turn them into a realistic view of what your customer will get.

However, not all design software offers the same benefits to users. Cedreo has all the features designers, remodelers, and home builders need to create plans and impress clients. It's also easy to use, offers 24/7 support, and lets you try it out with a free trial.
Want to see how you can sell with home design software? Try our free trial today to get started.