So many things, so many ideas…so little space. That's the design challenge you always run into with small apartments and houses.
Sure, you could try and squeeze all your furniture, fixtures, and decorations into a tiny space. But it's easy to end up with a space that feels cramped, cluttered, and dark — not what you're going for, right? So how can you fit everything you need into a tiny space and actually make it look good?
In this 5-minute read, we'll look at 10 small space design tricks for making small spaces seem…well, not so small.
What to Incorporate in Your Design Plan to Maximize Your Space – 10 Pro Tricks
Whether your space is a tiny house in the mountains or a studio apartment in LA, these tips from design pros help you make the most of your small space.
Incorporate Good Lighting Options
In simple terms…good lighting makes a space feel bigger and bad lighting makes a space feel smaller. So what is good lighting for a small space?
Natural light: Incorporate plenty of windows in your space. And don't hide your current windows behind large window treatments. If you're designing a new space, consider adding skylights to boost the amount of natural light.
Mirrors: Place mirrors so they reflect the natural light coming from the windows. (More on mirrors later.)
Colors: Use lighter colors to reflect more of the natural light.
Artificial light: Look for low-profile fixtures that add illumination without taking up too much space. Think ceiling lamps, LED panels, LED strip lights, and recessed ceiling lights.
*Want to visualize how your space will look with different types of lighting? Try Cedreo home design software to get a 3D photorealistic image of your space with accurate lighting and textures. Sign up for FREE today!
Add Partial Glass Walls
A glass wall is a great way to divide a space without making it seem any smaller. Add a sliding curtain for privacy when needed. You can also do something similar with doors. Opt for glass doors instead of solid doors to connect adjacent spaces and make them feel larger.
If You Can't Build Out, Build Up
In small areas, floor space is normally used to the max. So look for ways to take advantage of the vertical space. Here are three examples:
Kitchens: Take kitchen cabinets all the way to the ceiling. You'll have extra space for storing seldom-used dishes.
Bedrooms: Opt for a wardrobe or armoire instead of a chest of drawers.
Living Spaces: Go with a built-in floor-to-ceiling bookshelf and add shelving above couches.
Get Strategic with Seating
You don't always need seating for a group of people. So look for seating options that can be folded up and stowed away when not needed.
Try a Mounted Wall Desk
Need an occasional workspace? Instead of a standard desk that takes up valuable floor real estate, go with a wall-mounted desk. Look for an option that can be folded up and stowed against the wall when you're not using it.
And instead of a dedicated office chair, choose a multipurpose chair you can use elsewhere when needed.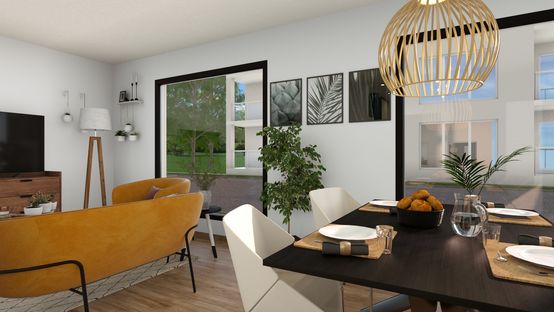 Create Zones
Zones are like rooms without walls. Use rugs, furniture (like see-through bookshelves), and even floating paintings to define purposeful areas in a space.
Defined zones are especially important for studio apartments since they help separate sleeping areas from living areas. Do this correctly and you'll be able to entertain guests a few feet from where you sleep without feeling like you're in your bedroom.
Convert a Closet
Since a closet's contents sit behind closed doors, use them to the max. That could mean turning a closet into more than just a closet. Depending on the size of your closet, you could make it a closet and/or a…
Laundry room
Tiny office
Sewing space
Reading nook
Kids hideout
Even a private sleeping space!
Use Mirrors or Reflective Materials
Mirrors (and other reflective materials) work like magic to make a small space seem larger. That's why it's one of the most popular small-space design tricks. Why does it work so well?
Mirrors reflect almost 100% of the light that hits them. More light makes the space feel larger.
The reflection in a mirror creates the illusion of more space.
A few tips for using mirrors and reflective surfaces:
When it comes to mirrors, go big.
Think about what will be reflected in the mirror when deciding on where to place it. Mirrors placed opposite windows make it seem like you have extra windows in the room.
Add mirrors to the back of your bookshelves.
Instead of a normal backsplash, go with glossy ot reflective tiles.
Find Multi-Purpose Furniture
Choose furniture that can do double (or triple!) duty. This reduces the number of pieces you need to fit in the space. A few ideas…
Coffee table with hidden storage
Fold-out couch or futon that doubles as a guest bed
Dining table that doubles as a desk
Bed headboard with built-in storage and bookshelves
Loft bed with office space beneath
Kitchen counter that doubles as a dining bar
Speaking of multi-purpose furniture…check out our last small space design tip.
Maximize Space with a Daybed or Murphy Bed
A daybed is a smart choice for small spaces since it's a bed and sofa all in one. Add some pillows and blankets to make it an extra deep sofa perfect for cuddling. When the pillows come off, you've got a twin bed for guests.
But if you need more than just a twin guest bed or you want to completely hide your sleeping space during the day, go with a murphy bed. You can even install a multipurpose murphy bed with a fold-down desk on the underside!
Conclusion
It's true, small space design is a challenge. But with the above tips you can make any space feel larger and more inviting while still reflecting your own distinct style.
A home design program like Cedreo can save you tons of hassle when working with small spaces.
Quickly test a variety of layouts
Use 3D visualizations to see how natural lighting affects your space
Drag and drop furniture until you get the perfect layout.
Try Cedreo FREE today!