A kitchen renovation is an excellent opportunity to reimagine this high-traffic area of the home. But, if you don't plan out every detail of the project, this kind of remodel can get costly quickly.
From lighting to countertops, knowing where to splurge and where to save on kitchen materials is the key to keeping your project on budget.
So, when it comes to kitchen components, how should you balance your budget?
While some cost areas like labor are always going to cut into your bottom line, saving on materials is a great way to keep costs down. But you don't want to only source low-quality materials.
Luckily, if you know where to save, you can still get the best out of your kitchen remodel without blowing your budget.
If you're looking to get a handle on your kitchen renovation project, we'll walk you through what you need to know.
Where to Splurge on Kitchen Materials
When it comes to the cost of a kitchen remodel, a huge factor is material costs.
While a kitchen renovation project offers a good return on investment (ROI) relative to other home improvement projects, most homeowners only see $.81 on every $1 spent.
The key to cutting costs is knowing where to save and where to spend.
So, if you're looking to splurge, here are some areas to consider.
Countertops
A good countertop is more than a utility piece; it's also a standout visual point of your kitchen.
When guests walk in, the countertop area will dominate the space. You want to make sure this design element not only works with the rest of your project theme but is also durable enough to stand up to daily wear and tear—especially if you have a family and cook almost every day.
This is a great area to splurge. Adding a quartz or stone countertop is an excellent way to add some stylistic flair to any kitchen renovation.
Cabinetry
Much like your countertop, your cabinetry dominates your kitchen.
In many cases, cabinets need custom fitting to exactly match the space. Because of this, it tends to be a good area to set aside some of your budget.
Not only do cabinets draw the eye, but they also act as the main storage for your kitchen. You want to make sure the materials match your overall design aesthetic as well as address all your storage needs.
You use your cabinets every day, so if you opt not to splurge on this element, you're going to be dealing with your decision every time you grab a snack, get the plates for dinner, or just walk into your kitchen.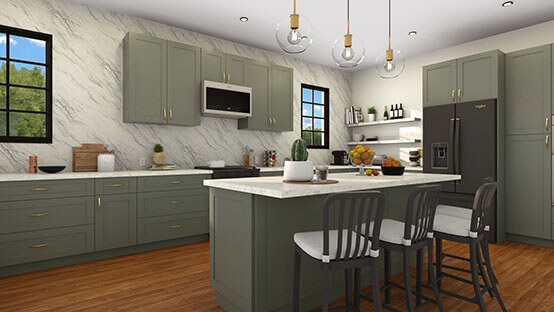 Fixtures
When it comes to fixtures, you get what you pay for in most cases.
Again, since these are utility elements that you tend to use daily, the lack of quality will be front and center every time you go to use the sink. If you can, splurge for nice fixtures in your budget.
Think of it this way, while a cheap faucet might work for a few years, it will eventually wear down and need replacement. So, why buy two faucets in the space of five years when you could have just bought one quality fixture during your remodel the first time?
Appliances
Good appliances are quite the luxury. Much like other items on our splurge list, they tend to get use almost daily.
You want to make sure you're sourcing appliances that are not only reliable but also intended for your household's needs. For example, while you can get away with purchasing a cheap refrigerator, it may not meet the space and cooling demands of your family.
Unless you want to upgrade a few years down the line, always consider well-reviewed and high-quality appliances for your home.
Sink
Don't skimp on your sink! Since your sink sees daily wear and tear from meal prep to dirty dishes, it's an excellent idea to sink some of your budget into this utility feature of the kitchen.
You can spend a lot on sink features, so think hard about what you need. Also, consider the different types of sink materials and their benefits.
You don't have to go full luxury prices for a sink, but make sure you're settling for a high-quality fixture that will last you.
Storage
Storage is the last item you should splurge on, and maybe not for the reason you have in mind.
While you can spend a good bit of your budget on fancy materials, it's a good idea to think practically about storage. Consider how much storage you'll need. Also, think about inventive ways to keep storage out of sight. This might mean adding some unique kitchen layout designs or using home renovation software to map out every storage area.
Kitchen Materials to Save On
Now that we know what we should splurge on, what about savings?
Whether you're planning an elegant indoor open kitchen space or an inviting outdoor kitchen area, you can save your budget by knowing exactly where you can cut costs.
Below you'll find some common kitchen renovation design areas where you can consider cutting costs and using discounted materials.
Lighting
While good lighting can make your kitchen stand out, advancements in LED technology mean you can source modern lighting fixtures for a fraction of what you would have paid several years ago. The best part? Even cheaper LED lighting can last for years and save around 90% on energy compared to traditional incandescent bulbs.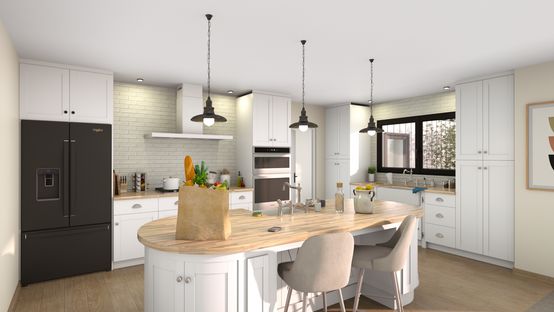 Hardware
Every little detail counts. When planning out your kitchen remodel, don't forget about all the small hardware pieces that will accompany other design elements like cabinetry.
But don't think you need to spend all your budget to get this right.
Even with a modest amount of money, you can find high-quality and elegant hardware to match your cabinetry and other design elements.
Flooring
What gets worn down faster than flooring? If you're looking for ways to save, consider your kitchen flooring choice.
The fact of the matter is kitchen flooring goes through the most wear and tear of any area in the home. Why sink money into high-end flooring when it will wear and need replacement sooner rather than later?
Marmoleum flooring is a modern material choice that is both cheap and rugged. It often finds use in industrial settings like hospitals due to its durability. But, the material itself is very flexible when it comes to style. You can find all kinds of designs that work with your overall kitchen theme.
Backsplash
Another area of your kitchen that takes a good bit of wear is your backsplash.
Because the backsplash is often behind your sink and range, you can get away with using different materials that don't mesh well with your overall design.
While you should avoid costly materials like stone tiles, affordable options like ceramic and glass are both durable and cost-effective.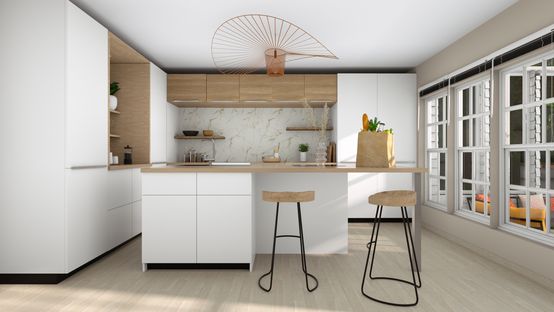 How Home Remodelers Can Implement These Tips
When planning a kitchen remodel, you have a lot of moving parts to manage. From budget to labor, a remodeler's job is to balance all these factors while still getting the client exactly what they want.
When it comes to picking out the right materials, it's always a push and pull between sourcing choices that work with the overall design and budget concerns.
To make the most out of the renovation project, designers and remodelers should always create a detailed budget breakdown of all materials used. The last thing you want is cost surprises down the line.
If you're looking to save on materials, always consider shopping around for the best deal. Often, you can find quality materials at a fraction of the price by going in person to suppliers.
You can also use design software to streamline the planning process. Software options like Cedreo provide everything from 2D floor plan design to full 3D renders. The best part? You can add your material choices to the designs for a more realistic view of the project.
Conclusion
No matter what your kitchen renovation project entails, you can always find ways to save your budget.
Knowing where to splurge and where to save on kitchen materials is the key to keeping your budget at a reasonable level without sacrificing any design elements or aesthetic choices. To help you get the most out of your next kitchen remodel project, streamline your planning with Cedreo home design software. From project planners to interior designers, everyone can leverage the power of Cedreo to create streamlined designs in under a few hours. Get started today with your free trial.