If you're a homebuilder, an interior designer, or a remodeling professional, floor plan software can help you communicate your vision to homebuyers and contractors. With 3D rendering capabilities, floor plan software gives your clients a 360-degree view of your project, and you can make design revisions in minutes.

So, what is the best floor plan software for interior designers? What is the easiest floor plan software for real estate agents? What is the best software to design a house with detailed floor plans? We've got the answers to those questions. First, let's take a look at the floor plan software features that you'll want to have.

10 Features to Look for in the Best Floor Plan Design Software:
Why Do You Need Floor Plan Software?
Floor plan software helps you create a clear and precise visualization of your project. You can show your client every room in detail, as well as exterior features like the roof, terrace, garden, backyard, pool, and hardscaping.

When your client can see how all of the design elements work together, and you're able to make quick on-the-spot revisions, you can speed up the approval process. You can also draw floor plans and share the finalized design with anyone who will be working on the project, so they understand exactly how it should look when complete.

Before deciding which software you need to create floor plans, it's important to assess which features would be most helpful in your day-to-day work. So let's dive in — these are the 10 features that we consider essential in floor plan software:
1. Surface Areas and Customizable Measurements
When you start a home design project, especially a remodeling project, you may first want to draw the floor plan of the existing house. You may just want to evaluate the available area in the house, get dimensions, and probably start playing with different floor plan concepts.

Keep in mind that not all floor plan software will allow you to do that so easily, and some software may not let you customize window openings and other features. Look for a floor plan creator that allows you to draw floor plans to your exact specifications and define the texture, color, and style of all surface areas.

If your projects are mostly remodels and you want to work off of existing structures' blueprints, choose floor plan software that allows you to create floor plans based on your uploaded blueprints.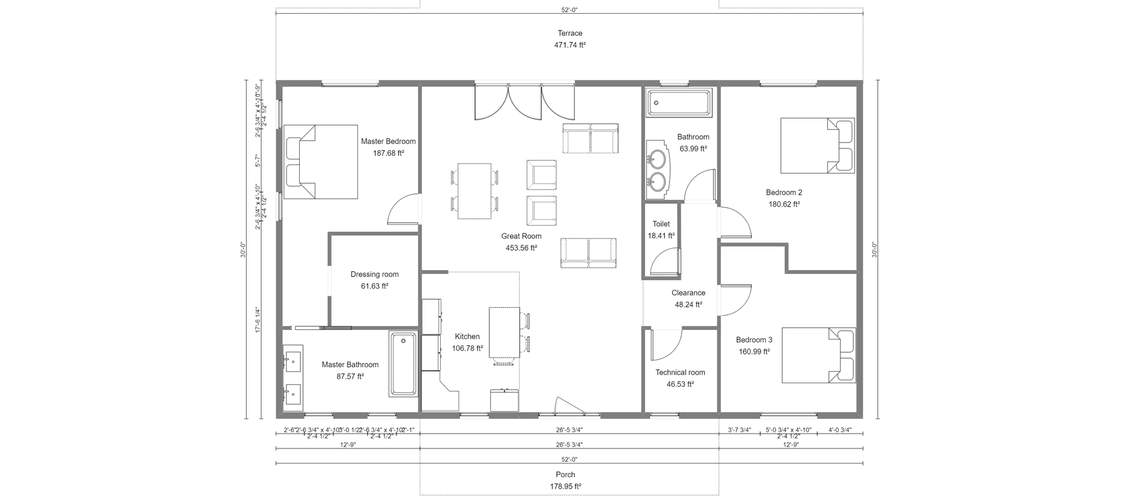 2. Import Existing Floor Plans
For a remodeling project, be it a kitchen remodel or a bathroom renovation project, or even the remodeling of a complete house, you may already have existing floor plans that you can use as a template. In the best floor plan software, you can import an existing floor plan and use it as a layer that you can draw on. This will save you a lot of time and will ensure all dimensions are accurate.

Once imported and redrawn, you can let your creativity go to work and imagine a completely new project by removing walls, designing a new kitchen layout, and proposing a brand new home atmosphere to your clients.
3. Easy Roof Designing
Most CAD software offers complete roof features and framework layout modules. All roofs — however complex they may be — can be made with this type of software. However, designing roofs with this type of software is often complicated and sometimes requires technical knowledge.

If you are not an architect or a home designer, it will almost certainly be difficult for you to achieve what you want to do, or you may spend hours of work on an uncertain result. Among the easiest-to-use floor plan software platforms, few are able to offer an effective tool for designing a roof. This feature is nevertheless essential if you want to visualize the exterior of a house in 3D or even if you plan to design attic spaces with sloped ceilings.

Cedreo offers an extremely user-friendly roof design module. The magnetism and the automatic roof insertion are options that really help. Once the floor plan has been drawn, one click is enough to place a basic roof. It is then possible to modify its shape, remove a section of the roof, modify the roof slope and the overhangs, and add gutters and downspouts.

4. Print Floor Plans to Scale
Being able to print your 2D floor plan to scale — meaning in a clear way on a single page — is essential to communicate with homebuyers or contractors. The printed-to-scale floor plans are part of the sales material presented by housing professionals in commercial proposals.

Print-to-scale features are only available in a floor plan creator for professionals. This feature is usually automatically set up for you with default parameters that can eventually be customized.
5. Rooms Names, Annotations, and Technical Symbols
These features are essential if you want to create detailed floor plans.

To easily identify the different functions of the living spaces and illustrate how they are connected to each other (living areas, bedroom areas, kids areas, garage, deck, etc.) some floor planning software lets you add colors to the different spaces.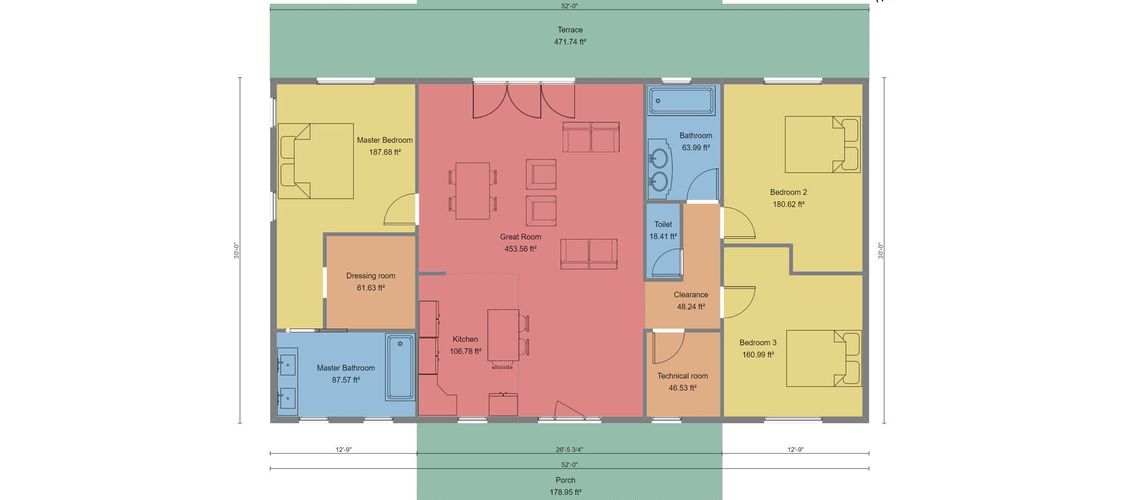 Floor plan software for professionals also offers the ability to add annotations to any element on the blueprint, which is useful if you want to highlight particular details for your contractors, for example. Room names, of course, can also be modified if necessary.

If you are going to use floor plan software for creating floor plans, you will need to know if you can add symbols to it. This is important for the following reasons:
It allows your contractors to visualize the technical elements they'll have to take into account (plugs, water inlets, air conditioning, etc.)
It helps home buyers identify the technical details that will be useful in their daily life and helps illustrate the different living areas with non-technical symbols like furnishings
Wall types are among the items that need to be highlighted on a 2D floor plan. When drawing a floor plan, you may want to call attention to whether the wall is waterproof, isolated inside, or if it is a simple partition wall.
6. Customizable Slab and Ceiling Heights
If you need to design a home with different slab heights, be sure to look at the different options that your software can provide.

Using different slab heights can be a choice to delimit spaces in an open room. It can also be a constraint, especially in remodeling projects, so you want to be able to manage slab height differences on floor plans and visualize them in 3D views.

Ceiling height can also be customized in some of the best floor plan software. This is useful for creating false ceilings to highlight a particular area, to hide technical details, or to create a spectacular design effect in a room.

If your floor plan software enables you to manage slab and ceiling heights, it should be easy to precisely draw your interior design projects. When creating floor plans, make sure you take into account the International Building Code that is used for commercial and residential buildings and describes the minimum ceiling height for habitable rooms.
7. Library of Customizable Wall Openings
Customizable wall openings give you a clear and exact visual representation of the home project. That's why you should try to be as precise as possible when integrating openings into your 2D floor plan, whether in terms of dimensions or visual representation, the latter being important in order to create 3D renderings.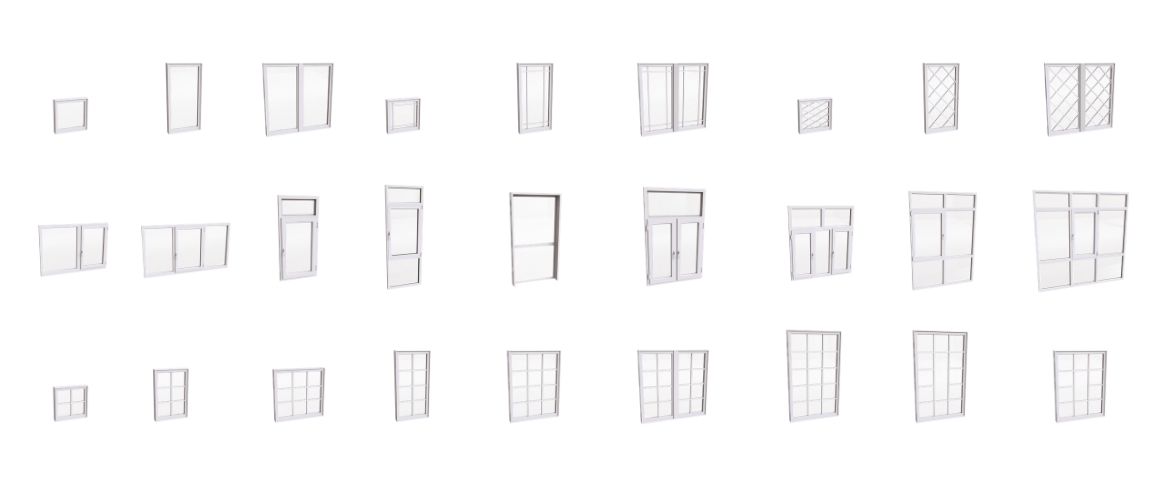 Some floor planning software has tools that allow you to draw your own windows or doors. It is useful if you plan on integrating tailor-made openings into your project, but it can be time-consuming. If your objective is to get a clear representation of your house project quickly — whether it's a 2D floor plan or a 3D view — you may want to look for a more efficient solution.

Most companies that make floor plan software offer a free trial that we strongly advise you to sign up for. This is the best way to evaluate if a wall opening library is extensive enough to fit your needs. The opening dimensions available in product libraries often correspond to standard dimensions. Nevertheless, you should be able to modify them slightly and customize the colors and materials as needed. In professional software, the same colors used by manufacturers would usually be available for you to use.
8. Convert 2D Floor Plans Into 3D Renderings
3D floor plans are powerful sales tools ideal for helping clients visualize a floor plan layout and assess how much open space they'll have once the home is furnished. But creating a 3D floor plan can sometimes be difficult. Some software simplifies the process of creating floor plans in 3D by providing you with an option to do it automatically.

Sometimes the option is available when creating the HD visual. The floor planner software automatically places the camera at the appropriate angle just above your 3D representation. All you have to do then is to click on the rendering button to see a high quality 3D top view of your floor plan. You can choose whether to show the roof and/or the upper floors of the home.
9. Simultaneous 2D and 3D views
When creating a floor plan, it can be frustrating to continuously switch from 2D to 3D to check if openings are well placed, if the roof looks like what you have in mind, if 3D objects are in the right place, etc. In the best types of floor plan software, 2D and 3D views are available on the same screen, which means that when you draw in 2D, you will see your house being created in 3D instantly. That saves you a lot of time and makes the process of creating a 3D floor plan much more intuitive.
10. Reusable Home Project Templates
If you are a home builder, you may want to reuse floor plans from previous client projects. Having your floor plan catalog available within your floor plan software enables you to create a new project based on a model floor plan. You don't have to draw from scratch, just change the layouts according to your clients' needs and you'll be able to produce a new home proposal in no time.

A catalog of home projects can be particularly efficient, especially for people working as a team. A member of your team will be able to create floor plans from scratch and can give other team members permission to create new projects based on these model floor plans and modify them according to their clients' wishes.
6 Best Floor Plan Software Options for 2021
Now that you've read about the features to look for in floor plan software, let's look at some of the available options, their key features, and pricing information.
1. Cedreo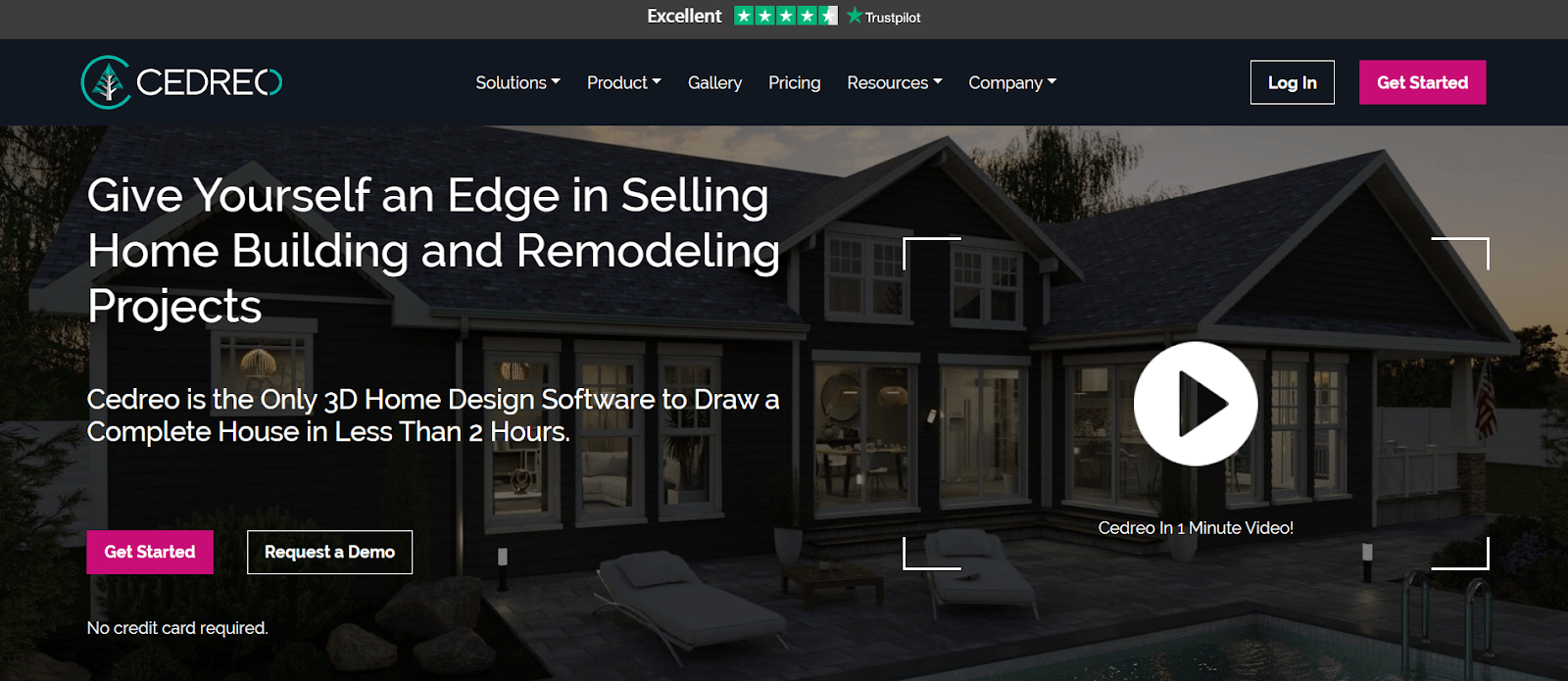 Source: Cedreo

Cedreo's intuitive floor plan software lets interior designers and other housing pros create floor plans in 2D and 3D, as well as interior and exterior photorealistic 3D renderings — in less than two hours!

You can draw floor plans online in 2D and instantly visualize them in 3D. Users also have the option to start floor plans from scratch, or upload and customize an existing blueprint. All floor plans can be mirrored and resized with a single click.

The 3D renderings can be viewed from every angle, including (simulated) eye-level, which lets the viewer see a room as they would in person. Choose furniture, landscaping features, flooring types, and more from the 7,000+ images in the design library. You can also change the angle of sunlight, and switch from daytime to nighttime, to show how lighting illuminates spaces.

Cedreo is an online floor plan creator, with all designs stored in the cloud, so it runs smoothly and is accessible from wherever you are.If you have the Enterprise version, more than one person can work on a design simultaneously. All versions of Cedreo include sophisticated roof tools — choose your dormer styles, gutter and downspout, overhang, and other options.

Key features:
Import scalable plans to draw over
Simultaneous 2D and 3D views
Unlimited number of projects
Mirror and resize projects
Multi-level floor plan and dropped ceilings capability
650+ customizable products — doors, windows, garages, and more
Manually or automatically add flat, gable, single-slope, and multi-slope roofing
Duplicate and reuse floor plan projects
Custom furniture sizing and color
Decor themes for quick, cohesive decorating
Windows and macOS compatibility
Monthly design library expansion
Download and share floor plans
HD and full HD renderings
Video tutorials
Free one-on-one training (Pro and Enterprise plans)
Pricing:

A free version with limited features is available. Pricing for the Pro version (1 user only) is $119/month and includes 40 3D renderings/month. Enterprise pricing is $149/user/month and includes 80 3D renderings/user/month.
2. Sweet Home 3D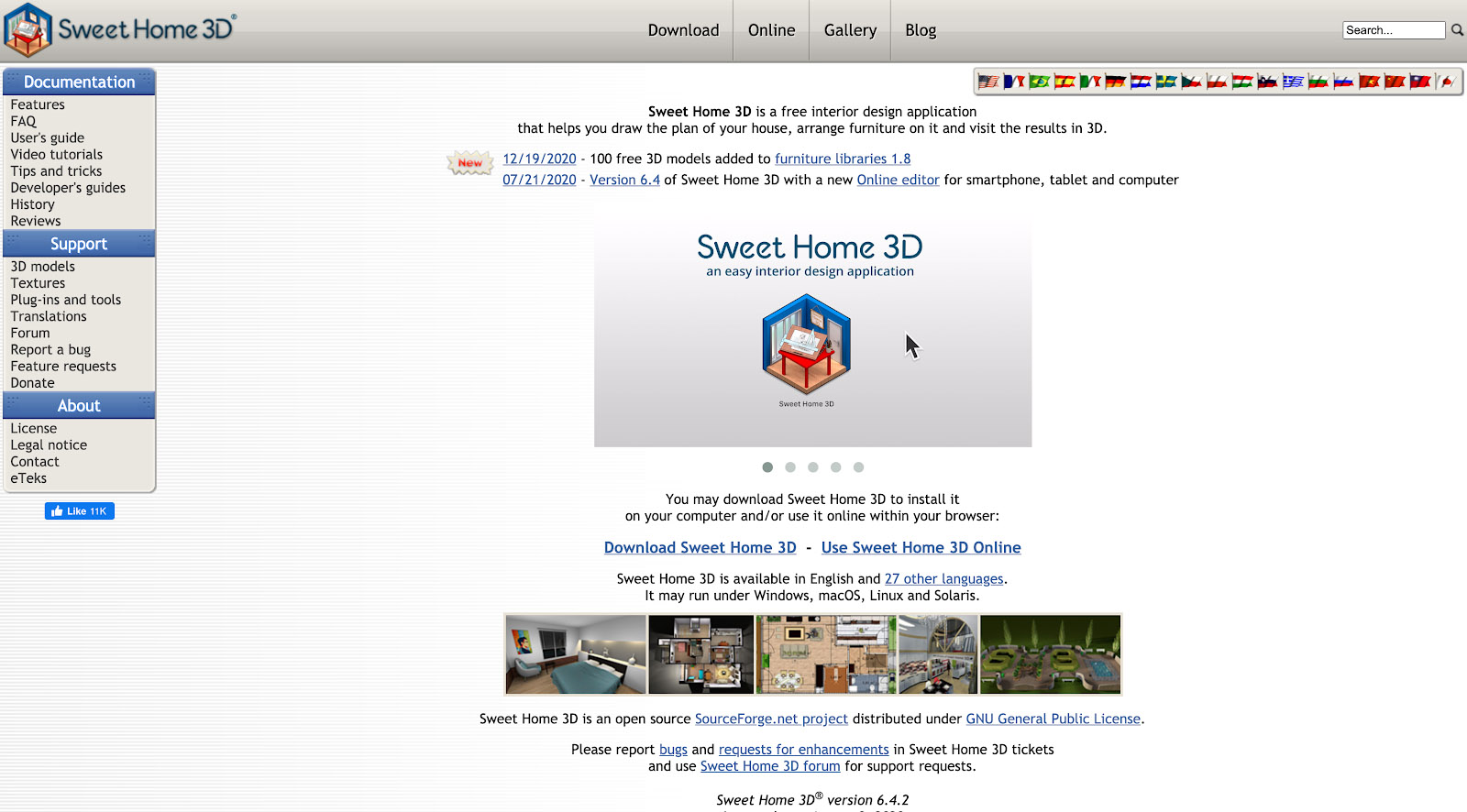 Source: Sweet Home 3D

This basic open source floor plan software includes a library of objects created by users, and it has an import feature for 3D objects and textures. The quality of the images isn't ideal for client-facing presentations, but this software would work well for users creating a design for their own purposes.

Key features:
19 languages available
Video tutorials
User forum
Simultaneous 2D and 3D views
Blueprint import
Pricing:

A free version is available that has 100 pieces of furniture and 26 textures. Users can also download a paid version (for macOS) for $13.99 that includes 1,500+ pieces of furniture and 418 textures.
3. SmartDraw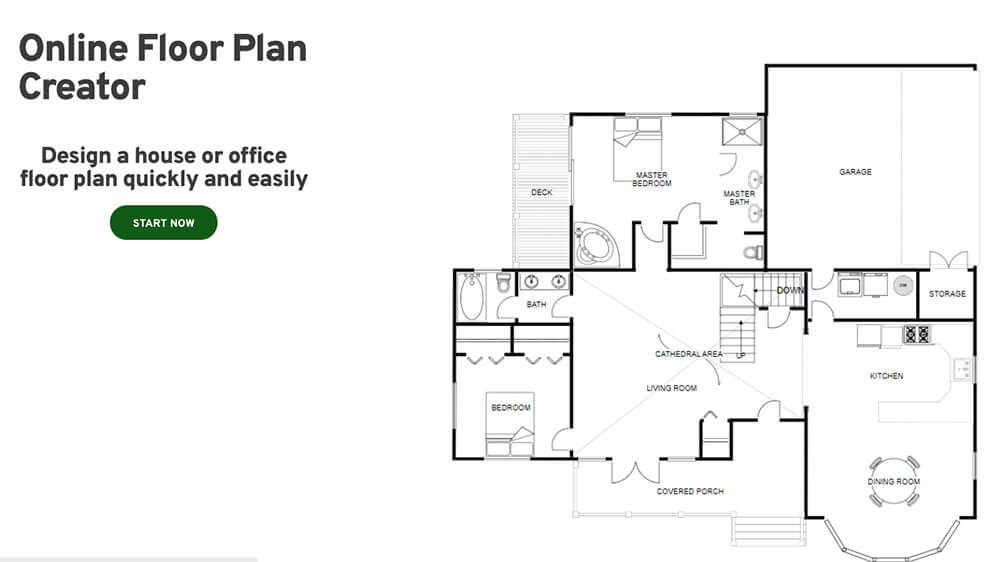 Source: SmartDraw

SmartDraw is a design platform for creating flowcharts, templates, and basic floor plans. Unlike some of the other floor plan software brands in our list, this one does not offer 3D rendering, nor does it include textures (but users can upload a photo to create a texture). This software's best use case would be determining where to place appliances, cabinets, and furniture.

Key features:
Multiple room templates
Symbol library
Google Workspace integration
Windows and macOS compatible
Visio compatibility
Pricing:

$9.95/user/month (for a single user); $5.95/user/month (for 5+ users)
4. Planner 5D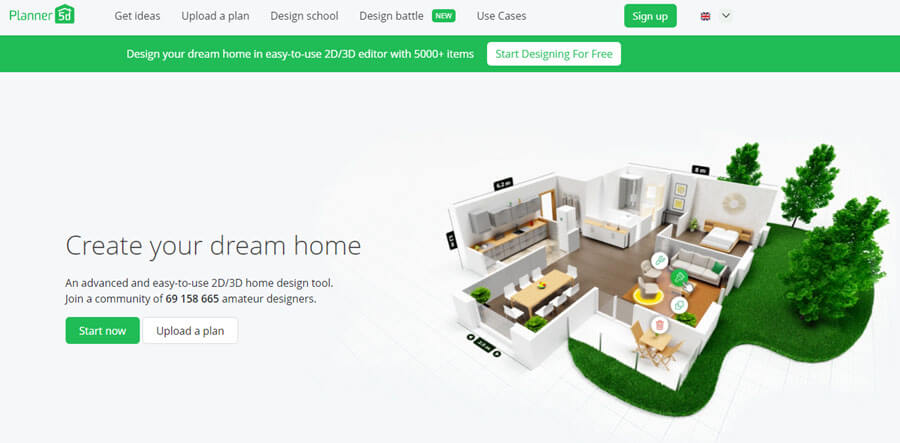 Source: Planner 5D

This free floor plan software includes a social component: a weekly design challenge that lets users create, share, and vote on designs. It also offers online courses that may be of use to new interior designers. Users can upload 2D floor plans to Planner 5D, and the software will turn them into a 3D image.

Key features:
Android and iOS apps
Automatic furnishing
Room templates
Resizable furnishings
5,000+ item catalog
Pricing:

Planner 5D is free, but to access high-quality renderings and the full catalog of features, users must pay a fee per "bundle" (pricing unknown).
5. SketchUp Pro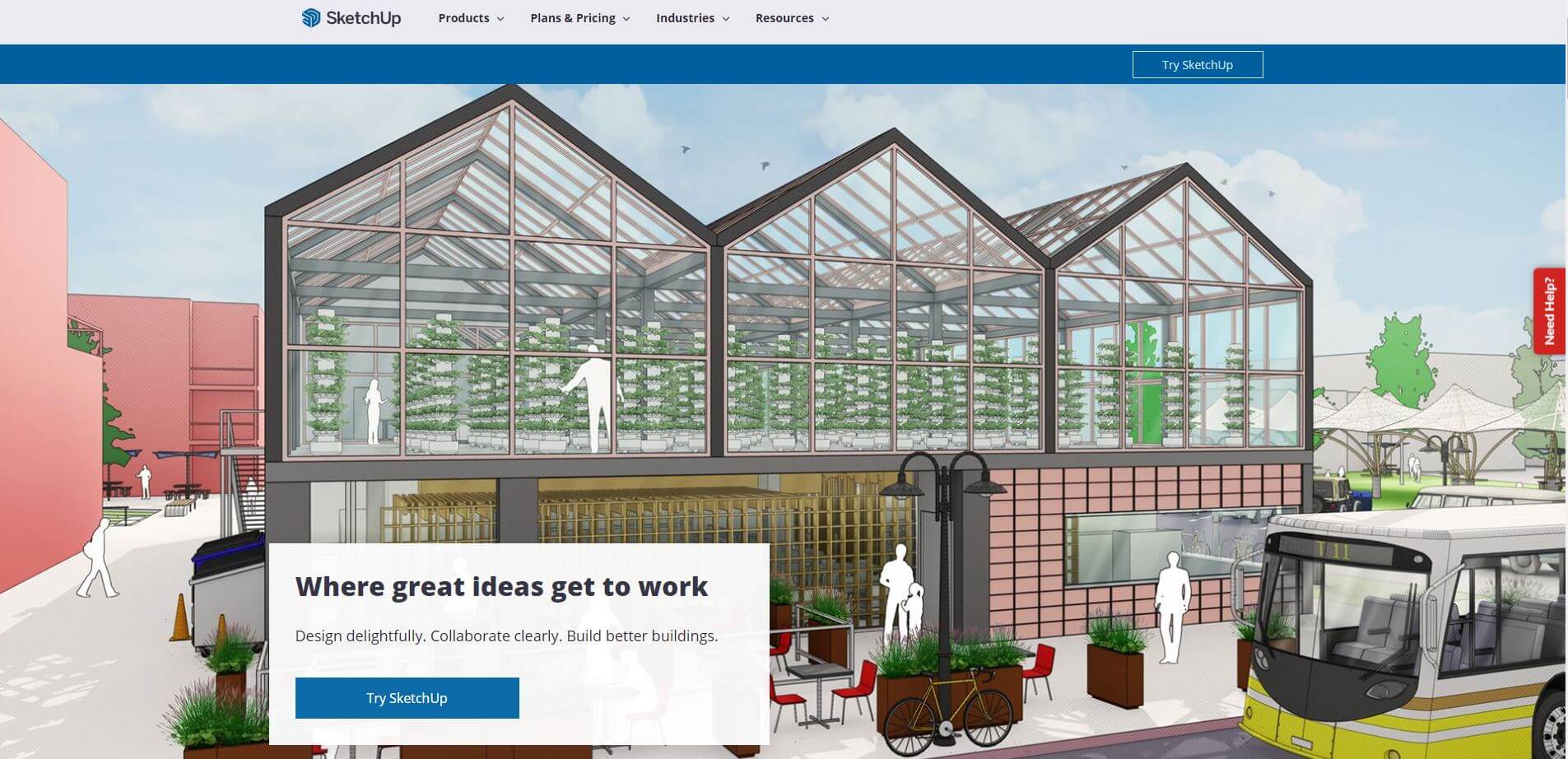 Source: SketchUp

This design platform has 2D and 3D rendering capabilities and unlimited cloud storage. Many of the best features of this software are available only in the premium version, which is not compatible with macOS.

SketchUp is not a dedicated floor plan creator, but rather a 3D modeling program. While it is a quality platform, it is much more complex and has a steeper learning curve than other tools on this list. SketchUp also requires extensions in order to generate 3D floor plan renderings, and to export models to other platforms for presenting 2D floor plans to clients.

Key features:
AR mobile viewer
High-quality photorealistic rendering (premium version only)
Pre-built 3D models
Plug-in expansion
Adjust point cloud color and transparency (premium version only)
Pricing:

Pricing for the three professional plans ranges from $119 to $1,199 annually.
6. Magicplan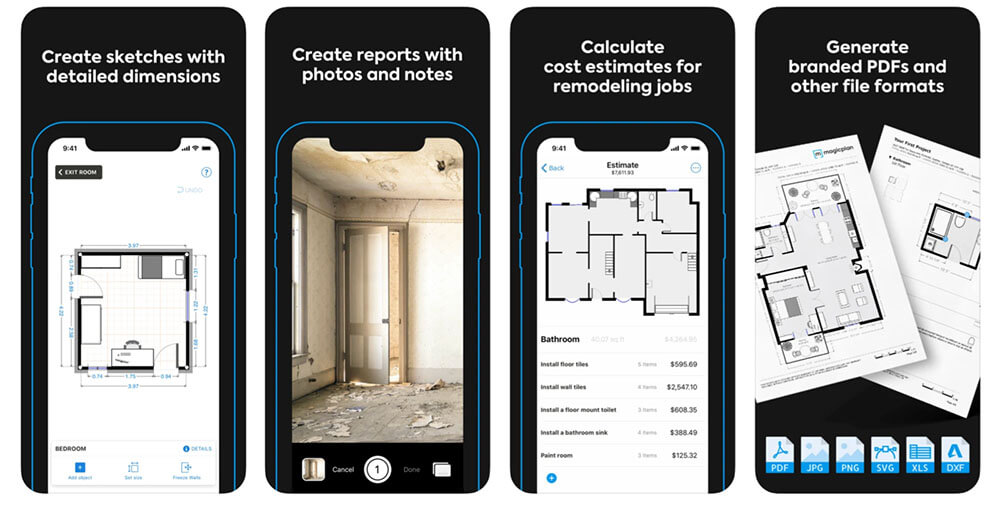 Source: Apple Store

Magicplan is an app designed for contractors to use while on the job. With its easy mobile interface, contractors can draw and revise floor plans, snap pictures, and add accompanying notes.

This app is for mobile devices only, so it's not ideal for sharing 3D designs for client review. However, for contractors, that downside is probably offset by Magicplan's ability to calculate and itemize materials costs. Whether you're just floor planning or designing an entire home, you can see the costs for every necessary material.

Key features:
2D and 3D sketching
Branded PDFs, JPGs, and other image formats
Integration with 2,000+ software applications
Photo markup features
Custom forms
Pricing:

Free version available, with paid plans ranging from $9.99 to $29.99/month
Start Designing Better Floor Plans
Floor planning software can help you work faster, collaborate remotely with your team, and impress clients with stunning photorealistic designs. With design elements such as customizable window openings, themed decor for effortless coordination, and flooring types, you'll never have to compromise your vision due to a lack of functionality.

Start designing better floor plans today. Find out how Cedreo can make your job easier.