With skyrocketing home prices and more debt than ever, many people are starting to get creative with how they live. As a result, the tiny home movement is becoming increasingly popular and mainstream: over half of Americans recently surveyed said they would consider living in a tiny home. Experts estimate that the tiny home market will grow by $3.33 billion between 2021 and 2025.

The increasing acceptance of alternative housing has made tiny home builders more in demand than ever. Home design software allows tiny home builders to capitalize on this trend by showing off their tiny house floor plans and increasing sales. With 2D and 3D renderings, builders can shorten their sales cycle and improve communication with their customers no matter how far or near they are.

Here is how tiny home builders can use home design software and how it helps build their business.




What Does Home Design Software Do?
Home design software enables builders to create 2D and 3D floor plans and designs faster and easier than ever. Builders can create and revise their plans with attractive visuals and accurate renderings with the software.

Intuitive home design software allows builders to create a realistic tiny home model in just a few clicks. With 3D renderings, your customers will be able to visualize how their tiny home will look and help them get excited about their future home. Plus, you can store your models to easily share with team members and customers as well as re-use the existing tiny home floor plans in the future.

Using the software is a simple three-step process:
Draw the floor plan. You can even import an existing floor plan to save time.
Furnish the build. Enable customers to see how their bed and furniture fit into their tiny home with your software's product library.
Create 3D renderings. The software will generate a photorealistic professional rendering in under 5 minutes.
With the right home design software, tiny home builders shorten their sales cycle and improve close rates by giving customers a realistic tiny house model and helping them visualize living in their new home.




How Tiny Home Builders Use Home Design Software
Most home buyers, even tiny home buyers, do not choose their homes from pure logic. It is a significant investment, so excitement and enthusiasm are critical. 2D and 3D planning offer just that: customers get a realistic look at their new tiny home and get excited to invest long before it is made.

Here are some of the ways home design software improves tiny home businesses:
Space Planning with 2D Floor Plans
Many people turn to tiny home builders over DIY because they struggle with space planning. Fitting in essentials like a refrigerator or heater requires finesse and skill that tiny home builders can provide. Each area is critical to maximize efficiency and ensure that customers have everything they want and need within one small space. Because there is little space for error, clarity in the planning stage is critical.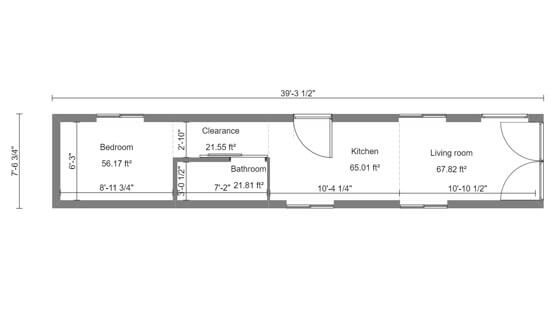 2D tiny house floor plans help customers visualize how to lay out their homes and see how everything fits in the space before starting the build. They can account for every square foot of their tiny house and ensure that it fits their needs and lifestyle. Home design software makes it easy for builders to draw up these tiny house plans. They can also make adjustments before starting the build and reduce the chance that a customer ends up unhappy with the house, saving everyone time and money.
Full-Customization
Many sites offer DIYers plans that they can use to build their home on their own. However, many people want a higher level of customization that these plans can't offer. Builders can provide a level of customization that most users cannot create themselves. The easier that builders can make early customization, the faster they can get through the pre-sale process and move on to the building. Home design software can offer that.

Tiny homes require a greater level of customization than regular-sized homes. Every square foot counts, and what is essential to one customer may not be to another. While maximizing kitchen space might be necessary for one person, fitting in a queen-size bed might be non-negotiable for another. The house needs to match their needs perfectly to ensure that the space is used most effectively and efficiently.

Home design software enables builders to create a higher level of customization with ease. They can adjust the space with a few clicks and ensure that the house fits the desires and lifestyle of the person living there.
Customer Communication
Tiny homes require a higher level of attention and care during the build to maximize the efficiency of the space and ensure everything is fitted to match the lifestyle of the occupant. For example, a misplaced electrical socket is an inconvenience in a regular-sized home. However, in a tiny house, it can seriously impede your customer's ability to use the space. As a result, customers need to clearly communicate what they need and where to ensure that everything is made to their specifications.

Plus, with the limited number of tiny home builders, many customers are not local. Their ability to understand what is going on and ensure that the home meets their needs can be a challenge. With the right home design renderings, though, customers can see what is going on and visualize the plan from anywhere.

Home design software improves customer communication and reduces the chance of miscommunication. Buyers can visualize their tiny home clearly, walk through the space, and explore how different options will impact the house.

Tiny house builders ensure that they have plans the customer wants with home design software and decrease miscommunication and misunderstandings.
Visualize with 3D Renderings
While 2D tiny home floor plans ensure that everything will fit into the space, 3D plans give a realistic look and feel that will get your customers excited. They can see the customized elements that will make their tiny home unique to their needs and preferences.

With elements such as furnishing and sun orientation, builders can emphasize how the tiny home will look in the afternoon sun, for example, or how their furniture will look in the space.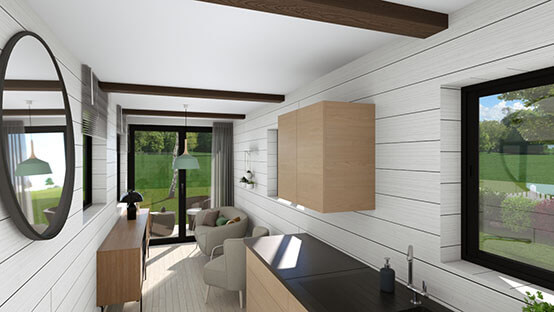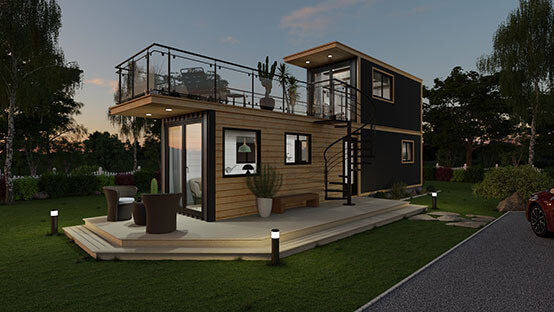 Site Plans
Although the terms site plan and floor plan are often used interchangeably, there is a difference between the two. Floor plans provide visuals of the internal dimensions of the home and information about the layout within the home. Site plans, on the other hand, outline how the tiny house will fit into the overall design of the area. For example, they can see where they can have a driveway or any cross streets nearby.

As tiny homes grow in popularity, tiny home communities allow people to have other like-minded people nearby. However, it does take some planning to ensure that everyone has the space, parking, and traffic flow needed for a well-planned community. Site plans, especially 3D plans, will give your customers the visualization that they need to ensure that their tiny home fits within the overall community.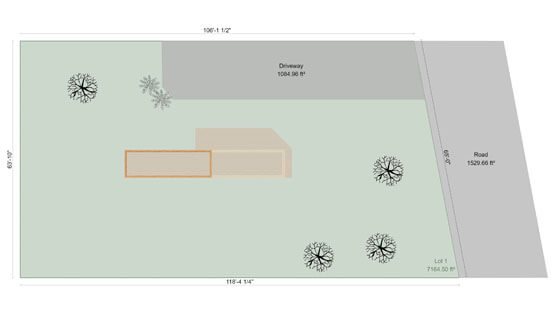 Individual tiny homes also benefit from site plans. Your customers can create driveways and landscape their yards to ensure everything works together. Many tiny home dwellers have a specific space in mind to place their house. Site plans help them visualize how their home will fit into the general area and allow them to see what size home they might need to make sure it's a success.




Improve Your Tiny Home Business with Home Design Software
For tiny home builders that want to set themselves apart from the competition, make the pre-sale and planning stage easier, and ensure happier customers, home design software is critical. Builders can put their ideas into helpful visuals that allow customers to see the vision and customize it to suit them. Whether a customer is near or far, there can be excellent communication and clarity so that the buyer is completely happy with their new tiny home.

With the use of home designer software, creating and revising plans is fast and easy. Whether you are using it for 2D or 3D renderings, or an overall site plan, the software makes the process painless.

Want to see how you can improve your tiny home business with home design software? Sign up for a free trial and start growing your business today!