Looking for home design software for your business? There are so many options, it can make your head spin! So let's compare three popular choices — Floorplanner vs Sketchup vs Cedreo.
Which has the best combination of tools for modern housing professionals?
Which is the best for remodelers, interior designers, or general contractors?
And which will save you the most time and money?
Let's review all three programs and get you the answers you're looking for!

Floorplanner, Sketchup and Cedreo: Overview and Use Cases
In our review of Floorplanner vs Sketchup vs Cedreo, let's first get a general overview of all three. We'll consider the main functionality of each and who it might be best for.

Floorplanner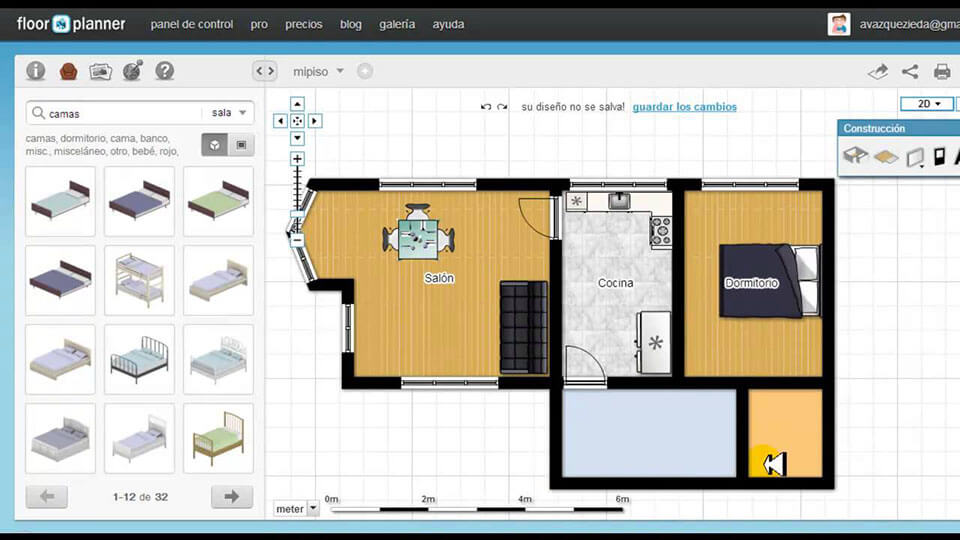 Floorplanner is an easy-to-use interior design tool focused on creating interior layouts with furnishings and decorations. Its drawing tools are easy to use and there's a large library of objects to choose from.

While it's got a nice range of layout tools for interiors, its exterior tools are limited. So if you need to create a complete set of plans including a home's roof, exterior, and landscaping, you'll quickly run out of features.
Use it to help students start learning home design
Add and arrange all the furniture icons to test layouts for rooms and apartments
Get 3D renderings that showcase your design
Best for: Interior designers focused on decorations and furnishings
Sketchup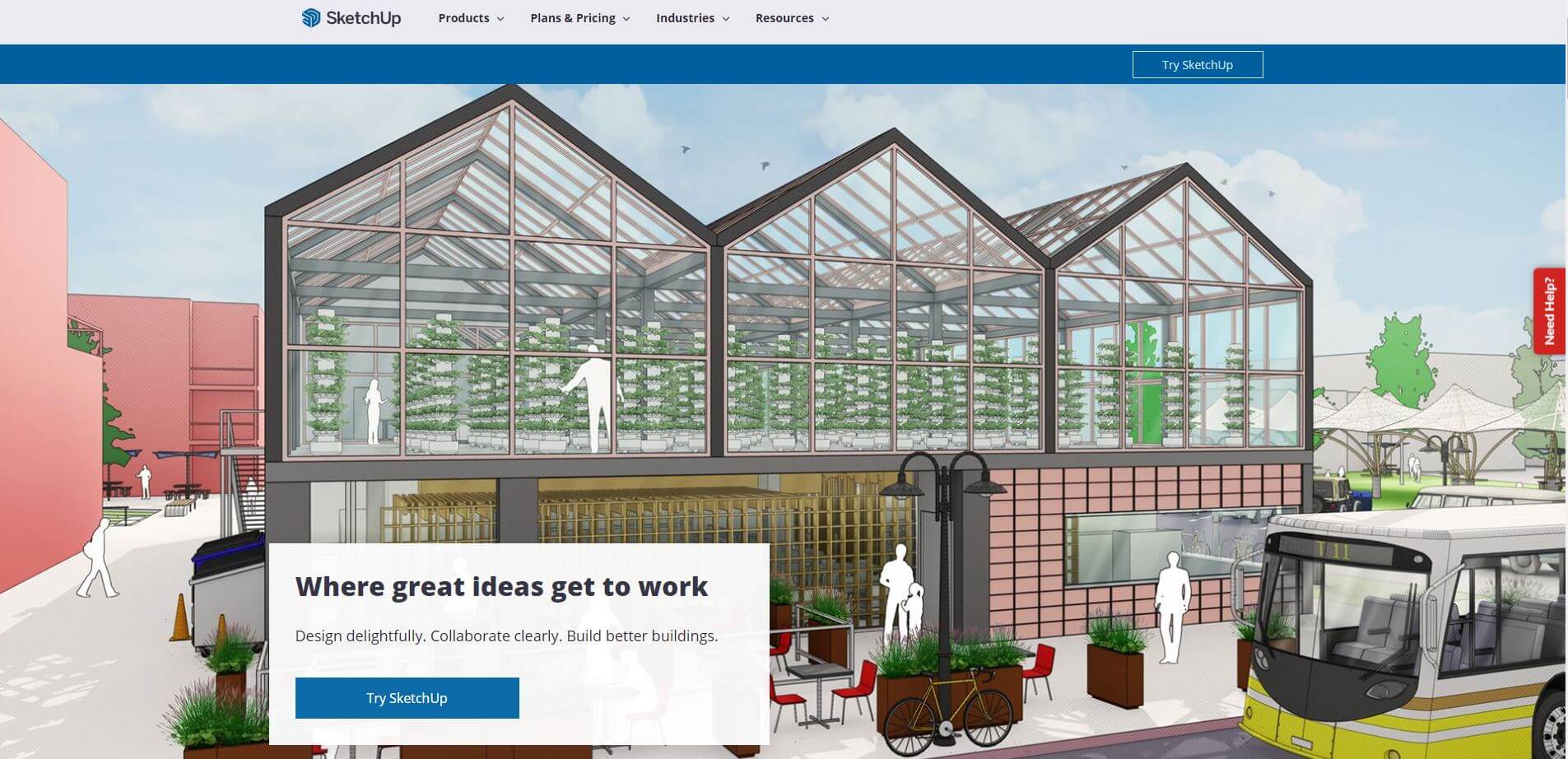 Sketchup is a popular design program created around a 3D modeling interface. Sketchup's 3D toolset lets experienced users draw virtually any shape. While this is nice for adding things like custom moldings or cabinets to your house designs, it does take time and requires previous CAD software or 3D modeling experience.

Even though at its core Sketchup is a 3D modeling program, you can use it to create 2D floor plans and 3D renderings (with the help of some paid add-ons). And with certain add-ons, you can also tackle complicated engineering aspects of large construction projects.
Create custom furniture to add to home designs
Add pre-made 3D objects to your designs
Get expanded functionality with paid add-ons
Present your designs with the mobile app
Best for: Large companies and their design teams who tackle both residential and commercial construction projects
Cedreo
When comparing the features of these three programs, it's easy to see how Cedreo finds the right balance between ease-of-use and powerful design tools. Like Floorplanner, it's simple to use. But the tools don't limit you just to interiors. Cedreo lets you design an entire home including custom roofs, landscaping, and interior decorating.

Although it's not a 3D modeling program like Sketchup, it does let you add custom 3D shapes, textures, and other design elements. Plus, photorealistic rendering tools are built right into the software so you don't have to pay for add-ons. Get professional-quality 3D renderings in just a few minutes!
Design an entire home — interior, exterior, landscaping — in as little as 2 hours
Import and reuse existing plans to save time on future projects
Add furniture and decorations from the design library
Work fast thanks to the intuitive interface and web-based software
Download high-quality renderings to add to project presentations
Best for: Residential housing professionals (remodelers, contractors, interior designers, real estate agents) who need a powerful, yet simple-to-use home design program for all their projects
Floorplanner vs Sketchup vs Cedreo: Pricing Comparison
Home design programs can be deceptively expensive, especially when you factor in additional plugins, product packs, or extra credits you need to buy. Let's see how Floorplanner, Sketchup, and Cedreo compare.
Floorplanner
Free plan: Yes

Pricing model: Per user or per team in addition to a credit system that you can use to upgrade your projects to higher levels (there are 4 different levels)

Paid plans for individuals:

Plus – $5/month
Pro – $29/month

Paid plans for teams:

Team- $59/month (Up to 10 users)
Business- $179/month (Up to 100 users)
Enterprise- $599/month (Unlimited)

Sketchup
Free plan: Yes (for Sketchup Free)

Pricing model: Per User

Paid plans:*

Shop – $119/year
Pro – $299/year
Studio – $699/year

*These prices don't include any extra plugins you need to buy to make 3D renderings and professional floor plans.
Cedreo
Free plan: Yes

Pricing model: Either per project or per month (for unlimited projects)

Paid plans:
All the paid plans include Cedreo's complete design toolset and library (no add ons required!)
Floorplanner vs Sketchup vs Cedreo: Feature Comparison
When choosing your home design software, it's helpful to compare their features side-by-side. So take a moment to think about your projects and then see which program has the features that'll help you complete those projects.
| Features | Floorplanner | Sketchup | Cedreo |
| --- | --- | --- | --- |
| 2D Floor Plans | ✔ | ❌ | ✔ |
| 3D Floor Plans | ✔ | ❌ | ✔ |
| 3D Rendering | ✔ | ✔ | ✔ |
| 3D Printing | ❌ | ✔ | ❌ |
| 3D Sculpting | ❌ | ❌ | ❌ |
| Import Blueprints | ❌ | ✔ | ✔ |
| Surface Area Calculations | ❌ | ✔ | ✔ |
| 3D Library | ✔ | ✔ | ✔ |
| Interior Design | ✔ | ✔ | ✔ |
| Lighting & Sun Orientation | ❌ | ❌ | ✔ |
| Share Designs | ✔ | ✔ | ✔ |
| Draw to Scale | ❌ | ✔ | ✔ |
| Custom Camera Viewpoints | ✔ | ✔ | ✔ |
| Reusable Project Templates | ✔ | ✔ | ✔ |
| | | | |
Floorplanner vs Sketchup vs Cedreo: Customer Support Comparison
You can't afford to lose valuable time waiting on an answer from customer support. That's why good software should always come with a solid customer support team. How do these three programs compare? Let's see.
Floorplanner
Floorplanner offers a nice variety of educational resources for users like YouTube videos, blog posts, and periodic webinars. However, Floorplanner reviews show that their 1-on-1 support is severely lacking. The only option, if you have a question, is a generic "contact us" form.
Sketchup
Since Sketchup Pro is such a popular program, there is no shortage of tutorials, blogs, forums, and how-to videos. Pro users also have the option of contacting support through a special phone number. But since Sketchup has such a wide variety of applications, getting the answer you need can be hit or miss.
Cedreo
Cedreo has one of the best customer support teams and you can feel that they want you to succeed. In addition to the extensive knowledge base and video tutorials, if you've signed up for the Pro or Enterprise plans you get a FREE 1-on-1 training session with a real person! Plus, you'll be assigned a dedicated success manager. Anytime you've got a question you can contact them via phone, email, or chat and talk to a real person that knows you and your projects.

Floorplanner vs Sketchup vs Cedreo: Home Design Deep Dive
Let's compare Sketchup vs Floorplanner vs Cedreo to see how each of these programs performs with some common home design tasks.
Floor Planning
Floorplanner does a pretty good job at creating basic floor plans. However, you'll run into problems if you need to do more than basic layouts like exteriors, landscaping, roofs, etc.

You can draw floor plans with Sketchup, but it'll feel awkward since it is 3D modeling, not 2D drawing software. You can also use the Layout part of Sketchup Pro but it can get complicated since you need to create the 3D model first.

Cedreo makes floor planning easy. Draw accurately as you see the dimensions get updated in real-time. Then quickly click and drag walls to adjust their position and shape.
Site Planning
Since Floorplanner is used mostly for interiors, there's little you can do with site planning. You can use Sketchup for site planning, but the process is a little more complicated and requires previous 3D modeling or CAD software experience.

On the other hand, residential site planning is quite simple with Cedreo. You simply create a terrain layer and define the property's dimensions. Choose from 1000s of different landscaping design features. And it's even easy to create elevation changes, like slopes for multi-level homes with walkout basements.
Interior Design
With its large design library, it's relatively easy for designers to use Floorplanner to decorate a space according to their client's tastes. And Sketchup gives users the ability to create their custom furnishings with its 3D drawing tools, but that takes time and skill.

Cedreo strikes the right balance between the two. There are 7,000+ furnishings, decorations, and materials in the design library. Save time by searching for pieces according to the desired style. Or you can save even more time with 1-click decorating tools that completely furnish a room with premade product packs.
3D Rendering
Floorplanner offers several different rendering qualities and you need to spend more credits to get higher quality renderings. But even with the high-quality renderings, it would be nice if the lighting and textures were a little more realistic.

With Sketchup, you can create nice renderings but you need to pay for and learn how to use extra plug-ins. And sometimes those plug-ins cost more than Sketchup itself.

Once again, Cedreo seems to find the right balance when it comes to its rendering tools. You get the ability to control the sun's orientation, time of day, and other lighting effects for truly realistic renderings. And since you're working with web-based software, Cedreo's servers take care of the heaving lifting. That means no more waiting — you get your renderings in just 5 minutes!
Floorplanner vs Sketchup vs Cedreo: Which Tool is Right For Your Business?
So which is the right one for you in this comparison — Floorplanner vs Sketchup vs Cedreo?

If you need a program for the occasional interior design project, try Floorplanner. Large companies working on commercial construction projects could benefit from Sketchup's expandable functionality with extra plugins.

But if you're a residential contractor, remodeler, or interior designer, Cedreo is the one for you. It's got such a great combination of top-quality renderings, a short learning curve, and powerful design tools that save you loads of time and money.

So why not sign up for Cedreo today and see what it can do for you? With a FREE version, you've got nothing to lose!