For real estate agents, one of the most difficult parts of closing a deal is helping clients picture themselves living in a particular home. An empty house leaves a lot to the imagination, and unfortunately for real estate professionals, not all clients have the best imaginations.

The good news? You can fill in the gaps of your clients' imaginations with real estate floor plan software. These programs allow you to draw floor plans, furnish them and bring empty spaces to life with photorealistic renderings. And that helps you close more deals.

Some space planner programs are better than others, though. That's why we have put together this list. Read on to learn more about which software is right for you.
Benefits of Floor Plan Software for Real Estate Agents
As a real estate agent, you're already busy. Why should you add to your to-do list creating real estate floor plans to show your clients? As it turns out, there are several reasons why:
Create stunning visuals. Giving clients a visual representation of the home they're considering buying or building creates an emotional connection. People are visual creatures, and with real estate design software, you can cater to their visual nature with beautiful 3D designs.
Present possibilities. Few homes are perfect as-is. Many buyers would consider a home if they could picture it with particular renovations or updates. With real estate space planner software, you can show your clients the home they're thinking about but add the changes they could make. Show them what's possible, and you'll close more deals.
Furnish it their way. Some clients just can't get past the current homeowners' furniture. It's not their style, and it casts a negative light on the whole property for them. Floor plan software for real estate agents allows you to remove that existing furniture and add items that match your clients' style.
Give them something to remember. An in-person tour of a home is great, but when buyers are looking at hundreds of factors and details, it's easy to forget certain aspects of the property. If you create a digital visualization of the property, they don't have to commit everything to memory — they can simply take another virtual tour.
Sell more. This is what it's all about: selling more. And creating a gorgeous real estate floor plan with high-quality software helps you do exactly that, to the benefit of your bottom line.
9 Best Real Estate Floor Plan Software (Including Key Features)
1. Cedreo
Overview

If you are a real estate professional who needs to quickly create detailed floor plans and generate photorealistic renderings, Cedreo is the best software for you. Cedreo packs all the power of a professional CAD program but comes with a user-friendly, intuitive interface that requires no background knowledge to understand.

In just two hours or less, you can create a detailed, fully furnished floor plan in 2D and 3D and generate a tourable photorealistic rendering. Help your buyers visualize themselves living in the finished product and sell more homes with Cedreo.

Key features
Import scalable floor plans as a base layer to draw over.
Create floor plans from scratch with just a few clicks.
Choose from more than 7,000 customizable furnishings and decorations.
See designs simultaneously in 2D and 3D.
Control interior and exterior lighting to create the right vibes.
Automatically add roofing.
Customize the names of rooms and display floor space dimensions.
Pricing

There's a Cedreo plan to meet any budget. Check out our plans here.

Try Cedreo for free today.
2. SketchUp Pro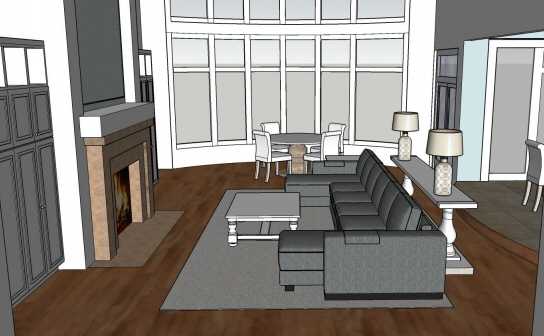 Overview

SketchUp Pro is a relatively comprehensive 3D modeling platform that allows users to create real estate floor plans, but it comes with a key limitation: you have to buy add-ons if you want to do 3D renderings. Because the 3D renderings are one of the central benefits of real estate floor plan software, this drawback is significant enough to cause many real estate professionals to consider SketchUp alternatives.

Still, SketchUp Pro does offer several features that can be beneficial to real estate agents. This software is compatible with augmented reality (AR) and virtual reality (VR) headsets, which can be a nice selling point if you have the necessary hardware. Another tech-forward feature of SketchUp Pro is its 3D modeler, which allows you to create your own 3D models to use in designs.

Key features
Compatible with AR and VR headsets
3D modeler to create unique objects
3D renderings available via paid third-party extensions
Extension library to add more features
Cloud storage
Pricing

SketchUp Pro costs $299 per year. For that price, you get VR functionality and access to the 3D modeler, but keep in mind that you will need to add on the price of a 3D rendering extension.
3. Floorplanner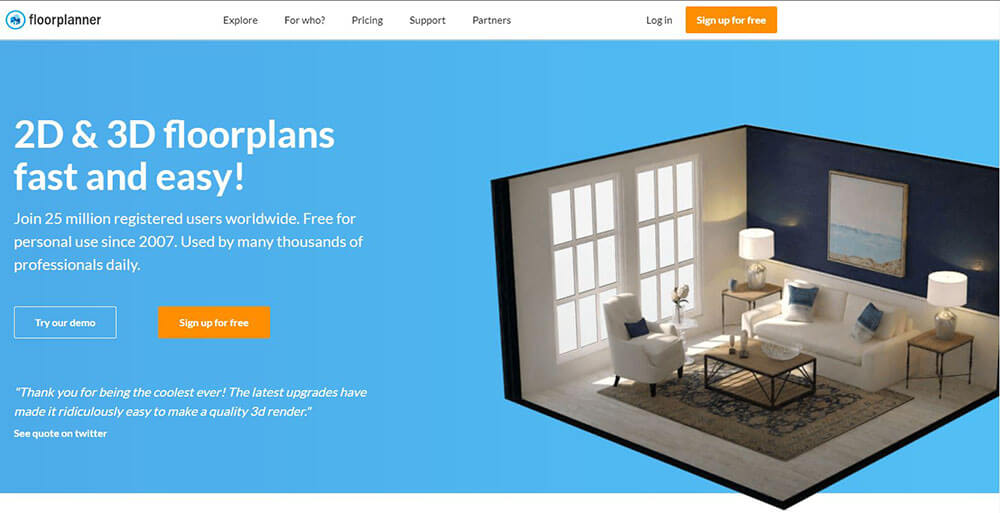 Overview

Floorplanner is a browser-based real estate design software that offers basic features and low starting prices, as well as a relatively intuitive user experience. This software allows you to draw floor plans in 2D quickly and generate both 2D and 3D images to share with clients. Unfortunately, the images are still images, meaning you lose some of the impact of a tourable rendering.

Floorplanner is popular with personal users who want to quickly create designs and furnish them from a large library of pre-made 3D objects. The program allows you to drag and drop furnishings and decorations directly into your 2D design.

Key features
Object library with more than 150,000 furnishings and decorations
Magic Layout feature to quickly arrange furniture within individual rooms
2D and 3D image capture functionality
Drag-and-drop functionality for furnishings, doors, windows and more
Fully online software with no required download
Pricing

A basic account with Floorplanner is free, which helps explain why this software is so popular among casual users. A basic account gives you access to full design functionality, but the images you can generate will be in lower-quality SD rather than HD. Up to 10 users can use the Team plan, which offers user management and reports, for $59 per month. The $179 USD-per-month Business plan adds custom 3D assets, and the Enterprise plan, at $599 per month, offers the custom Roomplanner feature and API access for integrations with other software.
4. Planner 5D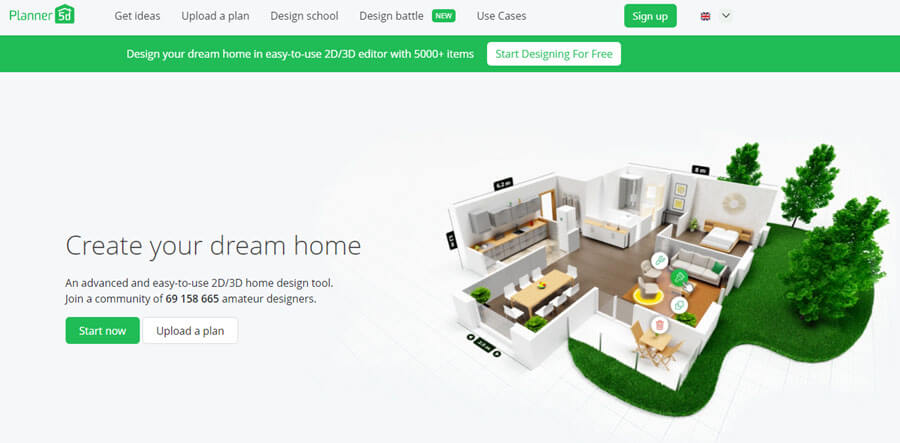 Overview

For a real estate floor plan software intended for mobile and tablet use, Planner 5D offers a somewhat wide variety of design features. This application's strengths mainly center on ease of use, which can help in high-volume environments, but the limited number of advanced features can prevent real estate agents from capturing the true essence of a property they are trying to sell.

The team behind Planner 5D has created a community surrounding the app, which allows users to share their designs and ask for feedback and support. You can also choose from more than 5,000 decorations and furnishings.

Key features
Real-time 3D design view
Ability to upload existing floor plans
AR floor plan tour functionality
Mobile-compatible
Automatic furniture arrangement
Pricing

A free account with Planner 5D gets you access to limited features only. Paid plans start at $6.99 per month and offer three HD renderings and the ability to use all features. You can also purchase an annual plan for $15.99 or a lifetime plan for $24.99. Keep in mind that Planner 5D maintains a separate pricing structure for commercial users that typically doubles consumer-level prices.
5. SmartDraw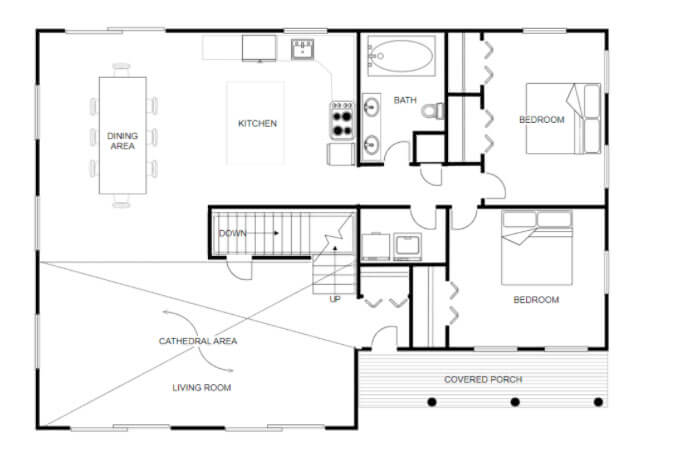 Overview

SmartDraw is a full-featured 2D real estate plan software, but it doesn't have 3D rendering capabilities. That's a problem for most client-facing real estate applications. However, this software makes up for this drawback with a deep bench of 2D graphics you can use to represent objects like furniture and decorations.

Key features
Drag-and-drop design interface
Digital collaboration-enabled
Pre-built floor plan templates
Additional design features to create flow charts and other assets
Integration with many common workflow apps
Pricing

SmartDraw offers flexible pricing to meet the needs of most users who don't require 3D renderings. You begin with a free trial and pay $5.99 per feature you need.
6. Sweet Home 3D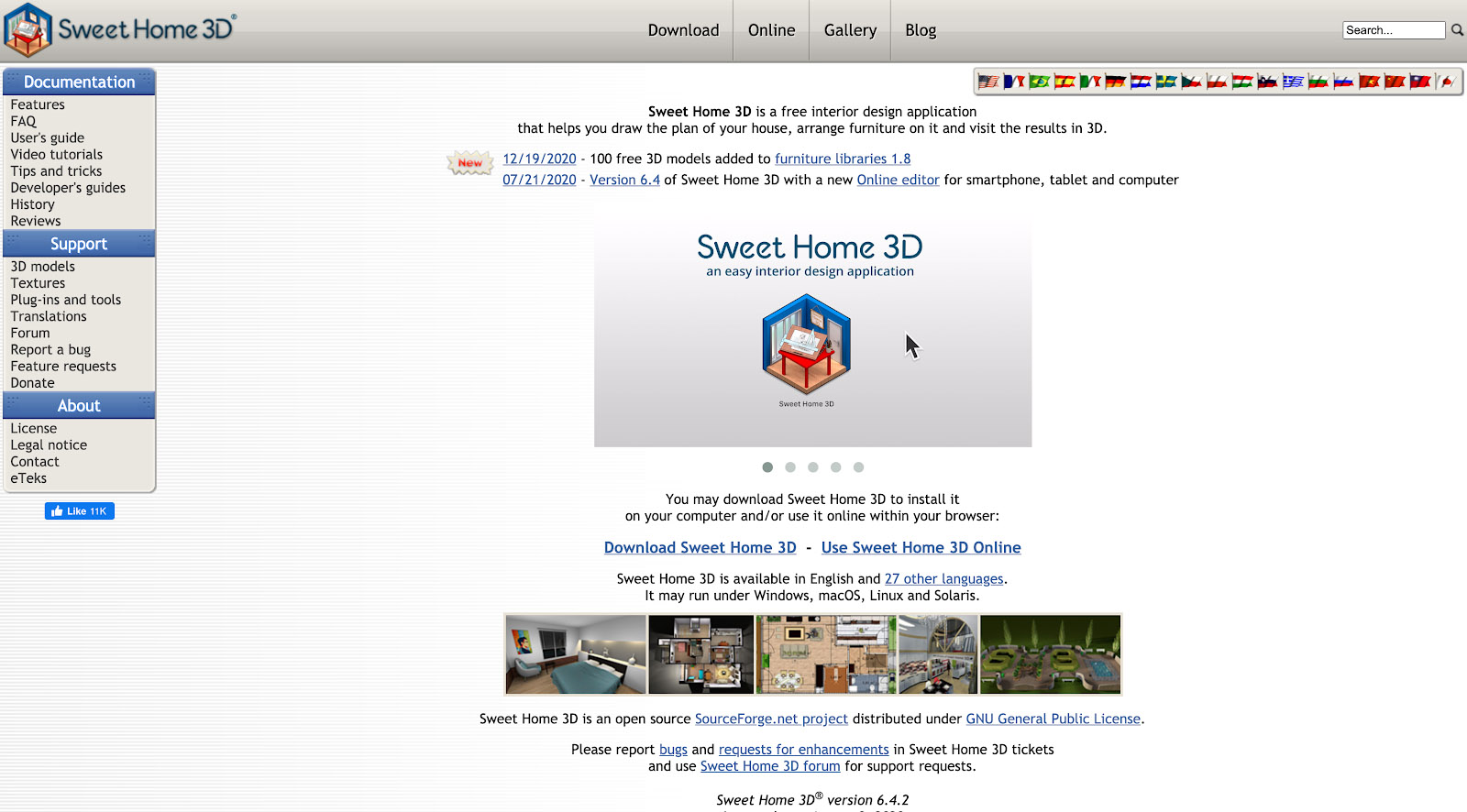 Overview

Sweet Home 3D is one of the only open-source real estate floor plan tools on the market. That means code-savvy contributors can add features to improve the software over time. That creates a nice degree of flexibility, but it also means that the user interface is not always accessible to users who don't speak code.

This software does offer 3D visualizations of floor plans, but the level of image quality is somewhat lower than that of comparable programs.

Key features
Open-source software
Multi-language compatibility
2D and 3D renderings
3D model importing
Ability to create videos and images for design tours
Pricing

One of Sweet Home 3D's main selling points is that it is 100% free. All users who register for an account get access to the full suite of features at no charge.
7. HomeByMe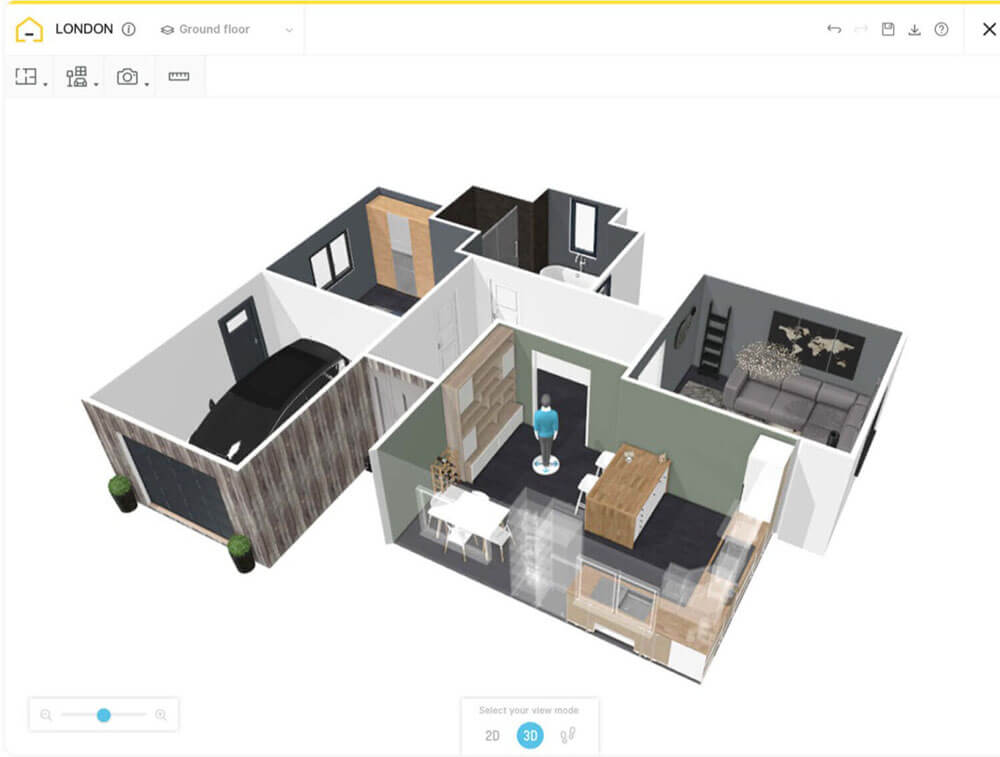 Overview

The free version of HomeByMe is best for casual users who would like to mock up possible changes to the furniture or layouts of their homes. The paid version, on the other hand, is best suited for interior designers. That's because this software uses real products in its furniture and decoration library and appears to lean heavily on indoor design while glossing over outdoor layout capabilities.

Key features
Over 20,000 real furnishings in the 3D object library
Access to the user community for design feedback
Pre-built room layouts to drag and drop into floor plans
2D and 3D renderings
Ability to import existing 2D floor plans
Pricing

For professional use, HomeByMe charges $29.99 per month or $299 per year.
8. RoomSketcher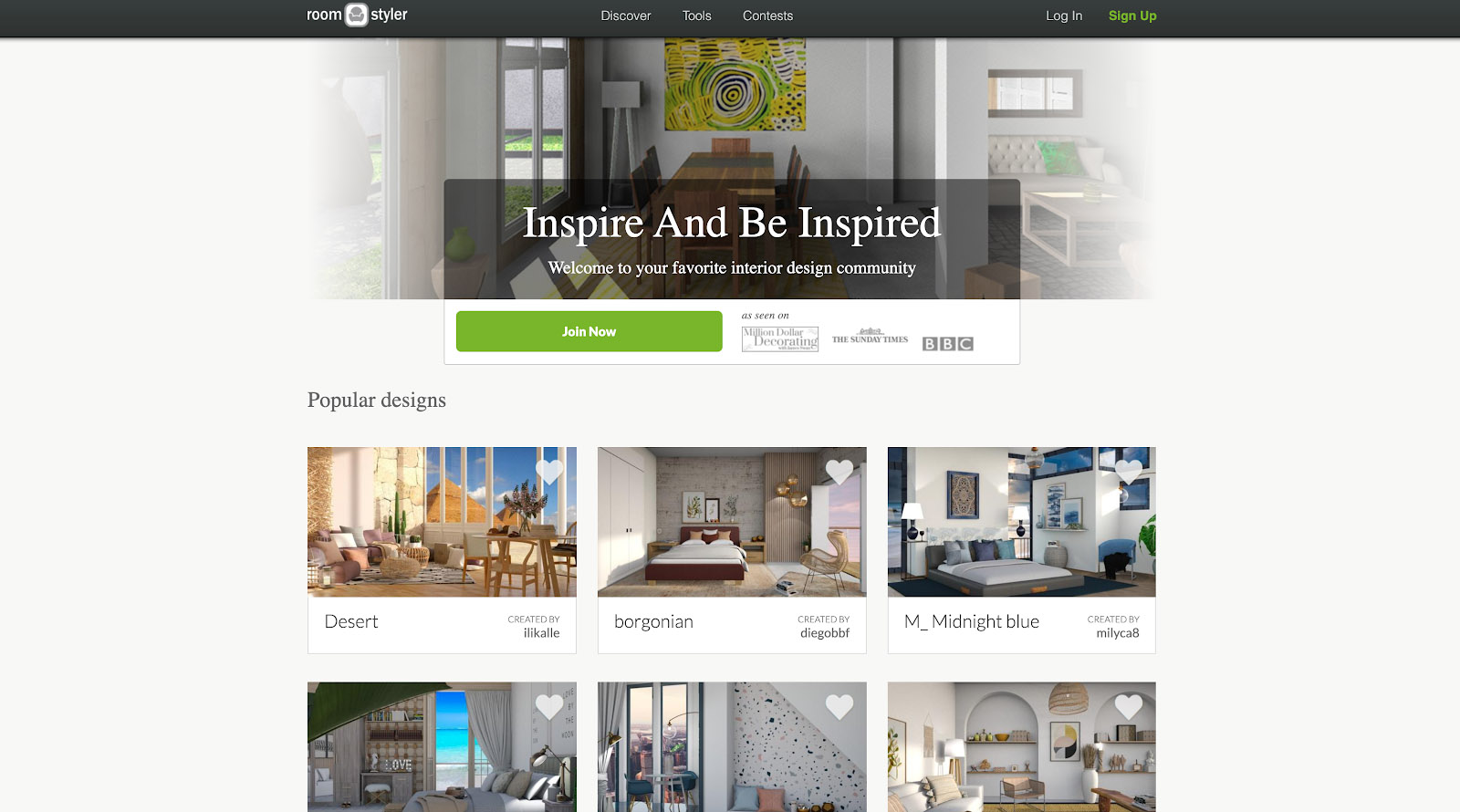 Overview

RoomSketcher offers both a mobile app and browser experience, which can make it useful if you need to draw floor plans on the go. This software comes with a relatively broad deck of features, including 2D, 3D, panoramic and live 3D viewing. However, don't be fooled by the "free" plan offering — this simply refers to the app download. To draw floor plans or generate images and renderings, you will have to pay.

Key features
Paid floor plan drawing service
Shareable live 3D walkthroughs of home designs
3D panoramic snapshots
Cloud project sharing
Offline functionality via the app
Pricing

RoomSketcher's VIP plan costs $49 per year and is best for personal use, according to the company website. The Pro plan, designated as ideal for business use, is $99 annually and includes more advanced features like the ability to draw from a blueprint and calculate the total area of a design.
9. RoomToDo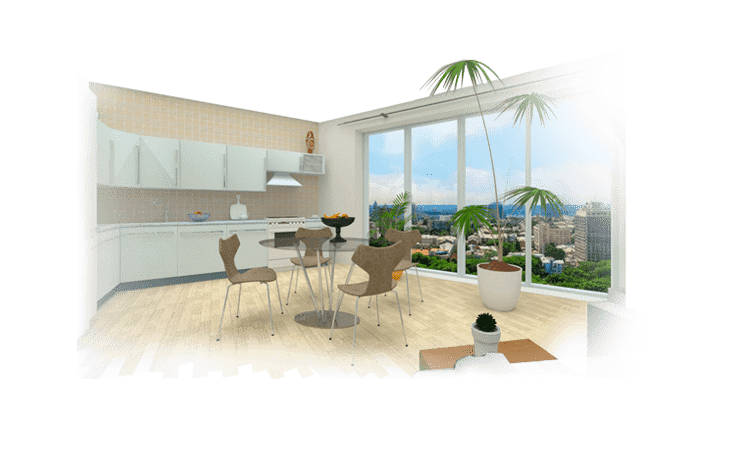 Overview

RoomToDo offers a wide range of interior design features, but because it is intended for use as interior design software, it does not appear to have outdoor design features. Still, this home design software does come with the expected interior design features, such as 2D and 3D design, the ability to upload blueprints, and a 3D object library.

Key features
Ability to draw walls of varying thickness
Blueprint importing
Customizable surface materials
First-person viewing mode
Shareable links to saved projects
Pricing

RoomToDo offers a limited free version, but it sacrifices many of the features that will be important to real estate agents. The full version is relatively affordable at $9.99 per month, $19.99 for six months, and $29.99 for a year.
Which Software is Right For You?
There are plenty of choices when it comes to real estate floor plan software, but only one will fit all of your needs perfectly. Cedreo works hard every day to ensure that our software meets every real estate agent's needs, but you don't have to take our word for it. You can try our floor plan software for free to see how it can help you close more deals and grow your business. Get started free now!