The real estate industry is a visual business. Agents want to show homes, and buyers want to see the properties. But that's not all clients need to see before they make what might be the biggest investment of their lives. They also need to be able to see themselves living in the house they're thinking about buying.

An empty home or one filled with other people's furniture leaves a lot to be desired on this front, so what can real estate agents do to help their clients visualize themselves in a space?

They can show their clients high-quality real estate renderings. Read on to learn everything you need to know about 3D real estate showings and how to use them in your marketing efforts.




What Are Real Estate Renderings?
Real estate renderings are 2D and 3D visualizations of properties. They can be virtually staged and made to reflect existing properties or showcase ideas for commercial or residential developments.

Commercial renderings may showcase a new location for an existing business, complete with office furniture, plants, and other decorations. Residential real estate renderings can show an existing property that is currently empty in a digital format and filled with warm, stylish furniture.

Real estate professionals create these virtual reality renderings to encourage more sales. A detailed rendering can spark an emotional response in a client, making them much more likely to purchase the property.




Types of Real Estate Renderings
The beauty of real estate renderings is that they can show a property pre- or post-construction from all angles. That includes not only directional angles but dimensional ones. Renderings can be in both 2D and 3D. Here are the most common ones: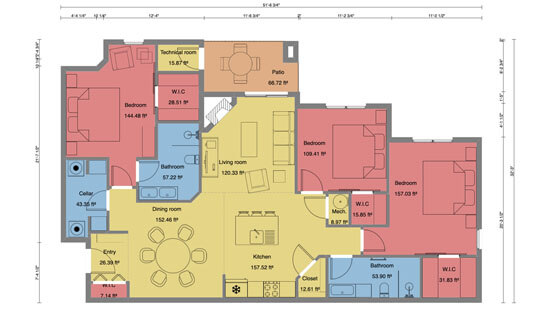 Floor plan renderings
Floor plan renderings are usually 2D. They can show the floor plan of an existing property, or they can propose construction ideas for a project that has yet to be developed. While these renderings are flat, they can be quite detailed.

Using architectural symbols, a floor plan rendering can give the viewer an idea of where furniture might go, the placement of doors and windows, and much more.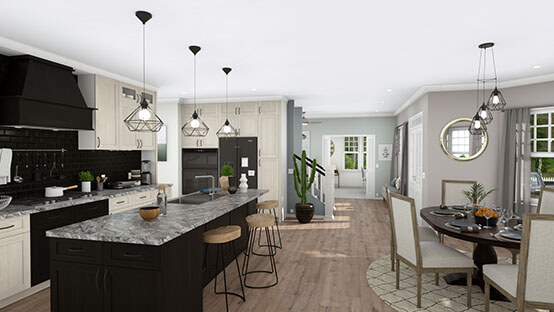 Interior renderings
Residential and commercial renderings show the inside of a house or commercial building, respectively. These 3D renderings are often the most intricate type because they must show walls, doors, windows, surface materials, fixtures, furniture, decor, and more in lifelike views.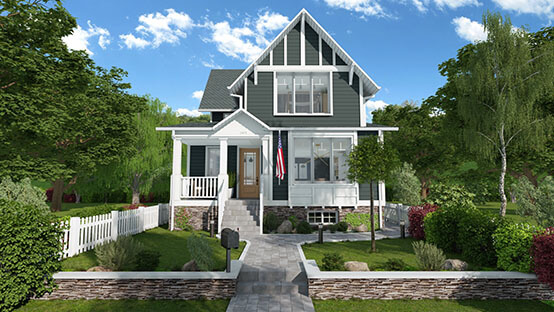 Exterior renderings
As the name suggests, exterior renderings show the outside of a building or home in client presentations. This type of real estate rendering is all about curb appeal. In stunning 3D, it shows clients what their potential home or commercial space will look like to visitors and passersby.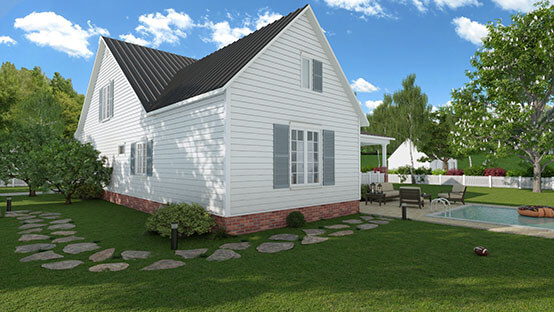 Landscape renderings
Driveways, pools, patios, decks, gardens, plants, trees, hills, slopes, and ground cover are on full display in a landscape rendering. Showcasing the natural parts of a home or commercial space helps clients understand what it will be like to walk out of the front or back door.
How Do You Create Real Estate Renderings?
To use real estate renderings to boost marketing and sales, you have to actually be able to create them. Here's how it's done.

Outsource them
Many outside firms will create 2D and 3D renderings for use by real estate professionals, home builders, and interior designers. These firms will happily take your business, but you should know that working with a third party to have a property rendered can delay project timelines. Giving the work to an outside team takes the timeline out of your hands, and if your client asks for changes, you can expect additional delays.

Use CAD software
If you have a highly technical background, you may be proficient enough to create a rendering using CAD software like Chief Architect. While programs like this can create detailed designs, they require a lot of expertise to use properly, and they are often prohibitively expensive.

Use 3D rendering software
The alternative to CAD software is rendering software specifically designed for use by real estate professionals, interior designers, and home builders. Cedreo is one such software. It allows you to create renderings in minutes without an ounce of CAD knowledge. Using cloud storage and intuitive features, Cedreo enables fast revisions and higher overall output.
Who Uses Real Estate Renderings?
Although real estate professionals are the primary users of real estate renderings, these renderings have broad sales and marketing applications for a variety of businesses. Here's who uses these renderings:

Real estate agents

Real estate agents can offer 3D real estate services by creating residential or commercial renderings. These renderings can show potential buyers what a home would look like fully furnished or remodeled, as well as what a commercial space would look like after being adapted for the business that is contemplating purchasing it.

Architects

Using CAD software, architects create detailed 2D floor plans, but when it comes time to show their clients their ideas, these 2D plans can fall flat. With 3D architectural renderings of the plan, an architect can bring the idea to life before the client's eyes. This saves time and leads to more completed projects.

Builders and remodelers

Experienced home builders and remodelers can quickly imagine what a property would look like after they have completed their work, but that kind of mental visualization may not come easily for clients. With 3D real estate rendering software, builders, and remodelers can help clients see what they see: a beautiful finished product.

Interior designers

Interior designers are artists, but they can't expect their clients to have the same ability to visualize an entire interior design coming together to create a work of art. That's why many interior designers rely on rendering software that can allow them to show their plans in realistic 3D, complete with furnishings and decorations.




Real Estate Renderings Improve Marketing and Sales
The only way to grow your real estate, home building, or interior design business is to have a steady stream of sales bringing in revenue. One of the key ways to get more sales is to improve your marketing efforts. Here's how residential real estate renderings can improve your marketing and sales through technology:

Help clients visualize the completed project
Building, remodeling, or redecorating a home or commercial building is not like selling a car. When people buy cars, they can see the vehicles and test drive them. Before the advent of high-quality software to create 3D floor plans, there was no similar sales tactic to be found in real estate development.

But now, software like Cedreo enables you to give potential clients a look at what the completed project would really look like. Clients can visualize themselves living or working in the space, especially when you add personal touches like decor, people, pets, and vehicles.

Share renderings in marketing materials
You can write blog posts and buy newspaper ads, but the impact of these efforts will never come close to the impact of using renderings in your marketing materials. You can share them on social media, embed them in your website, send them via email, place them in digital advertising, or print them in brochures.

Create an emotional connection
Your clients may never feel an emotional connection to a mere description of their project. They'll feel an emotional connection to the mental picture of themselves enjoying the final product. By showing them a rendering of the concept, you give them a 3D visualization that they can become attached to. With an emotional connection to a 3D-rendered visualization, they're far more likely to move forward with the project.

Visualize layout and space
Your clients may be purchasing a new home, but they probably aren't planning to purchase all new furniture, plants, or artwork. They already have furniture, and they need to know where they will put it in their new space. With a real estate rendering, you can digitally place their items, help them understand the property's layout, and develop solutions to any potential layout problems.

Bring interior spaces to life
Showing the exterior and internal layout of an existing, empty home simply isn't enough to sell. Real estate agents can use rendering software to bring the inside of the home to life. By digitally placing furnishings and decorations inside the space, you help clients visualize how it could look in their real lives.

Collect feedback on new build and remodeling designs
New construction and remodeling projects go through several rounds of revisions before ground is broken or walls are knocked down. If you add 3D renderings to your revision and feedback processes, you can save time and close more deals. Clients can give feedback on the rendering, and you can quickly make changes instead of going back to the drawing board.




Close More Deals
Real estate renderings are here to stay — this technology is at the forefront of marketing and sales for building, design, remodeling, and real estate professionals. That's because 3D rendering software helps businesses like yours bypass the high costs of outsourced rendering services and create photorealistic visualizations that close more real estate deals in less time.

Cedreo is the leading 3D rendering software because of its intuitive features, vast library of furnishings and decorations, and affordable price. You can try Cedreo for free — no risk, no obligation. See what countless real estate professionals are getting out of our 3D rendering software, and watch your sales numbers go higher and higher. Get started today.